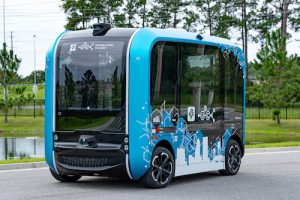 The Olli 2.0 is now part of the Jacksonville Transportation Authority's (JTA) Ultimate Urban Circulator (U2C) program, marking the first deployment of the autonomous shuttle in the U.S.
Through a partnership with Beep, Local Motors and Robotic Research, Olli 2.0 will lead the next phase of JTA's Test & Learn activities at Florida State College at Jacksonville's Cecil Center Campus and the JTA's Armsdale Test & Learn facilities, according to a news release. Olli 2.0 is Local Motor's first electric, autonomous, 3D-printed shuttle to be built in the United States.
The shuttle is the fifth vehicle JTA has tested since launching U2C in 2017. The goal of the multi-phase program is to modernize the Skyway APM system in the city's downtown to support autonomous vehicles and related technologies, ultimately creating a 10-mile urban transit network.
"When we first announced our plan to retire the Skyway trains and replace them with autonomous vehicles, the JTA set the goal to keep up with the latest advancements. Receiving the first Olli 2.0 shuttle in the United States is proof of that commitment," JTA CEO Nathaniel P. Ford Sr. said, according to the release. "The delivery of the Olli 2.0 at our Test & Learn track marks the next step in shaping the future of public transportation—not just in Jacksonville, but nationally."
Beep, a Florida-based autonomous Mobility-as-a-Service (MaaS) provider, will ensure the smooth, safe and seamless operation of the Olli 2.0 in Jacksonville. Robotic Research will support the team in learning more about autonomous vehicle technologies.
Olli 2.0 features Robotic Research's AutoDrive Autonomy kit, which uses V2X technology to provide driver-warning, driver-assist and connected autonomous functionality in urban, mixed-traffic roadways and campus environments.
"Deploying the first Olli 2.0 in the U.S. is a huge milestone for Local Motors and supports our mission to provide autonomous, accessible and connected mobility for all," Local Motors President Vikrant Aggarwal said, according to the release. "The JTA Ultimate Urban Circulator is an innovative project, and this deployment will showcase the proven benefits of Olli at a time when autonomous mobility solutions are needed more than ever. We have worked very closely with Beep since recently announcing our strategic partnership in July, and we hope that this deployment is the first of many in the months to come."