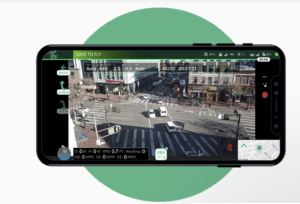 Bonfire Ventures, Boeing HorizonX Ventures, Freestyle Ventures, and The Flying Object Prepare for Takeoff in the Rapidly Maturing Commercial Drone Sector
Enterprise drone solutions company Kittyhawk today announced it raised $5M in funding, bringing the company's total capital raised to $6.5M. Kittyhawk raised the capital to further its capabilities as a full stack enterprise drone solution to empower a variety of industries already realizing value from commercial drone operations.
Jim Andelman of Bonfire Ventures, a Santa Monica-based seed fund focused on enterprise software, led the round with participation by Boeing HorizonX Ventures and Freestyle Capital; Kluz Ventures' The Flying Object also participated as a returning investor. 
"We were blown away by the quality of Kittyhawk's enterprise customer base: Fortune 500 companies who themselves are leading the way in enterprise UAS adoption," Andelman, Managing Partner at Bonfire Ventures, who will be joining the Kittyhawk Board of Directors, said in a press release on June 6. "We were impressed by not only this current level of traction but also by the team's thoughtfulness about the coming evolution of this industry. With their degree of forethought and vision, we're confident that Kittyhawk will be well positioned to continue to lead the way. They're two steps ahead of how we heard everyone else thinking about this space."
Kittyhawk recognized early on that enterprises were moving drone programs in-house and that piloting a drone would become a skill, rather than a profession. This left enterprises wanting to in-house their drone program with a big dilemma: the wide and ever-changing array of apps, license agreements, support procedures, and data security concerns of having multiple vendors.
Designed for commercial drone operations both large and small, Kittyhawk's enterprise solution unifies the mission, the aircraft, and the data to empower companies to manage in-house commercial drone operations. From one singular platform, enterprises can manage the complexity of operators, aircraft, airspace, data analytics, insights and compliance to maximize safety and ROI.
"Kittyhawk is in the unique position of being central to all of the enterprise stakeholders — from data collectors to data consumers," said Michael Blades, senior analyst at Frost & Sullivan. "Therefore, their market spans across a multitude of industries and verticals, they go deeper and wider than any other solution currently in the market".
As a vocal advocate for the commercial drone ecosystem, Kittyhawk champions level playing fields, open standards, and responsible legislation around creating a UAS Traffic Management System (UTM). As the UTM matures, Kittyhawk will continue to work with the Federal Aviation Administration, NASA, and Industry Trade Associations, as well as mature its product to further empower commercial customers.
"When paired with the broad portfolio of complementary data service offerings within Boeing, Kittyhawk is poised to help us shape the future of safe autonomous flight," said Brian Schettler, managing director of Boeing HorizonX Ventures. "Boeing's partnership with Kittyhawk on the FAA Low Altitude Authorization and Notification Capability (LAANC) program heralds the continued maturation of the commercial drone industry. We are excited to continue to explore new capabilities made possible through foresight, expertise and a focus on holistic solutions that support the safe integration of unmanned systems into the national airspace."
As enterprises integrate and scale the number of drones in their workflow, they will be searching for ways to increase their oversight. Kittyhawk's new artificial intelligence-powered feature, Hawkeye, will help fewer people manage a rapidly increasing number of flights, particularly as autonomous operations come to fruition. Kittyhawk will use the same technology that genetic researchers are using to find cures for debilitating diseases and the same technology that search engines are using to surface insights from the entirety of humanity's knowledge base.
Since its founding in 2015, Kittyhawk has built a team that is dedicated to helping create a safety culture in the commercial drone industry and has a passion for creating delightful experiences via a "product first" methodology. It's this methodology and culture that has allowed the company to outmaneuver competitors and draw the attention of aviation incumbents, according Kittyhawk.