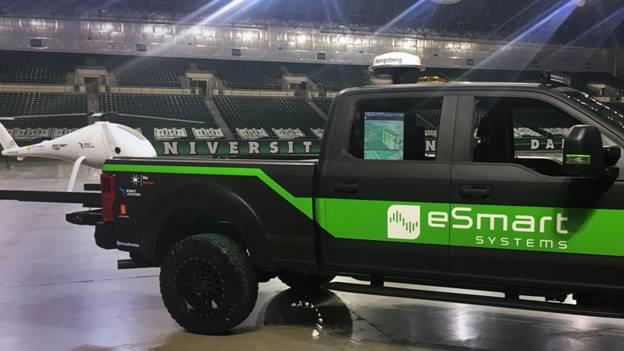 The eSmart Systems Connected Drone solution will now employ the Kongsberg Geospatial IRIS situational awareness display, offering real-time beyond visual line of sight (BVLOS) powerline intelligence to utility companies in North America and Europe.
The Connected Drone solution collects real-time powerline inspection data for analysis in the eSmart cloud, according to a news release. Having immediate access to this actionable data helps utility companies reduce power failures and operational costs.
The IRIS display will make it possible for one operator to manage multiple drones at the same time. It also will provide real-time calculation of communications line-of-sight, making BVLOS operations possible. The operator will have access to 2D and 3D visuals of airborne traffic and weather data, as well as geo-fencing capabilities.
"eSmart Systems has five years of expertise and experience in Norway of providing software solutions for energy companies and their service providers using UAS tools. We have identified strong partners like Kongsberg Geospatial to enable Beyond Visual Line of Sight flights that will accelerate the usability for the utility industry, " said Knut Johansen, CEO of eSmart Systems, according to the release. "Visualizing this information within the Kongsberg Geospatial IRIS display is a very powerful tool to enhance safety for UAS operations."
For more information visit kongsberggeospatial.com.