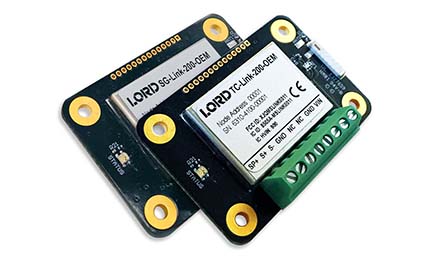 LORD Sensing, MicroStrain recently announced the addition of two wireless sensors that enable OEMs to remotely collect data from a range of sensor types.
"Building a wireless temperature data acquisition system can be difficult and time consuming," said Chris Arnold, LORD Sensing Product Manager, in a press release. "The TC-Link-200-OEM and the SG-Link-200-OEMsensors now allow customers to quickly and easily integrate wireless data acquisition into their product without worrying about signal conditioning and radio design."
Already proven as a solution for electric vehicle fuel cell condition monitoring, the TC-Link-200-OEMallows users to remotely collect data from a range of temperature sensor types including thermocouples, resistance thermometer, and thermistors, according to LORD Sensing. The technology was developed for use with common temperature probes, includes cold junction compensation for thermocouples and linearization of all temperature measurements.The nodes support high resolution, low noise data collection at rates up to 128 hertz. The new sensor is miniature, light weight and designed to be easily embedded. Many of the same features found on other LORD wireless products are included on the TC-Link-200-OEM.
Intended to be used with strain gauges (Wheatstone bridge input), SG-Link-200-OEM was an early adopter for monitoring mining equipment. The sensor also allows users to remotely collect data from a range of sensor types, including strain gauges, pressure transducers and accelerometers. The node includes on-board shunt calibration for easy in-situ strain gauge calibration and supports high resolution, low noise data collection from one differential and one single-ended input channel at sample rates up to 1 kilohertz. A digital input allows compatibility with a hall effect sensor for reporting RPM and total pulses, making the sensor ideal for many torque sensing applications.
Both wireless OEM sensing solutions are compact in size and offer low power operation, making them well suited for battery powered applications.