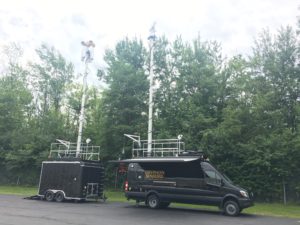 Unmanned aerial systems (UASs) and their uses have exploded in recent years, and first responders are just one example of many groups impacted by using drones for a variety of critical applications.
With this jump in UAVs comes the increased need for safety measures and Unmanned Traffic Management (UTM) systems. Gryphon Sensors, which has worked with NASA on UTM developments for a few years, has developed a Mobile Skylight system designed to deliver drone security and UAS traffic management.
Featuring an array of self-contained multispectral sensors, the Mobile Skylight system provides accurate three-dimensional detection of low-flying, small UAS at out to 10 kilometers.
"Doing that type of work for NASA as part of their UTM demonstrations and working with them and helping them develop the requirements for a UTM is how this all started," explained Craig Marcinkowski, director, strategy and business development at Gryphon Sensors. "A lot of this came out of the work we were doing with NASA and the FAA on some of their pathfinder programs that are aimed at UAS as well."
Marcinkowski credits Parimal Kopardekar, manager of NASA's Safe Autonomous Systems Operations project and lead of NASA's UTM efforts, with playing an integral part in developing UTM systems and with identifying some of the Skylight Mobile capabilities.
Recently, New York Governor Andrew M. Cuomo announced that Gryphon Sensors, based in Central New York, had developed Mobile Skylight, with the development building on the state's investments in the region's emerging UAS industry. Last August, Cuomo announced a $5 million commitment through the Upstate Revitalization Initiative (URI) to support the UAS industry in Central New York, bolstering ongoing efforts to create a regional hub for UAS innovation and manufacturing.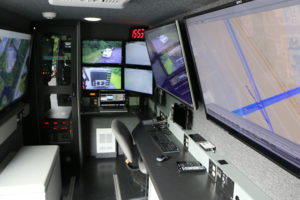 Last fall the Governor announced an additional $30 million investment that is being utilized to develop a 50-mile flight traffic management system between Syracuse and Griffiss International Airport in Rome, N.Y.
"The state's really been progressive around safe integration of unmanned systems. There's a number of state agencies who will be able to use unmanned systems for more safety resource savings within the state," Marcinkowski said. "Building out these operational UTM corridors if you will are really going to help accelerate the unmanned systems industry here in the state of New York and then also probably bring collaborators from other states here with the leading stance New York has taken with this major investment."
Currently as part of Project U-SAFE, there are a lot of opportunities to use Mobile Skylight within the corridor that's being built out and within the state of New York, according to Marcinkowski. The Unmanned Aircraft System (UAS) Secure Autonomous Flight Environment (U-SAFE) is a $250 million program, being led by Gryphon Sensors in the Central New York region. This five-year program is an economic initiative to provide infrastructure and resources to attract the expanding UAS industry to the area, according to Gryphon Sensors. U-SAFE will integrate low-altitude, small UAS (sUAS) into the National Airspace (NAS) and create a UTM system for low-altitude, sUAS to enable Beyond Visual Line of Sight (BVLOS) operations.
The program will allow for testing of sUAS and commercial applications to include package delivery, railway and power line inspection, precision agriculture and security applications, specifically surrounding airports. Through its National Unmanned Aerial Standardized Performance Testing and Rating (NUSTAR), U-SAFE will be the first to set standards for UAS airworthiness certification. According to Gryphon Sensors, a UAS drone innovation and business park will be constructed to facilitate collaboration in the UAS industry.
Marcinkowski said the applications for using Mobile Skylight are many, but a current focus is geared toward helping first responders. It's also well-suited for UAS security, for example for around a VIP event when you want to see what's in the airspace.
"Basically, the system has everything you need for a mobile UTM or UAS operations," he said. "In one mobile platform, with the sensors that we have on the telescoping map, we're tying everything together with one operating picture in there to conduct the UAS system."
UTM has really taken off the last couple of years, with questions surrounding how municipalities and other areas with people are going to safely integrate UAS on a large volume into the environment they're in. UAS traffic management becomes a key component in these scenarios. Right now, as part of Project U-SAFE, there are a lot of opportunities to use Mobile Skylight within the corridor that's being built out and within the state of New York, Marcinkowski said.
One such opportunity involves the first responder community.
"Whether that's fire, police or EMTs who are looking to use drones within their operations, we're working with those groups in those communities," he said. "And then specifically developing the systems, procedures and con-ops for how they want to use drones, tied into a UAS traffic management system. Even more uniquely, if they want to be able to fly those drones beyond visual line of site (BVLOS), Mobile Skylight will really allow them to do that, obviously working with the FAA to get proper approvals."
For example, if you have a first responder situation where there's a search and rescue scenario that's being played out where there's a flood, agencies can drive their Mobile Skylight out and search a certain area beyond the visual line of sight. The system will do self-leveling and the sensors will scan the environment, including a three-dimensional radar that allows you to see up to 27 kilometers for general aviation aircraft.
"You can use that as a basis of a safety case with the FAA to fly beyond visual lone of sight, so if you have those approvals in place you bring your Mobile Skylight system out, clear the airspace with your radar and other sensors, and you also have a secure mesh network there for secure communications," Marcinkowski said.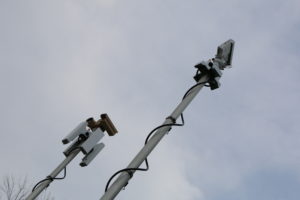 You can fly your own drone, once you have clearance, conduct your BVLOS search and rescue mission, bring your drone back to the Mobile Skylight system, pack everything down and then move on to your next scenario. "That (search and rescue) is a community we're really looking at now and understanding how they can utilize the system," he added.
Contained in a sleek, rugged van, Mobile Skylight is a complete mobile command center featuring 4×4 off-road capability and can be taken anywhere without a commercial driver's license, according to the company. It's designed for rapid deployment of a wide range of applications including stadium, special event security, first responder and search and rescue operations, infrastructure and utility inspection.
"Today's unveiling of Gryphon Sensors' first-in-the-nation unmanned aircraft management system underscores that Central New York is positioned to become a world leader in the UTM field," Lieutenant Governor Kathy Hochul recently stated when Governor Cuomo made his announcement. "With the creation of the drone corridor, the Genius NY competition, and the alignment of our business and academic institutions though the Central New York Rising Upstate Revitalization Initiative, we are building a hi-tech industry cluster and preparing the local workforce needed for its sustained growth into the future."
Anthony Albanese, president, Gryphon Sensors, added: "The system provides unmatched versatility and air surveillance capability enabling Beyond Visual Line of Sight commercial and security UAS operations in the State's unique UAS flight corridor."
New York's $35 million investment is already growing the UAS industry through the strategies outlined in the Central New York Rising plan. Supporting this effort is the strong regional presence of aerospace firms, such as Saab, Lockheed Martin and SRC, and regional assets, such as the NUAIR Alliance, which operates a FAA-designated Unmanned Aerial Systems test site.
Looking ahead, Marcinkowski envisions a time soon when municipalities deploy a Mobile Skylight system to allow them to have their own BVLOS drone operations.
"The goal is over five years to get to a point where this UAS traffic management system is deployed here in upstate New York, getting into this autonomous flight environment where there's many vehicles over the same airspace at the same time flying autonomously beyond visual line of sight.
"It's kind of a first of its kind but it's still early and we're looking to work with as many different stakeholders and users out there to integrate the system into their operations, to continue to mature it. There's not a lot of people out there flying beyond the visual line of sight yet. We're working with a number of different craft manufacturers right now on integrating their craft into the platforms as well. There's a lot of work that needs to happen but it's exciting to have this really unique and leading capability out there," he said.