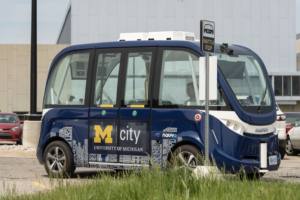 The Mcity Driverless Shuttle is now transporting passengers on the University of Michigan's North Campus.
Mcity, a research project at the university, will study how passengers react to the driverless shuttle, according to a news release. Onboard cameras and WiFi communications will capture data generated during trips.
"The Mcity Driverless Shuttle is the first driverless shuttle project in the United States focusing on user behavior research and data collection, and we're excited to begin this important work," said Mcity Director Huei Peng, who is also the Roger L. McCarthy Professor of Mechanical Engineering and the faculty lead on the shuttle research project, according to the release. "The data we collect will help researchers understand user trust over time, as well as how to design safer vehicles and how to operate them more efficiently."
Cameras inside the shuttle will capture passenger reactions during the roughly one-mile round-trip, which is contained to the North Campus Research Complex (NCRC). Researchers will have access to video, audio recordings and photographs. Cameras on the outside of the vehicle will record how other road users react, including other vehicles, bicyclists and pedestrians. WiFi data already gathered by the university will help the team learn about ridership and use patterns. They're also working with J.D. Power to survey users about their experience.
The two fully automated, 11-passenger, all-electric AUTONOM shuttles are manufactured by French firm NAVYA. The shuttle takes students, faculty and staff to the complex from parking areas and provides easy access to the U-M/Ann Arbor Area Transportation Authority bus stop. The shuttles feature LiDAR to build a view of the surrounding environment and GPS for localization.
A conductor will be on board at all times and has the ability to immediately stop if necessary. Mcity's safety conductors completed comprehensive training on the shuttle inside the Mcity Test Facility and on the route at NCRC.
The route eventually will be expanded. The team also plans to conduct accessibility research. Mcity operates the shuttle in partnership with U-M Logistics, Transportation and Parking.
"The research obtained from our surveys will help the industry understand the rider's experience on the driverless shuttle as well as non-riders who interact with the shuttle as it operates on U-M's campus," said Kristin Kolodge, executive director of driver interaction and human machine interface at J.D. Power, according to the release. "Examining the experience from both perspectives will help industry stakeholders better understand consumer acceptance of driverless technology over time."