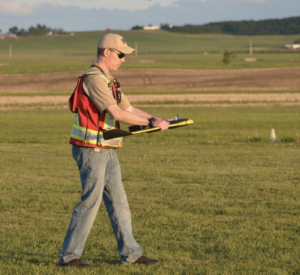 IN-FLIGHT Data is set to begin a five-month UAS BVLOS Proof-of Concept Trial in Canada with help from senseFly and its professional mapping drones.
The goal is to demonstrate that drones can conduct these flights safely and efficiently, while also providing a variety of benefits for different use-cases, according to a news release.
"We are truly excited to get the go ahead for this ambitious project," said Chris Healy, owner of IN-FLIGHT Data, according to the release. "Working closely with senseFly and our 20 partner organizations, we'll be collecting a huge amount of geo-accurate data—across many types of long-range drone applications—which we are confident will help contribute to the creation of pragmatic future BVLOS legislation."
The trial will run until early November, with the team completing one BVLOS flight each week. They will fly a variety of missions, including pipeline surveys, crop mapping, landfill volume analyses, graveyard inventory assessments and search and rescue applications.
Despite not being selected for the formal Transport Canada (TC) program, senseFly and IN-FLIGHT Data are moving forward with the drone trial following discussions with the team at TC. This decision to proceed was taken largely as a result of the robust way their project has been planned, as the company has compliant UAS technology, many safety observers and solid operation protocols, Healy said in a statement. Canada Post, Canadian UAVs,  Drone Delivery Canada and ING Robotic Aviation are the four groups selected for the TC program.
IN-FLIGHT Data has offered to share flight safety data from their trial with both TC and Unmanned Systems Canada, to support their wider efforts to establish safety-focused BVLOS regulations that will benefit everyone.
"The scope of this trial is, we believe, unique in Canada, if not the region," senseFly's Regulatory Project Manager Samuel Dépraz said, according to the release. "The vast amount of flight safety data and learnings that Chris' team will collect and share will be extremely beneficial to the future growth of Canada's commercial drone industry, and I'm sure other regulators around the world will be following this project with interest. With IN-FLIGHT Data's extensive operational experience, the project's diverse, committed partners, and its 'Compliant' senseFly drones, I've no doubt this trial will be a success."
The drones will be operated using senseFly's commercial-grade eMotion ground station software, which includes integrated air traffic and geo-awareness data from AirMap and uAvionix air traffic data systems.
Missions will be flown at 14 different test sites, with some specific Transport Canada "in-range" sites and others "off-range" open airspace sites in rural locations. Flights will be up to 10 km in length and will total more than 1,500 km total linear flight distance. More than 120 datasets spanning both RGB and thermal infrared aerial imagery will be collected. Human observers will monitor flights and air traffic to compare observations with operators' ground station software experiences.
"The reasons we made this trial so large are two-fold," Healy said, according to the release. "The more data, the better the risk models Transport Canada can create, which will help them to create safety-focused BVLOS regulations that benefit everyone. And secondly, there are just so many potential BVLOS applications out there, we really wanted to explore a good number of these."
For more information on the four organizations selected to test flying drones beyond visual line-of-sight in 2018, check out the Transport and Infrastructure in Canada facebook page.
The BVLOS drone operations are designed to unlock the commercial potential for the industry, with future applications in long-range infrastructure inspections, precision agriculture, delivery solutions, public safety, and, eventually, in public transportation.