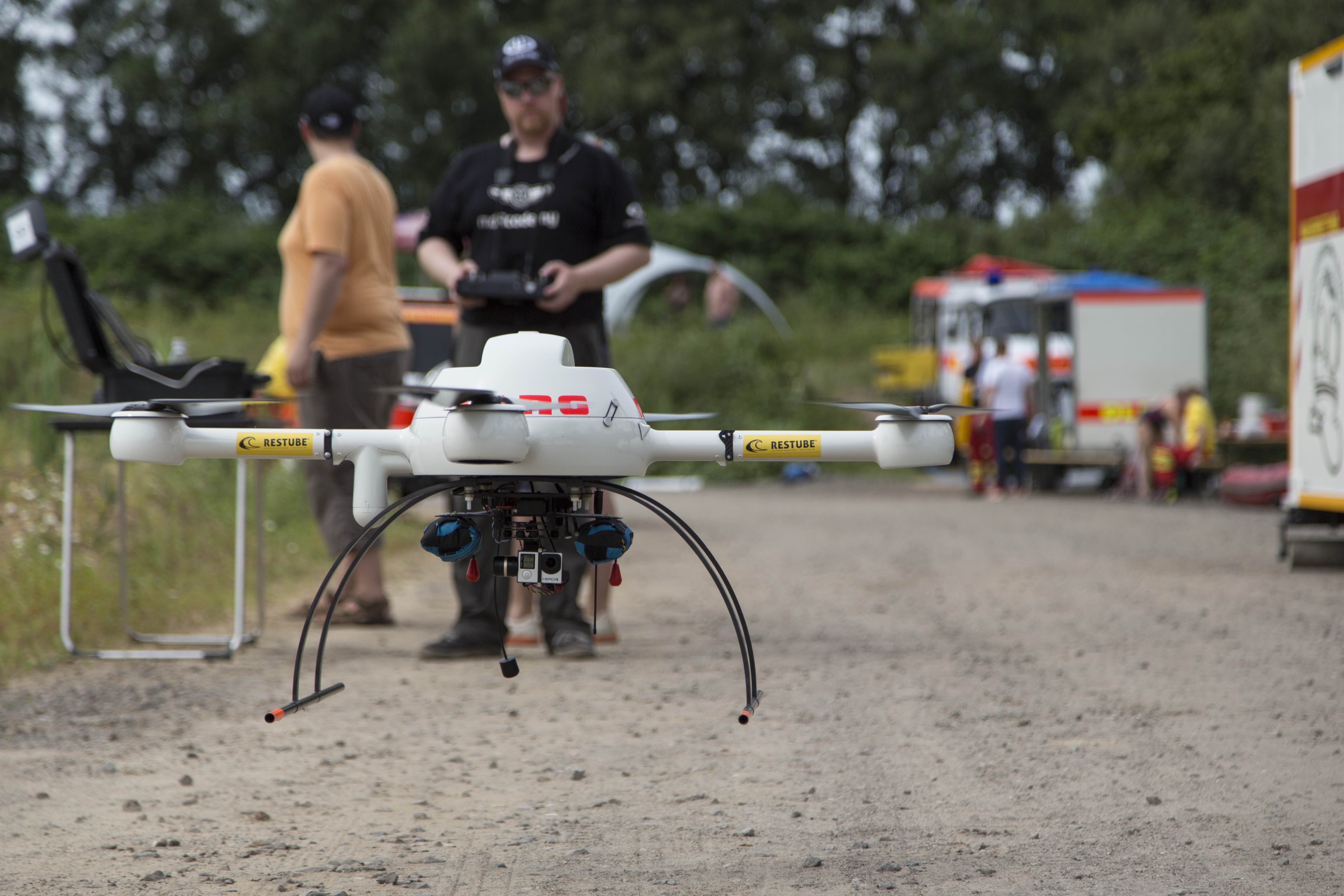 When lifeguards see a swimmer in distress, they know they must act quickly. A few seconds can be the difference between life and death, making it vital to provide help as soon as possible.
This is something DLRG Horneburg/Altes Land e.V., the German Lifeguard Association, knows all too well, and is why they reached out to microdrones. They saw the benefits unmanned aircraft systems, or UAS, could provide during water rescue, and microdrones was happy to help them find a way to use drones for this life-saving application.
The German manufacturer gave the organization a md4-1000 quadcopter and soon began working with them to develop a tool that combines two technologies—unmanned aerial systems and RESTUBE, an inflatable flotation device. Once the system was created, microdrones performed a few internal trials, which led to the water rescue demonstration completed earlier this summer, said Sven Juerss, CEO of microdrones.
During the demonstration, held in the Elbe River, the drone quickly flew to the person in distress and dropped the RESTUBE it carried. The rescue device automatically inflated when it hit the water, enabling the swimmer to grab the tube and float until a human lifeguard arrived to complete the rescue.
The lightweight UAS is equipped with two RESTUBES, which Juerss said was a vital part of the design. A small motor with two mechanisms drops the tubes, either together or one at a time. The RESTUBE is carried in a package with a CO2 capsule, and when the tablet comes in contact with the water, the bag instantly inflates.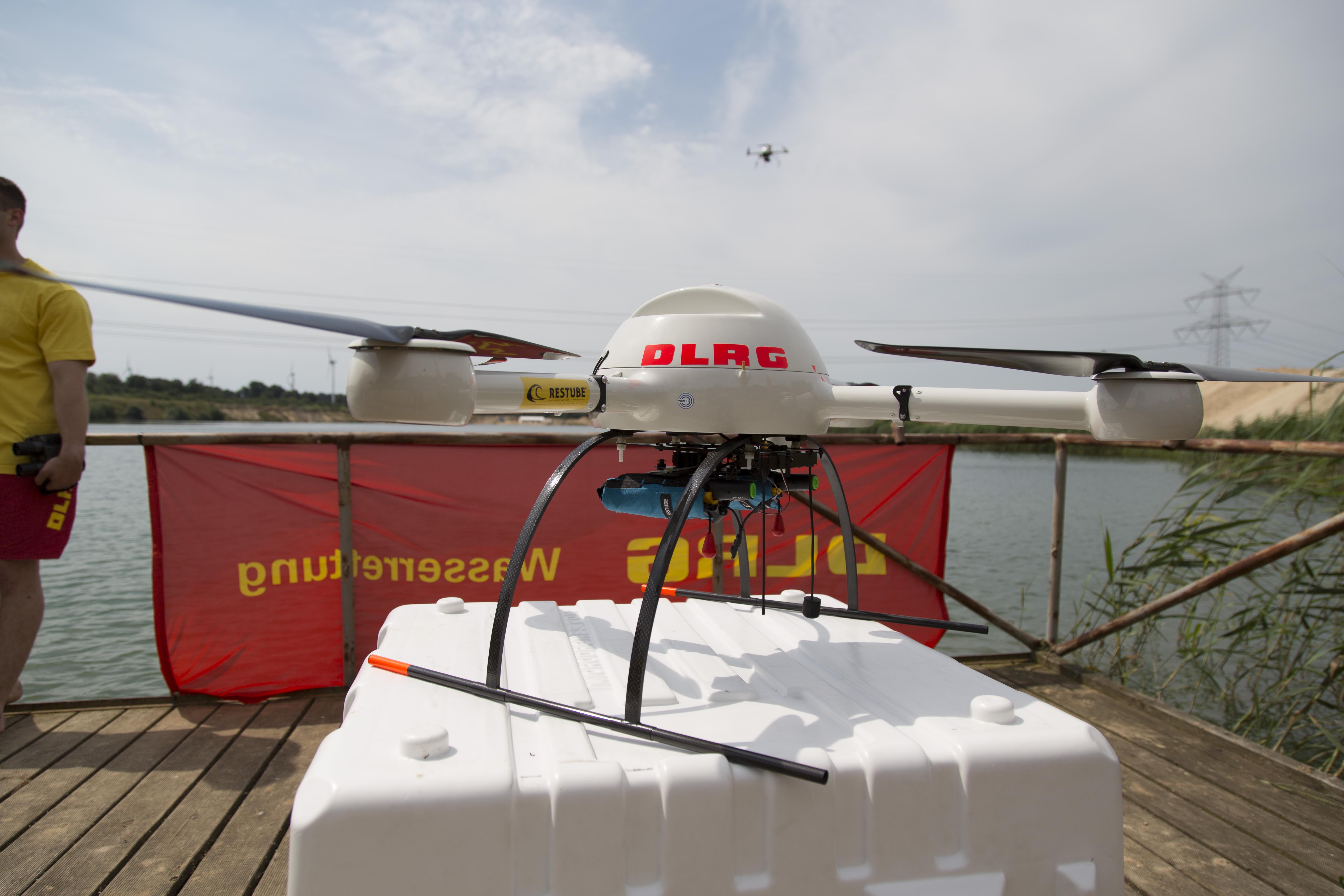 "In case you miss on the first shot you have to have a backup. You can't afford to look into a victim's eyes after missing and then disappear," Juerss said of the importance of the drone having two flotation devices. "An adult can drown in less than 1 minute and a child can drown in less than 30 seconds, so time is really crucial. This really can help save lives. It gives them something to grab on to and helps relieve the fear and panic. Then of course you need the human to do the final job and pull these guys out of the water. It's really an assistance."
Even though it was windy, the demonstration was a success, Juerss said, and the RESTUBE drops were even more precise than he expected—largely because of the md4-1000's stability. The UAS also has an integrated stabilized HD camera, so rescuers can clearly see exactly where they need to drop the RESTUBE.
"Our drone is stable and can stay airborne for a long time. That means we can have very good range very quickly," he said. "And it can stay there and hover as an observer for the commanders. It offers a lot of value in different aspects of water rescue. That's what we've proven. This was a very important first demonstration."
Because this was a free project, the team at microdrones worked on it during their free time and was able to complete it in about six months. Now, microdrones is looking for sponsors to help create a mobile command vehicle, Juerss said, and the company is in talks with a few car manufacturers about becoming part of the project. This will make the system more professional and will open up more opportunities for use in other accident and emergency situations.
When it comes to water rescues, deploying a drone to fly over the water rather than waiting for a boat or lifeguard to reach a swimmer who is in trouble saves valuable time and, ultimately, lives.
"One of the greatest obstacles to rescuing a drowning swimmer is that they panic and we often can't reach them in time," said Robert Rink from the DLRG Horneburg/Altes Land e.V., according to a press release. "After seeing what I saw here today, I have no doubt that drones will play a significant role in the near future of water rescue—and that we'll see less fatalities as a result."