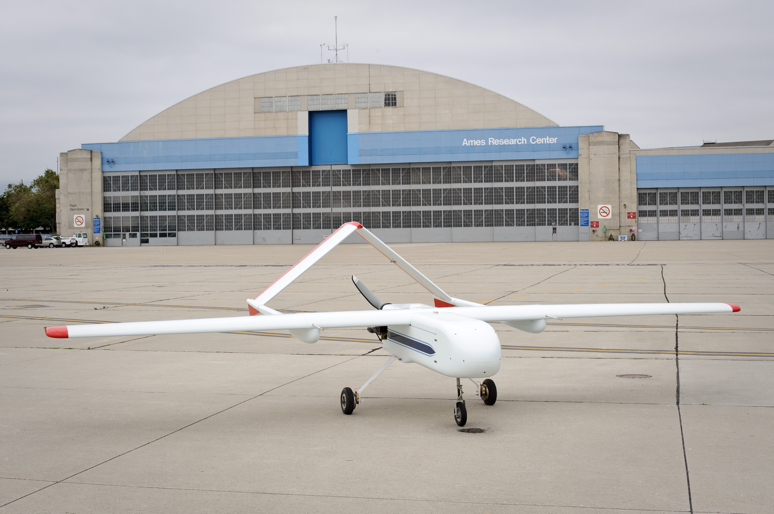 For the last few years, NASA has been working to develop an air traffic management system that will give small UASs the ability to safely fly at altitudes less than 500 feet.
The Unmanned Aerial System Traffic Management, or UTM, is a cloud-based system that will help manage traffic at low altitudes and avoid collisions of UASs being operated beyond visual line of sight.
"A few years ago, we started thinking we needed some way to coordinate UAS traffic so they could operate safely at low altitudes," said Dr. Parimal Kopardekar, UTM Principal Investigator at the NASA Ames Research Center. "It's just like with autonomous cars. Even though they're autonomous, you still need roads and traffic lights. We need a way to organize the UAS traffic, whether that's by crisscrossing or with a bike lane or HOV lane kind of construct. The system can make these things happen based on demand. UTM is a virtual system."
The UTM also incorporates geo-fencing so operators know which areas to avoid. UTM will help operators with better understanding of predicted wind and congestion, and will offer a terrain and man-made objects database to help them avoid collisions with buildings and other stationary objects.
"The system tells you all the constraints you need to avoid, and gives you an idea of where you can safely fly. That's the idea," Kopardekar said. "It gives you a good repository of all the information you need to operate in the airspace. If there's a constraint due to weather, traffic, airport, or other operations, it will tell you, and you can choose a different path."
It allows UAS operators and users of the airspace to be in charge of their own business trajectories, Kopardekar said, and provides services related to weather, geo-fencing, separation management, contingency management based on the needs of the operator and overall airspace demand.
The UTM will come in four builds, based on four risk-based criteria, Kopardekar said. The first build will be used in unpopulated areas, while the fourth build will be reserved for more missions in urban environments. Build two will be best suited for operations in sparsely populated areas, and build three will be the best option in situations where there may be limited contact with manned aircraft, such as for package deliveries. Each build enables certain types of missions and provides certain services, and supports the missions and services of the previous build.
The team will test the first build during a demonstration set for August 24-28 at the Armstrong Research Center. During this demonstration NASA and 16 collaborators will meet to test the UTM's capabilities. The other builds will be tested at later dates, with the build four demonstration scheduled for March 2019.
Texas A&M University-Corpus Christi Lone Star Unmanned Aircraft Systems Center is one of the collaborators that will participate in the August demonstration, said Jerry Hendrix, Chief Engineer for the Lone Star UAS Center. The team will fly the Air Robot 180 under the controls of the UTM. The center is among the test sites working with NASA to test the UTM, and has been part of the project since last summer.
As part of their collaboration, the Lone Star UAS team sends information from their control center to the NASA Ames Research Center about their missions, including positional and planning information, Hendrix said. They also simulate the UTM solution and create a variety of UAS mission scenarios to test its robustness.
"One of the things that made our test site appealing to NASA was the fact our mission control center is designed for situational awareness for UAS on our test site," said Dr. Ron George, Senior Research Development Officer at Texas A&M-Corpus Christi. "We have styled if after an airline operations center, and it is custom made for tracking and having situational awareness for unmanned aircraft systems."
NASA has more than 100 partners working to help accelerate UTM's development, Kopardekar said, and that includes test sites, universities, UAS operators, UAS manufacturers, surveillance providers, various commercial entities, companies and other government agencies. They're all eager to see how the technology will work with their systems, and want to help find a way to safely integrate small UASs into the national airspace.
"Our goal is to accelerate the implementation of UTM," Kopardekar said of the importance of collaboration. "If we do everything by ourselves in our own labs, it will take more time. We need the collaboration of ideas and technologies to allow for faster innovation of the different subsystems and overall integrated operations."
To help further encourage that collaboration, NASA is hosting the 2015 Unmanned Aerial Systems Traffic Management Convention: A New Era in Aviation.
They're partnering with the Silicon Valley chapter of the Association of Unmanned Vehicle Systems International to co-sponsor the conference, which is set for July 28-30 at the NASA Ames Research Center. Speakers include NASA and FAA executives, industry thought leaders, innovators and stakeholders. About 200 people have already signed up for the conference. Visit the conference web page if you're interested in attending.
Kopardekar encourages people to attend, because the more industry members who get involved, the sooner there will be a system available to help safely and efficiently operate UASs at low altitudes.
"The goal of the FAA is to integrate unmanned aircraft into the national airspace, and one hurdle is ensuring safe air traffic operations," George said. "The industry won't be able to operate effectively until we operate safely. This system is a solution NASA is proposing for safely integrating UAS into the national airspace."