As international security challenges continue to evolve, NATO is working hard to stay at the forefront of global defense capabilities.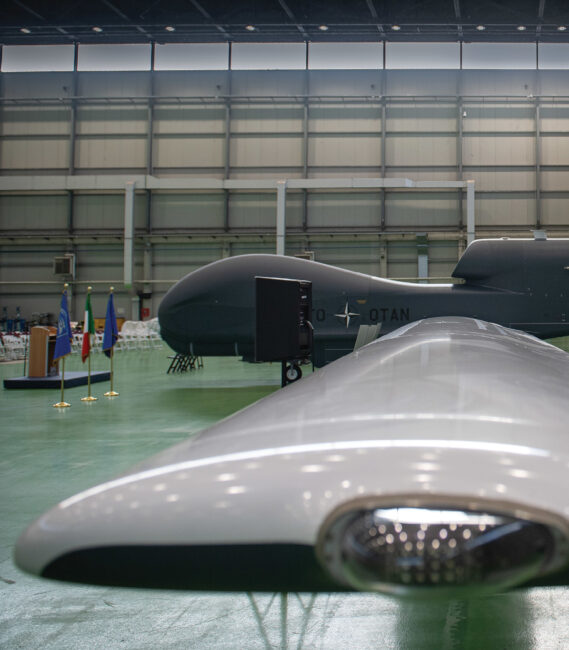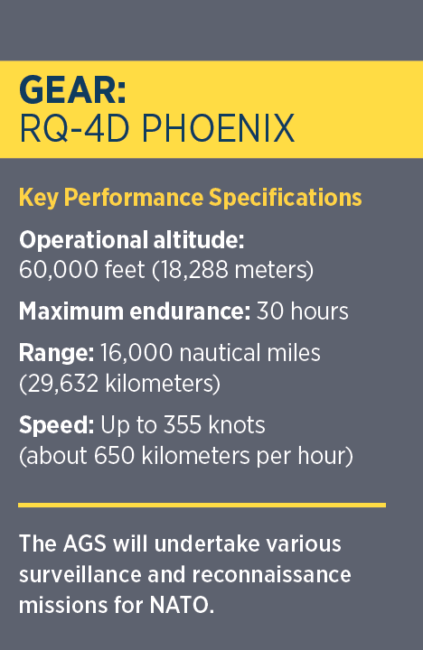 Whether it's bringing together original innovators to rethink the state of the art in unmanned marine systems, or deploying pacesetting autonomous, air-based surveillance technologies, NATO appears determined to remain the world's most advanced military alliance.
"In many ways, the future of military innovation is an increasing focus on data fusion and autonomy," said Amir Husain, member of the NATO Maritime Unmanned Systems Innovation Advisory Board (IAB). "I just can't imagine any major platform in the future that does not include some form of autonomy and AI."
Husain is founder and CEO of SparkCognition, the award-winning artificial intelligence company, and founding CEO of SkyGrid, a Boeing and SparkCognition joint venture.
About the IAB, he said, "Michael Brasseur of the U.S. Mission to NATO contacted me about putting together a special group of innovators who would advance the state of the art in the maritime domain and help accelerate and scale the NATO Maritime Unmanned Systems Initiative."
The IAB is not a group that responds to pre-developed, formal requirements. Instead, Husain said, "We provide innovation input and develop concepts, identifying key trends, threats and opportunities and then proposing solutions for consideration."
There are two key aspects to this work. First, the various individual alliance members have their own autonomy programs, which the IAB looks at and advises on. As a particular example, Husain pointed to the U.S. Navy's Task Force 59. Commissioned in 2021, Task Force 59 tests and integrates unmanned air, sea and underwater systems for maritime operations in the U.S. Navy's 5th Fleet area of operations, or U.S. Naval Forces Central Command.
"The same Michael Brasseur who put together the IAB was the founding commander of Task Force 59," Husain said, "and the IAB has subsequently contributed to many of the ideas that have crystallized within that group."
DIVERSITY CONTRIBUTES
The second basic task for IAB is concept development for alliance-wide consideration. "On this side," Husain said, "one of the board's main goals has been to develop the vision and defining the capability set for what we refer to as the 'Digital Ocean.' The idea is to deliver safety and security by leveraging advanced sensor networks, autonomy and artificial intelligence. No single country can implement a system of this breadth and capability, so the idea is for members to collaborate.
"As part of Digital Ocean, we have proposed open architectures that would allow interoperability between alliance members. Sensor networks and artificial intelligence are most effective when lots of individual platforms can become part of the sensor network—even assets that are operated by different nation states. In order to facilitate this type of collaboration and interoperability, open systems are important."
The IAB has quite an interesting collection of members, starting with Husain himself, who is, among other things, author of the best-selling book "The Sentient Machine: The Coming Age of Artificial Intelligence" and co-author of the compilation "Hyperwar: Conflict and Competition in the AI Century."
"We've assembled a tremendous multi-faceted team," he said. "We have people from the services, people with a background in government, several individuals from academia and then, of course, with commercial backgrounds too. The concepts we have proposed and developed at the IAB represent the shape of things to come. Rather than think about this as a new vertical or market, think of it as the next evolution of the maritime defense industry."
MATURE SYSTEM DEPLOYMENT
As it works to identify and develop new and innovative technologies at sea, NATO is also moving to integrate fully operational unmanned systems in the air. In 2022, at Main Operating Base Sigonella, Sicily, the NATO AGS Management Agency (NAGSMA) completed the Full System Handover to the NATO AGS Force (NAGSF) of the RQ-4D Phoenix Global Hawk.
The NATO AGS Full System Handover includes five aircraft, ground and support segments and advanced sensor technologies. Since 2019, operational flight hours have steadily increased, including the first 24-hour mission. The new system provides the alliance with state-of-the-art intelligence, surveillance and reconnaissance (ISR) data collection and distribution capacities.
"We built the AGS system and integrated the sensor payloads and support the ground station," Northrop Grumman NATO business manager Anthony Bellione said. "We provide all sustainment and development of the system, tip-to-tail."
The RQ-4D Phoenix is a high-altitude, long-endurance drone based on the U.S. Air Force's RQ-4 Block 40 Global Hawk. It is equipped with the Multi-Platform Radar Technology Insertion Program (MP-RTIP). This is a modular, active electronically scanned array radar system that enables the detection and tracking of ground targets through a range of weather conditions and across various terrains. Ground-based AGS system components include the main operating base, located at Sigonella, transportable ground stations and communications infrastructure.
The RQ-4D Phoenix collects data using its radar sensors and transmits it to the ground station through secure communication links. The ground station processes and disseminates the information to NATO command centers and other relevant stakeholders, enabling informed decision-making and rapid response to emerging threats or crises.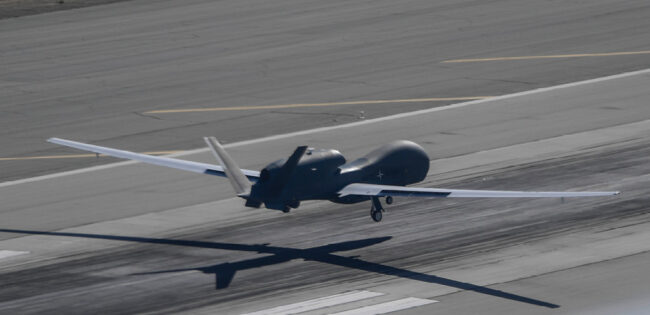 DEVELOPMENT PROCESS
"The overall development of the AGS system took several years, with multiple phases that included design, manufacturing, testing and integration," Bellione said. "The process was completed in collaboration with numerous stakeholders, including NATO member nations, industry partners, and international organizations. To ensure the system suited the alliance's needs, we closely collaborated with additional partners from NATO member nations."
The program's primary industry team was led by Northrop Grumman, with critical partners from NATO member countries, including Airbus Defense and Space (Germany), Leonardo (Italy), and Kongsberg (Norway). These companies made design and manufacturing contributions to various system elements, including ground-based components and communication infrastructure.
As challenges and threats continue to evolve, the requirements driving the development of systems like AGS also change.
"New solutions may include technologies such as artificial intelligence, machine learning, and advanced data fusion techniques, to improve the systems' overall effectiveness and adaptability to the dynamic operational environment," Bellione said. Specific requirements driving current development include increased situational awareness, interoperability, flexibility and adaptability, all-weather, capability, improved long-range persistent surveillance and rapid data dissemination.
To enable seamless operations across numerous member states, NATO has also established a number of common standards, practices and protocols. These have been established to ensure interoperability, efficient communication and coordination among NATO forces. Common standards and practices include the NATO standardization agreements (STANAGs), NATO communications and information systems, and several others.
DAY-TO-DAY RELATIONSHIP
For Northrop Grumman, interactions with NATO primarily take place on two fronts, one with the contractual customer, the NATO Support and Procurement Agency (NSPA), and one with the end user, the NATO Alliance Ground Surveillance Force (NAGSF).
"We hold various recurring working groups between our own Northrop Grumman CONUS [continental United States] team and NSPA in Luxembourg to allow contract, program and technical teams to discuss on-going work and top issues. An OCONUS NG [outside the continental United States] team works alongside NAGSF in Sigonella, to provide on-site engineering support for operations," Bellione said.
For both customers, time is reserved to ensure availability for any ad hoc discussions needed. Bellione said his company's working relationships with both NATO organizations are strong, with all parties sharing the same goal of enabling NAGSF to successfully fly missions.
NATO has 31 member nations, each with its own military structure, assets and needs. Because of the diversity of stakeholders, interests, and perspectives, working with NATO can be more complicated than working with a single nation.
"Partnering with NATO presents unique challenges and complexities," Bellione said. "But it also offers exciting opportunities for collaboration, innovation, and the development of new capabilities."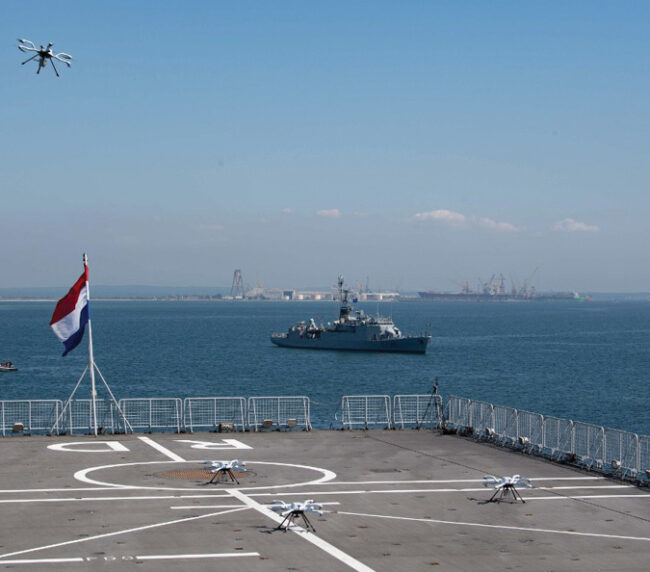 FUTURE OUTLOOK
"The demand for systems like AGS, employing high-altitude, long-endurance UAVs to provide persistent surveillance over vast areas, has increased with the growing adoption of unmanned aerial vehicles for ISR missions," Bellione said.
Northrop Grumman sees artificial intelligence, machine learning and advanced data fusion likely driving the defense and security market for the next five to 10 years. These emerging technologies will make ISR systems like AGS more efficient, accurate and adaptable to changing security threats. Hypersonic vehicles, swarm intelligence and space-based ISR systems will also transform the market over the next decade, while cybersecurity and electronic warfare countermeasures will continue to influence future ISR system development and international demand.
"Over the next decade, nations and military alliances will have to invest in new technologies and capabilities to address the complex and changing security environment," Bellione said, "keeping the market for systems like AGS dynamic."
In addition, the interest in technologies like AGS that support interoperability and information sharing among partner countries has grown, as nations and military alliances look to enhance their joint ISR capabilities. Meanwhile, the demand for dual-use systems that can support both military and civilian applications, such as border security, disaster response, environmental monitoring and infrastructure protection, will also continue to have a big impact on the ISR market.
"We understand the importance of mission readiness, and we are helping NATO maintain its global defense capabilities," Bellione said. "The NATO AGS system is a powerful tool for NATO forces helping to deter and defend against threats. It is a significant improvement over previous ground-based radar systems and will provide NATO forces with a valuable tool for detecting and tracking potential threats now and in the future."