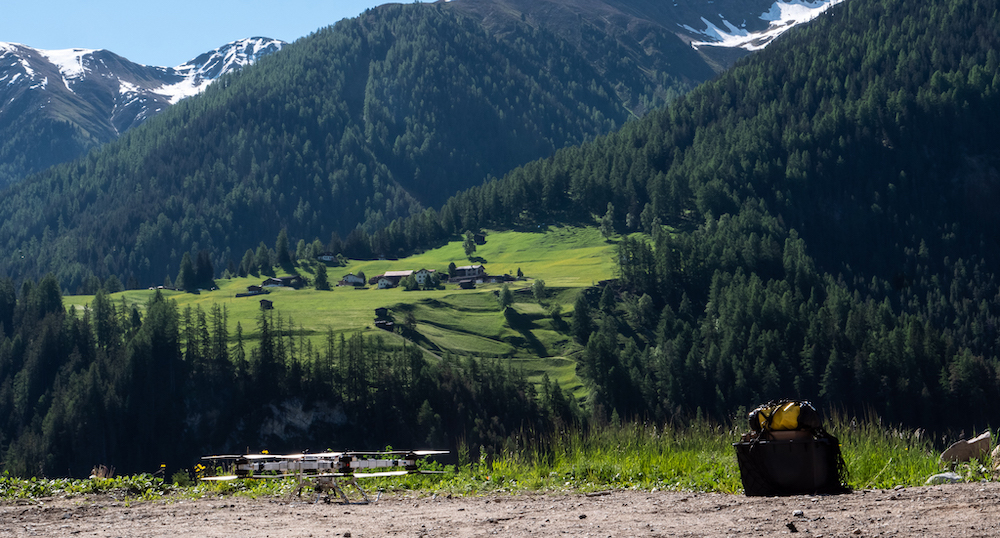 The FlyingBasket FB3 cargo drone recently transported radio equipment across a canyon in Switzerland to cablex technicians executing an antenna installation.
The remotely piloted multicopter, which was equipped with an automatic cargo hook, transported equipment weighing up to 80 kgs for the mission, according to a news release.
"We appreciate the view and the willingness of cablex to challenge the status quo of existing methods and test an innovative solution that will be utilized in the future as part of their daily activities," FlyingBasket CEO Moritz Moroder said, according to the release. "And thanks to the prompt and efficient efforts of FOCA [Federal Office of Civil Aviation], the demonstration could be carried out smoothly in full compliance with the Swiss regulations."
Switzerland is a competitive environment for telecom infrastructure companies like cablex. In remote areas with low population density, the associated fixed costs for optimizing the network infrastructure are relatively higher. Deploying cargo drones is one way to reduce costs and improve efficiencies.
The test was successful, and the project will continue into the next phase.
"FlyingBasket is a drone provider with a lot of experience in transporting loads of up to 100 kg," said Martin Müller, cablex head of portfolio & business steering, according to the release. "They already have a number of successful drone operations in various countries and you can tell that they have ambitious professionals at work."