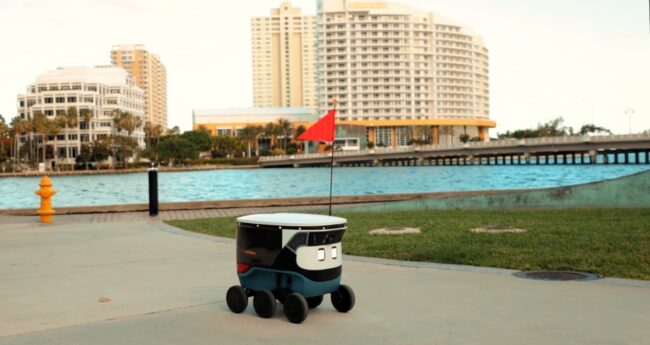 OAKLAND, Calif.—The California startup Cartken, founded in 2019 in Oakland, is using wheeled robots powered by NVIDIA's Jetson edge artificial intelligence platform to deliver coffee for Starbucks and food via GrubHub to college students in Ohio and Arizona, NVIDIA announced Oct. 26.
"What we saw was a technological inflection point where we could make small self-
driving vehicles work on the street," said Cartken CEO Chris Bersch, who founded the company along with Jonas Witt, Jake Stelman and Anjali Jindal Naik, all alumni of Google. "Because it doesn't make sense to build a $20,000 robot that can deliver burritos."
Cartken offers robots as a service to customers in a pay-for-usage model. This lets Cartken's customers customize the robots for their particular brand appearance and specific application features.
NVIDIA says a growing cohort of companies riding the robots as a service wave for offerings as diverse as on-demand remote museum visits and autonomous industrial lawn mowers. The company says its NVIDIA Jetson embedded computing modules enable these uses by handling a variety of sensors and cameras.
"Cartken chose the Jetson edge AI platform because it offers superior embedded computational performance, which is needed to run Cartken's advanced AI algorithms. In addition, the low energy consumption allows Cartken's robots to run a whole day on a single battery charge," Bersch said in the NVIDIA release.
The company relies on the NVIDIA Jetson AGX Orin to run six cameras that aid in mapping and navigation as well as wheel odometry to measure its physical distance of movement.
Harnessing Jetson, Cartken's robots run simultaneous localization and mapping, or SLAM, to automatically build maps of their surroundings for navigation. "They are basically level-4 autonomy—it's based on visual processing, so we can map out a whole area," Bersch said. "The nice thing about our navigation is that it works both indoors and outdoors, so GPS is optional. We can localize based on purely visual features," he said.
Cartken is a member of NVIDIA Inception, a program that helps startups with GPU technologies, software and business development support.
Cartken's robots are serving Grubhub deliveries at the University of Arizona and Ohio State. Grubhub users can order on the app as normally they would, and get a tracking link to follow their order's progress. They're informed that their delivery will be by a robot, and can use the app to unlock the robot's lid to grab grub and go.
Scaling Up
Mitsubishi Electric is a distributor for Cartken in Japan. It relies on Cartken's robots for deployments in AEON Malls in Tokoname and Toki for deliveries of Starbucks coffee and food.
The companies are also testing a "smart city" concept for outdoor deliveries of Starbucks goods within the neighboring parks, apartments and homes. In addition, Mitsubishi, Cartken and others are working on deliveries inside a multilevel office building.
Looking ahead, Cartken's CEO says the next big challenge is scaling up robot manufacturing to keep pace with orders. It says it has strong demand from partners, including Grubhub, Mitsubishi and the United Kingdom delivery company DPD.
Cartken in September announced a partnership with automotive supplies company Magna International to help scale up manufacturing of its robots. The agreement offers production of thousands of AMRs as well as development of additional robot models for different use cases.