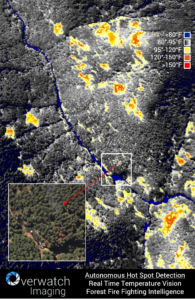 Overwatch Imaging, a small business specializing in customized large-scale aerial imagery intelligence systems, successfully completed a year-long program to upgrade the autonomous image processing capabilities of its TK-X family of airborne multi-camera payloads. The software development program was conducted in collaboration with SOAR Oregon, a not for profit Economic Development organization focused on the development of the Unmanned Aircraft Systems (UAS) industry in Oregon.
The TK-X family of Overwatch payloads incorporate multiple cameras in an actively stabilized, nadir-oriented mount with automated step-stare camera pointing controls, allowing rapid collection of high-resolution multi-spectral imagery. The payloads also include embedded GPU-based onboard image processing, with customized software performing real-time multi-image registration, image-based object detection, and image mapping. Each iteration of the TK-X Overwatch payload is tailored to specific customer requirements for size, weight and power, spectral and spatial resolution, and image processing features, to ensure that each customer gets the exact payload desired for each unique application, according to the company.
"We are thrilled to partner with Overwatch. Their TK-X payload is a game-changer, and their passion for airborne imaging is infectious," said Earl Bowerman, Executive Director of SOAR Oregon. "Overwatch is a great example of the innovative businesses that are making Oregon a drone tech hub and a global leader in the UAS industry."
"This SOAR Oregon grant has directly contributed to job growth and new customer orders," said Greg Davis, founder and manager of Overwatch Imaging. "SOAR Oregon has been a great partner and catalyst to Overwatch and the Oregon UAS industry."
During the SOAR Oregon grant program, Overwatch refined several software image processing features in its toolkit, including automatic real-time image enhancement and real-time small object detection.  These features are among the most requested by commercial and government end users, and this software supports Overwatch business growth into new application areas, including wide-area anti-poaching surveillance and night-time linear infrastructure inspections, along with large farm system precision agriculture and forest fire management.
"Overwatch payloads include the latest embedded processing hardware, so we are pushing the state of the art in terms of GPU-based compute-intensive onboard image processing," said Nick Anderson, co-founder and design engineer at Overwatch Imaging. "We are running machine learning derived algorithms, tailored to our customers' specific objectives, to create real-time results and affordable, actionable intelligence over very large areas from long-endurance UAS and small aircraft. This capability opens up so many use cases for commercial and civil users."
Overwatch Imaging designs and manufactures sophisticated airborne imaging payloads and autonomous image processing software for civil and commercial mapping, automated search and inspection applications.  Based in Hood River, Oregon, the company partners with customers to develop customized, purpose-built aerial imagery payloads to enable long-endurance aircraft to support large-scale roles.