R-evolution's very large solar facility in southern Spain is operational and turning a profit. Crucial to the initiative is an array of advanced Hexagon sensor systems and visualization platforms, including the fully autonomous BLK2FLY, which Hexagon calls the world's first flying laser scanner.

The sun rises brightly above the everlasting province of Malaga in Andalusia, where Carthaginians and Romans, Vandals and Visigoths, ruled in their turns. Revealed to us is the historic town of Archidona, where today's worldly wanderers explore atmospheric streets to find the grand, eight-sided Plaza Ochivada. There, they relax and enjoy a cold drink in one of the hottest and driest climates in Spain. Outside of town, ancient hills and fields are dotted with almond, olive and other fruit trees.
But there is also something very new in the foothills of the Sierra de Gracia, and it also has something to do with the sun. It's a vast solar park, where Hexagon Group's R-evolution is deploying a range of advanced Hexagon technologies in a commercially viable, green-renewables venture. Among the exciting, autonomous, reality-capture technologies being put to work is the airborne BLK2FLY, collecting data for a highly detailed and regularly updated digital twin of the facility.
"We launched our first solar park in Archidona in June of last year," said Erik Josefsson, CEO of R-evolution, Hexagon's sustainable innovation and green-tech investment subsidiary. "And we've just finished our second one, right next to the first one. We'll combine the two and run them as a single facility." Altogether, the Archidona solar park covers just under 100 acres (about 40 hectares). "That's like 56 football fields," Josefsson said. "We're producing a roughly 16.4 megawatt peak, so if you want to translate that, you could say we're able to supply 6,000 households with electricity."
The site's approximately 40,000 solar panels are mounted on automatic, horizontal-axis trackers, so they always face the sun. "We have bifacial panels," Josefsson said, "and that means they take both radiation from the sun directly but also indirectly with what is reflecting from the ground.
"This has been a journey of development," he added. "It was nearly five years of development for our partner, working to find land, get all the legislation in place. Then R-evolution stepped in and acquired the site. Now, we have been moving from what we call RTB—that is, 'ready-to-build'—to COD—'connected-to-the-grid'—and really generating cash."
With the second part of the facility only recently up and running, Josefsson has been staying pretty busy, running down to Spain from Sweden (where he's based), overseeing subcontractors and making sure all the bolts are on tight. Meanwhile, with his background in corporate finance, he also drives the business case, making sure the site fulfills its mission of becoming a profitable concern.
Archidona is not a typical use-case for BLK2FLY. The most difficult challenge is the sheer size of the area that we need to scan.

Pascal Strupler, business director, Autonomous Reality Capture, Hexagon Geosystems
DRONE WORK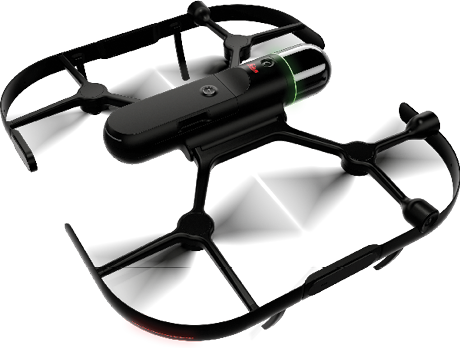 "We're taking geospatial data and combining that with our digital representation of the solar park," Josefsson explained, "and then we can start to do advanced simulations. The first simulations that we've done are about how we can actually cool the panels better. We use Hexagon's Leica laser scanning solutions to create a point cloud of the solar park, and from that we get a digital twin. The beauty here is that we are Hexagon, so we already own, ourselves, all the different types of solutions."

"BLK2FLY is one of Hexagon's most exciting autonomous reality capture technologies," said Pascal Strupler, business director, Autonomous Reality Capture, for Hexagon Geosystems. Strupler operates the BLK2FLY flying laser scanner at the Archidona site, a critical tool in the creation of the digital twin of the park.
"Archidona is not a typical use-case for BLK2FLY," Strupler said. "The most difficult challenge is the sheer size of the area that we need to scan. Flying a pattern with flight paths 10 meters wide, and with scanning speeds of 2 meters/second, it can take a while to scan the whole area."
Ease of use is a key advantage of BLK2FLY. "We made it autonomous, so it can plan its own scan trajectory optimally, following surfaces while traveling the shortest distance," Strupler said. "The operator just sits back and monitors the flight. In case there is some manual flight needed, the full spherical obstacle avoidance system prevents the manual user from flying into any impediment in the environment."
Getting the BLK2FLY set up and in the air is a breeze, Strupler said. Just take it out of its transportation case, unfold it and set it down on the ground. "Power-on" is a press of a button. Take out your iPad, start the BLK2FLY Live app and wait for the connection.
"For the Archidona mission, it makes sense to use traditional 2D map area scanning," he added. "For this, you open the 2D map and draw a polygon over the area of the solar plant you want scanned. A minimum altitude can be defined and in our case we set it at 10 meters above ground." By scanning up close like this with LiDAR, Strupler said, the team can visualize not just the front panel surfaces but also what's below and behind the panels, including mounting structures and power converters. "Then, when converted into meshes," he continued, "this model can be a useful input for creating wind and cooling simulations."
BLK2FLY automatically adapts its flight altitude based on any structures it perceives while scanning. It flies a pattern at a given speed based on scan preferences, taking into account desired scan point density. After about 10 minutes of flight time, the BLK2FLY returns to the take-off location and lands autonomously. The battery can be hot-swapped in 10 seconds and the system is immediately ready to take off again. "An onboard power system keeps the system running while you're swapping out the battery," Strupler said, "so we can avoid a lengthy reboot. With a set of six batteries—one in operation and five charging—BLK2FLY can go on flying indefinitely."
The BLK2FLY isn't the only drone you're liable to spot on a given day at the solar park. "BLK2FLY is fully autonomous, so it can scan vast areas of land for our reality capture needs," Josefsson said. "But," he added, "we also use drones to just get visual images of the site, to be able to look and check that things are going right. You don't need anything specific for that and we often use commercially available drones. I always have a small one with me when I go to different project sites, because it's so easy to just fly up, get pictures and see how things are progressing."
The limit now is our own imagination, where before the limit was the technology. We're going to see these systems doing things and reaching spaces that we couldn't reach before…"

Erik Josefsson, CEO, R-evolution
The Archidona team also needs thermal imagery. "We get data from heat cameras to be able to see if they are any hot spots on the panels," Josefsson said. "There, we have special drones that are equipped with that and can supply specific kinds of data for solar panel inspection software. We don't have that type of drone system at Hexagon. We are not specialized in that, so that's something we actually pay for."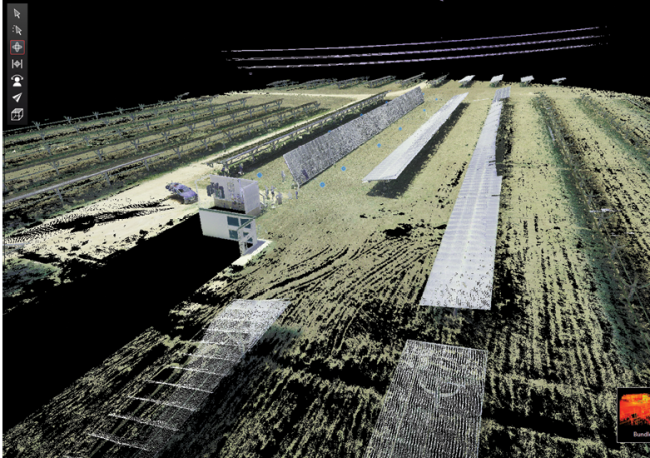 FULL COMPLEMENT
Aside from various aerial systems, R-evolution employs a range of Hexagon-made digital technologies at the Archidona site. Hexagon systems in place include OxBlue professional construction cameras, Leica RTC360 and BLK2GO handheld laser scanners, and the Leica BLK247 smart surveillance system.
BLK247 is particularly notable as a fully autonomous, unmanned monitoring technology. With its sensor fusion capability, BLK247 combines data from LiDAR, video and thermal imaging sensors to accurately detect security breaches, performing real-time change detection in 3D.
Finally, HxDR is Hexagon's cloud-based storage, visualization and collaboration platform for reality capture and geospatial data, while the HxGN Content Program provides unlimited access to aerial imagery in the AOI (area of interest). Last but not least, the Archidona team uses Cradle CFD to run simulations of the park.
"BLK2FLY has a built-in LTE connection," Strupler said, "so the data can be directly uploaded into the HxDR cloud, where the scan data gets processed. Alternatively, we can also offload the data to a workstation using USB-C."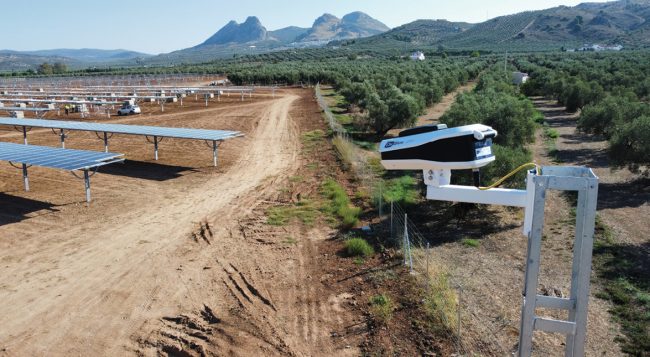 THE PAYOFF IS REAL
"It's quite a big capital investment," Josefsson said about the Archidona project. "The thing with this is that you then have a recurring cash flow that you actually generate. It's not that Hexagon is looking to become a utility company, but we are helping to create stability for these new types of ventures. This is already a very, very profitable business from the perspective purely of selling electricity."
About the rise of autonomous systems, like BLK2FLY, Josefsson said, "We're seeing more and more autonomous vehicles out there. There's been a lot of wishful thinking so far, but now I see it taking off for real. The prices are getting to where they need to be and the type of new solutions that are getting added to our drone capabilities are just amazing. It can be a little scary, like what we've seen recently with cheap and simple commercial drones being used in warfare. You don't need to be an expert to pilot these things because they are so smart. And when you start to reach that level of simplicity, that's when you can reach mass scale.
"The limit now is our own imagination, where before the limit was the technology. We're going to see these systems doing things and reaching spaces that we couldn't reach before, anything from emergency response to what we're doing in green tech. Everyone can use this technology and that's going to mean significant growth. We're going to see it peaking everywhere."
All photos courtesy of R-evolution.