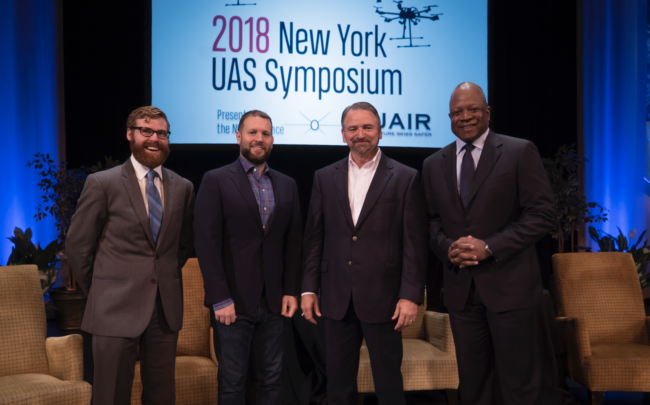 AirMap will provide UAS Traffic Management (UTM) services for the nation's first UTM 50-mile test corridor being built in New York for beyond visual line of sight (BVLOS) testing. The Northeast UAS Airspace Integration Research (NUAIR) Alliance is currently building that corridor between the Griffiss International Airport in Rome, New York, and Syracuse.
The NUAIR Alliance and Griffiss selected AirMap's UTM Platform to power NUAIR's core UTM services, giving traffic controllers the ability to manage airspace data, authorizations, and real-time air traffic, according to a news release. AirMap will also enable USS-to-USS communications interfaces for the exchange of safety-critical airspace information between NUAIR and other UAS Service Suppliers (USS).
"NUAIR Alliance is excited to bring in AirMap to power the test corridor with leading-edge UTM services," said Major General Marke F. "Hoot" Gibson, chief executive officer of the NUAIR Alliance. "Their global expertise is essential in accelerating the work we're doing to advance UAS technologies."
The UTM corridor has support from New York Governor Andrew M. Cuomo along with an investment of $30 million, enabling it to be built with leading edge technologies. The investment is part of CNY Rising, Central New York's comprehensive strategy to revitalize communities and grow the economy.
"Adding AirMap as a partner to Oneida County's UAS Test Site at Griffiss International Airport will be a huge boon to our efforts to establish our 50-mile UTM corridor between Rome and Syracuse," Oneida County Executive Anthony J. Picente Jr. said, according to the release. "Moves like this continue to strengthen our position as the nation's leader in UAS management, research and innovation and establish the Mohawk Valley and Central New York in the global industry."
For more, read: NUAIR Alliance Announces UTM Partnership with Unifly.