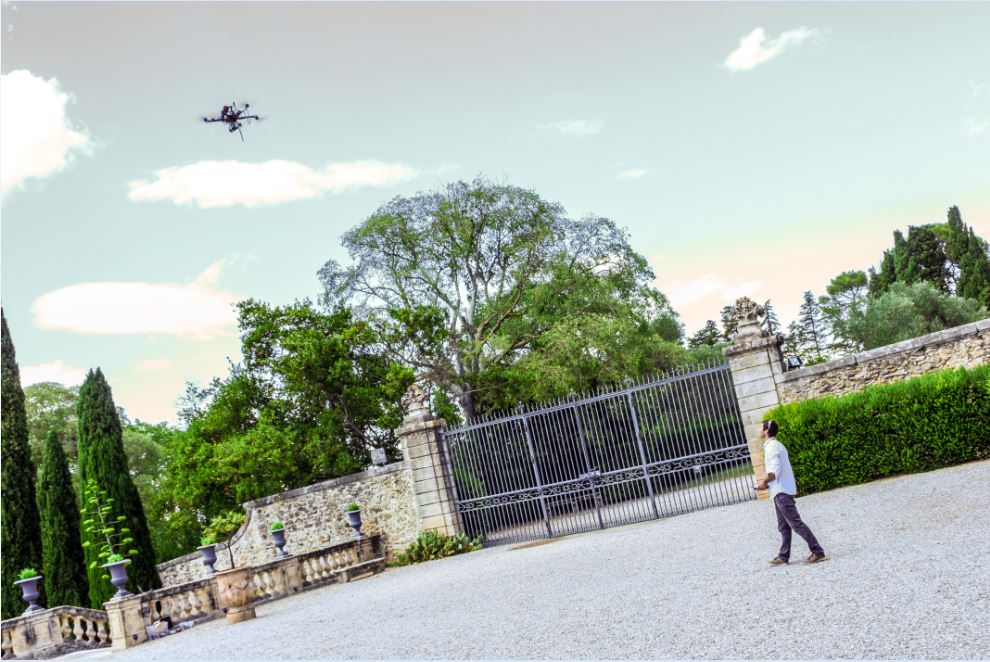 UAV-based LiDAR users came from far and wide to Montpellier for a special conference organized by French company YellowScan. Participants heard about some of the latest and most innovative data gathering and post-processing techniques. And getting the whole thing started was a wide-ranging and inspirational talk about the future of geospatial surveying, on Earth and among the stars.
The YellowScan LiDAR conference in Montpellier brought together a variety of users from a surprising array of countries, including Japan, the United States, Canada and all over Europe, to discuss how they are all benefiting from UAV-based LiDAR.
Attendees saw demonstrations by YellowScan teams of high-precision scanning operations, first above the conference venue itself, Montpellier's Chateau de Flaugergues, and then at the Cambous prehistoric site in nearby Viols-en-Laval.
Presentations covered a range of surveying applications. Chiba University's Akira Kato explained with some panache how his team compared several airborne- and UAV-based 3D acquisition technologies in key forestry applications, while Cédric Krasnopolski of L'Avion Jaune and Doyle McKey of CNRS CEFE gave participants a fascinating look at how UAV-based LiDAR is being used to better understand 'patterned landscapes' in Bolivia.
Juniper Unmanned's Tim Roorda presented recent work aimed at monitoring dust control and mitigation measures at California's astounding Salton Sea, and both Arttu Soininen of Terrasolid and Martin Isenbourg of RapidLasso demonstrated some ingenious post-processing techniques allowing end-users to get the most out of data gathered by UAV-based, state-of-the-art, geospatial tools.
It was a decidedly stimulating two days, to say the least, and it all took place in a warm and convivial setting created by YellowScan's highly innovative and very French team, which included the company's President Michel Assenbaum, CTO Tristan Allouis, Application Engineer Pierre Chaponnière and Sales and Marketing Director Pierre d'Hauteville.
But it was Omar-Pierre Soubra, self-described astronaut and Director of Marketing Communications at Trimble, currently based in Colorado, who set the tone for the event early on, raising eyebrows with his across-the-board exposé on the present and future of the geospatial industry.
In the beginning
Soubra began by recalling his early days in the 1990s, driving around Europe in a Renault minivan doing 3D scanner demos. His kit at that time comprised a 190-kilo device with an old Silicon Graphics computer to make it work.
"Then came the Velodynes which were a lot faster, had a longer range," he said. "There were different technologies, but it would have been hard to put any of them on a drone. They had to get smaller."
Today, he said, scanning equipment, including LiDAR, is still getting smaller, faster, and less power-hungry. And there is one key application that's pushing more than any other the positive evolution of sensors of all kinds, Soubra argued, – the driverless car.
"The driverless car will need a lot of information," he said, "to be captured in real time, long range, to be able to know what's going on at different levels. And we will need to simplify all that data, to extract the right information. We've all seen the point-cloud backgrounds that you guys are working with. This is way too much data, so there is a lot of research, One of the companies that are actually working on simplifying the data is TomTom, the GPS navigation company in Europe. They are working very hard right now to simplify the file formats and extract information."
Along with the many new, smaller, faster, more powerful sensors, Soubra underlined the importance of software. "The new algorithms are being developed by companies that have tons of money; they are investing billions and billions of dollars on the self-driving cars. And at some point in the future, we in the professional industries, like the UAV industry, will be able to capture some of the benefit delivered by these new algorithms and the smaller and cheaper sensors, all now being developed for driverless cars."
As for the cars, Soubra said he does not see a future where we ourselves will be driving them. Instead he sees autonomous cars as a service. "It's going to be an app on your phone," he said. "Google will know when you walk out your door that you're going shopping at IKEA. A vehicle will stop in front of your house that can carry you and any furniture you're likely to buy, and it will know what you're likely to buy based on the research you did beforehand on the internet."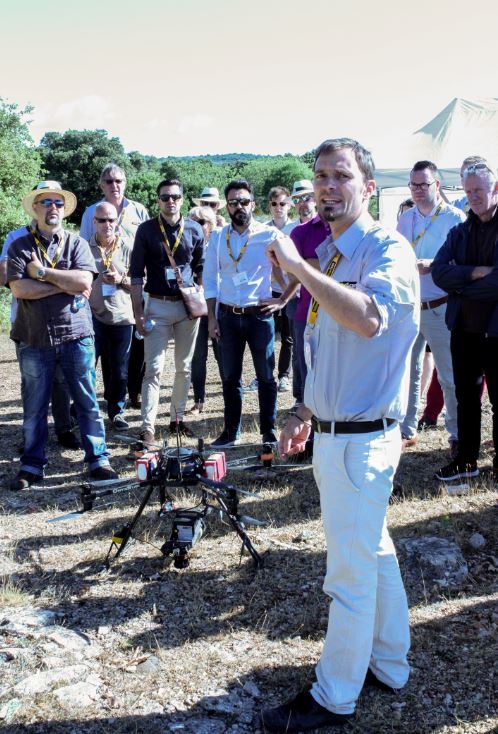 And then there was data
With all this going on, Soubra said, there will be one heck of a lot of information being collected, all the time. "We are already overloaded with information on everything, and all these sensors are collecting more and more, all geolocation data."
Soubra showed the audience a new comb, just out, a comb with a twist, a special embedded chip. "You can comb your hair with it," he said, "but it actually knows where you are, and it knows how you are combing your hair. It can then trigger an app that can make recommendations on a nice shampoo…
"Just to say, every single thing is going to be connecting and collecting data, and in the geospatial world these are geospatial devices, capturing information about where the user is and what he or she is doing, in this case with his or her hair!"
And there will be more powerful geospatial devices. Soubra pointed to a new Google Tango tablet platform, with a built-in 3D scanner and a camera. "It's a 3D scanner in your pocket." Soubra's own company, Trimble, has had a hand in that one. "And it's coming to market," he said. "It's right there!"
Apple has just announced a virtual-reality, augmented-reality app for the new iPhone, and there are rumors that the device will also have a 3D camera.
Soubra continued to describe ever more sources of new geospatial data, including delivery drones."It sounds like the future, but those things will need to know where they are going, where they are heading, and as the sensors get smaller and easier to manage, they will also be capturing information all along their delivery routes."
And there will be ground-based automated systems, for pizza delivery or that package you're expecting from Amazon. "The robots will be fully equipped with 3D scanners. They will have all that data, and there could be a way of for us to come to them and say, 'Hey we'd like to buy those 3D point clouds'. There will be swarms of robots everywhere generating point clouds for us."
Space and the spatial
By this time, some of the audience members were looking positively stirred, but Soubra's spacey future vision was only just starting to take form.
"It's getting easier and easier to put satellites into orbit," he observed, "so now you can get those nano-satellites that are very small and you can send like 'millions' of them into the heavens and they are like little bees capturing all kinds of information." Soubra cited a company called Bluefield that is using micro-satellites to capture data on carbon emissions. "They do this all around the world for a fraction of the cost of doing it on earth, and their plan is to resell the data.
"Again, as the sensors are getting more powerful and smaller, within 10 years we will be able to send a swarm if LiDAR satellites into orbit. Who knows, maybe the US Army or the Chinese Army or someone is already doing it."
Will this make LiDAR-equipped drones obsolete? Soubra didn't suggest that himself, but the thought did cross our mind.
With all that data swirling around, he said, the task of processing it will eventually be too much for humans to undertake, so the next key trend will be artificial intelligence. "AI is already here," Soubra said, pointing to a simple but effective example, a website called Clarifai ('Artificial Intelligence with a Vision'), where you can upload a photo and immediately receive a list of surprisingly apropos tags, keywords and categories, all based on visual markers in the photo.
"When you need to process geospatial data, for construction, building roads, anything, just think about the power of this kind of system, what it will be able to do for you. We should all look into investing in and discovering what we can do with this AI."
Focus on power, population and beyond
"There is still much to be done on the battery side, Soubra said. "This we all know." A new company, a spin-off of Colorado State University, called Prieto is now 3D printing small and high-capacity batteries. "You can bend them and they are not prone to catching fire, so if you poke a hole in one it won't react like an exploding Samsung."
The company is working with Black and Decker, but the batteries could be a very promising technology for drone or other equipment manufacturers. "The Prieto battery charges six times faster than anything else on the market and it has a way higher capacity, meaning for drones a longer flight time or lower weight. I encourage you to go look on their website, I have no shares in the company," Soubra said.
Now in full flight, Soubra attacked another pressing issue: "We have more and more people on earth; by 2030, we'll have about 8.5 billion, a figure to which I'm contributing, by the way, with my four kids.
"That means we are going to have way more traffic, and we will need to create more infrastructure to deal with that traffic. Or maybe we need to rethink how we provide mobility for all those people."
One way could be flying cars, as per the recently publicized Airbus project. "Those things will need to know where they are heading," Soubra said. "They will need a lot of geospatial information to be able to locate themselves, so that's another source of data.
"Think about the hyperloop projects," he went on. "There is one in Toulouse that they are trying to build. If that's the vision, to build tunnels, which probably scares Airbus, then there will be a ton of construction projects all around the world, so we will have lots of surveying work."
Soubra flashed a portrait of the celebrated Tesla honcho. "Hello Elon," he said, "Elon Musk is into tunnel building and sending people into space. In 30 or 40 years, will we see spaceships with people going to Mars? Yes, I believe so, colonization, and this means… a new planet to survey! It's Earth 2.0, they will have to terraform, so there's more work for us, more mapping!"
Any air generated during the terraforming of Mars will certainly be different compared to the air on Earth, he noted. The air density will be different, so getting a drone to fly could be tricky. "Maybe we can have some input," he said. "What kind of air quality and density will we need to operate our drones? We need a Mars drone lobby, perhaps 'Drones in Space'."
Soubra's musings, at this the culmination of his talk, turned even to other solar systems, to interstellar travel. NASA, he pointed out, has recently announced the discovery of TRAPPISTE 1, a solar system with many Earth-like exoplanets, each a potential home for future humans, each an eventual target for far-flung geospatial surveying operations.
"It's all a bit far away for current technologies." he allowed. "I have another great talk about teletransportation and how we could get there in the next 30 years, but we can leave that for another time." For now, he said, we have Mars, "and I think we will be surveying there, and your companies will have an opportunity to be a part of that."
Soubra's talk seemed aimed above all at getting conference participants thinking in new directions, to imagine new and innovative possibilities, however far-fetched, in a field, UAV-based surveying, at once burgeoning and rapidly evolving.
In a further conversation, he acknowledged that the future will hold some grave challenges, not least the specter of mass unemployment in an era of exploding populations and accelerating automation. But there will also be solutions as yet unimagined, he said. So the message, as we take it, is precisely to imagine.
And who to that call will not answer 'Yes!'?