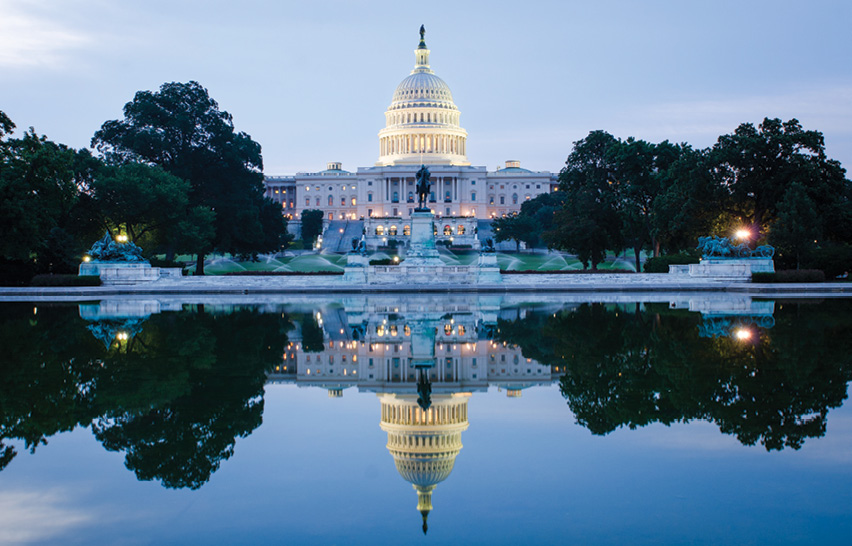 The White House's announced support for the privatization of the nation's air traffic control system wove a new layer of complexity into a knot of interrelated issues that already has left some drone firms wildly frustrated.
The commercial drone community was expecting to open 2017 with expanded options for doing flights over people—another step in what had become fairly steady, if sometimes slow, progress in integrating drone flights into the nation's day-to-day business operations.
Work on the nearly complete rules for flights over people was frozen, however, after several agencies expressed security concerns. How could police tell, for example, if a drone was approved to operate in an area or not, aviation officials explained to the unmanned aircraft system (UAS) community.
Introducing unmanned operations brings a unique set of challenges, Federal Aviation Administration Administrator Michael Huerta said in March at the FAA's Unmanned Aircraft Systems Symposium. "How can we make sure unmanned aircraft don't gain access to sensitive sites? And after seeing how drones can be used for ill-intent overseas, how can we ensure similar incidents don't happen here?"
To address the issue the FAA launched a new aviation rulemaking committee (ARC) to create standards for identifying and tracking drones in flight. Those standards could be used to help determine who was operating a UAS and whether a drone flying into a protected area had special permission, had slipped out of control or was perhaps being directed there for nefarious reasons.
The first meeting of the UAS Remote Identification and Tracking ARC was, as of press time, set for June 21-23, with most of the committee's key details—including its membership and charter—yet to be posted. Even its name remained a bit unclear ahead of the first gathering.
Also increasingly unclear was the impact of the ARC's decisions after the U.S. Court of Appeals ruled that model aircraft needn't be registered.
Statutory Interpretation
The FAA had been requiring operators to register all drones weighing between 0.55 and 55 pounds. The drones were then given a unique number so irresponsible owners could be more easily identified. Petitioner John Taylor, a model aircraft hobbyist in the Washington, D.C. area who flew a model aircraft from his home, did not want to register or comply with new flight restrictions. Though the court kept the flight restrictions in place, saying Taylor was too late to challenge them, they agreed with his complaint about registration. Taylor's lawyer argued the registration requirement specifically violated the FAA Modernization and Reform Act of 2012, which said the FAA "may not promulgate any rule or regulation regarding a model aircraft."
"Statutory interpretation does not get much simpler," said the court in its opinion, adding that "Congress is of course always free to repeal or amend its 2012 prohibition on FAA rules regarding model aircraft. Perhaps Congress should do so. Perhaps not. In any event, we must follow the statute as written."
As of press time the FAA had not decided how to respond to the May 19 decision, though it continued to encourage registration for all drone operators.
"We are carefully reviewing the U.S. Court of Appeals decision as it relates to drone registrations," the agency said in a statement posted on its website for unmanned aircraft. "We are in the process of considering our response to the decision as well as any registration implications for non-commercial users. Please check this website regularly for further updates and instructions."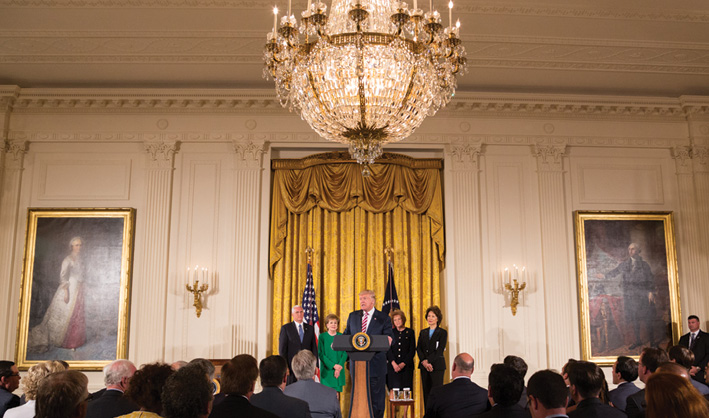 The registration issue feeds back into the security issue mentioned earlier. Not only are there many commercial and hobby drones in the same weight class, sometimes they are the same model of drone.
"It's not about the vehicle itself, it's about how it's used—and that's how these systems are regulated," said Gretchen West, co-executive director of the Commercial Drone Alliance. "So it can be the same exact drone, but if you're not using it for compensation the rules are very different."
All those who spoke with Inside Unmanned Systems agreed lawmakers might deal with the issue by giving the FAA the power to require registration of model aircraft. That could rile up the modeling community, which is opposed to new mandates and, politically speaking, very well organized. Perhaps more problematic, however, is the legislation most mentioned as the vehicle for establishing that new authority—the FAA reauthorization bill.
Out of the Frying Pan
Congress is dealing with the FAA reauthorization again this year because, as has often been the case, they could not agree on a final bill in time. In June 2016, just two days before the agency's authority to operate expired, the Senate approved a stopgap measure keeping the FAA open through September.
And what was the issue that thwarted the passage of reauthorization in 2016? Air traffic control (ATC) privatization.
Opponents of privatization are worried about the fees and service they will get from an operation that is likely to be dominated by airlines—an organization over which elected lawmakers will have far less sway. There are also objections to turning over tax-funded infrastructure, for free, to a profit-driven entity.
Proponents of getting ATC out of the FAA's hands describe it as more of a practical necessity driven by the agency's funding woes.
The FAA relies on the Airport and Airway Trust Fund, which gets its dedicated money from ticket taxes and other mostly travel-related fees. That means the amount of money available rises and falls with the economic tides.
"The funding for the FAA has cycles based on the taxes that are taken in," Jim Williams, the first head of the FAA's UAS Office, told our sister publication Inside GNSS last year. "So, any time there's a dip in the economy and there's less air travel, then there's less money available. That funding stream fluctuating up and down has made it very difficult to modernize the system." Williams would know. He spent six years coordinating and integrating the engineering work for NextGen—the FAA's ATC modernization program.
Congress could just fix the problem by giving the aviation agency steady, dedicated and preferably multi-year funding. That seems unlikely at best because Congress is itself a significant part of the problem. It took lawmakers seven years and 23 extensions to complete the 2012 reauthorization, and that bill extended the FAA's operations for just three years—to September 30, 2015, after which still more extensions were necessary.
All of this has fueled fury within the airlines and left a large segment of the aviation community, including a swath of the FAA's own staff, anxious to spin off America's ATC system into a separate entity as many other nations have done—a position the current administration supports.
"Our air traffic control system was designed when roughly 100,000 people flew at our airports each year," President Donald Trump said when announcing a push for ATC privatization as part of his infrastructure improvement plan. "We are now approaching nearly one billion passengers annually.  The current system cannot keep up—hasn't been able to keep up for many years."
The administration is proposing to keep the regulatory and safety functions in the FAA while allowing a nonprofit to take over day-to-day flight operations. That new organization is expected to have more flexibility plus access to capital markets—based on its income from user fees—so it can borrow, modernize and stretch to accommodate new developments like unmanned aircraft.
Integrating Drones
"Drones are the new frontier of aviation and the Administration is committed to making America the world leader in UAS technologies and applications," Secretary of Transportation Elaine Chao told a June 8 hearing before the House Committee on Transportation and Infrastructure.
While the Department of Transportation and the FAA are uniquely positioned to assimilate UAS, she said, they are not adequately equipped.
"It is a priority of this Administration to fully and expeditiously integrate drones into the NAS (national airspace system) so that they may operate harmoniously, side-by-side with manned aircraft," said Chao in her written statement. "Safely integrating new entrants, such as drones, into the NAS will require a flexible governance framework that can adapt to new capabilities, technologies and users and effectively coordinate with all stakeholders."
The drone community is carefully assessing how a differently structured ATC would relate to the UAS Traffic Management (UTM) being developed by NASA.
"ATC reform is a complex issue with many variables that we're monitoring closely given that any future UAS Traffic Management (UTM) system will need to be interoperable with the ATC system," said Brian Wynne, president and CEO of AUVSI, in a statement.
Given that a UTM would most likely be operated by the private sector, the two systems might mesh well.
"With the way that UTM is being built, with private industry likely being the air traffic management service providers—that kind of matches, I believe, what privatization of the entire airspace would look like," West said. "However, there are so many challenges with implementing that, and understanding what a fee structure would look like, that it could be potentially—if the fees are exorbitant—that could hinder the growth of the commercial drone, or even the recreational drone, industry."
Michael Drobac, an advisor to the Small UAV Coalition, said ATC corporatization could be a separate issue from UTM. "I don't think that the two are necessarily commingled."
Members of both the House and the Senate have made it clear they would have to work through a number of issues.
"What would corporatization mean?" Drobac said. "What would it capture? And you know I don't think that it's a necessary conclusion that an unmanned traffic management system would be within that realm."
Flight Delays
Drobac was less worried about new fees than about the security concerns delaying the flight-over-people rule.
"The bigger issue is that the resource component of this is only relevant if you remove a lot of barriers to entry in the market and different types of expanded operations," he told Inside Unmanned Systems.
It is unclear, he said, exactly what is holding up the flight-over-people rule, which was due out in December.
"The complication, and I think the frustration that exists in that industry, isn't that the industry is unprepared to have these discussions that may be complex," Drobac said. "It's that everyone is trying to find out where these discussions are taking place and what the issues are that have to be addressed."
Chao told the lawmakers the White House had submitted draft legislation on the security issue to the House and Senate Armed Services Committees for inclusion in the fiscal year 2018 National Defense Authorization Act.
"Under current law, the government is unable to fully evaluate or utilize essential detection, tracking, and mitigation technologies to counter rapidly advancing safety and security risks that may be posed by errant or hostile UAS operations," she said. "The Administration's proposed legislation provides a tailored grant of authority within a framework that provides effective oversight and protects privacy, civil liberties, and airspace safety."
The FAA is working with a variety of agencies, she said, including the Departments of Justice, Homeland Security, Defense and others "to identify and evaluate technologies that detect and track unmanned aircraft movement."
"Drones present unique security challenges," she said in her written testimony. "As Congress recognized in the FAA Extension, Safety and Security Act of 2016 (FAA Extension) these challenges require a whole-of-government response."
"We need action," Drobac said, "and I think continued discussions about areas where there may or may not be authority, where there may or may not be a (Notice of Proposed Rulemaking), there may or may not be concerns—that is not conducive to having an honest and candid dialogue about how, as an industry, we can move forward and be a progressive nation on U.S. technology."
The delays in more fully implementing drone operations are such, he said, that the United States is being left behind as innovation occurs elsewhere.
"We are in a position now," Drobac said, "Where we are dangerously close to ceding our leadership in innovation."