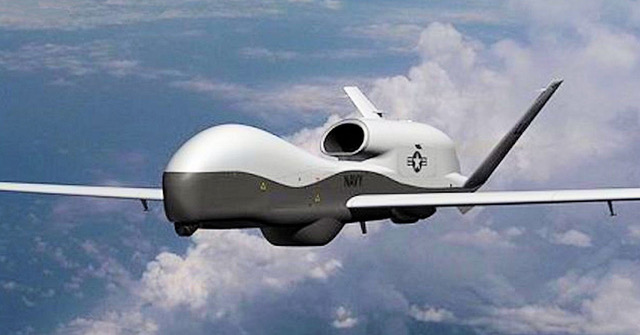 Hypersonic missile testing is going airborne. North Dakota has launched a new program called Sky Range that will accelerate the testing needed to put advanced capabilities into the arsenals of U.S. warfighters at high speed. And UAS will play a key role in implementing it.
Sky Range is literally a test range in the air. Until now, military test ranges, which provide realistic combat training and munitions testing, have been land and sea-based. The U.S. Air Force, for example, owns or operates approximately seven million acres of such military ranges across the continental United States.
Unlike their ground-based counterparts, sea-based ranges are, figuratively speaking, fluid. When the military needs to test a weapon system at sea, the Navy lines up several ships to make it happen. This takes weeks to put into place. It is expensive. It limits the number of tests per year and signals to adversaries when they will be conducted.
"We can't continue to acquire and test systems like we currently do," noted Department of Defense's Test Resource Management Center (TRMC) Director George Rumford during a keynote at North Dakota's UAS Summit and Expo in October. "What's the value of building numerous hypersonic systems if you can only test six a year?"
New warfare will be waged with speed, Rumford explained. "Sky Range is an example of that different way of doing things that gives us the speed we need," he said.
The Range Hawk
Sky Range provides an alternative to costly, cumbersome and difficult traditional testing methods for hypersonics. A part of the plan is to launch hypersonic missiles off traditional aircraft platforms (like a B-52) and have the Range Hawk carry sensors to gather test data from it, positioned in a general location as the system passes by it. The sensor would do that from horizon to horizon. This new method will allow a sensor to be a lot closer to a system being tested without the risk of human casualty.
The Range Hawk concept was born when the Air Force decided to retire the Global Hawk Block 20s. Instead of putting these unmanned aircraft systems in a boneyard or on static display, the service has instead turned them over to the TRMC to modify them with the telemetry, sensors and systems needed to look upward to track the missile, as well as downward.
TRMC turned to North Dakota's Grand Sky, the nation's first commercial UAS-focused business park co-located on a military base, to help lead the innovation effort. Grand Sky is carved out of Grand Forks Air Force Base, which has a long history of excellence in intelligence, surveillance and reconnaissance (ISR) missions.
From the podium at the UAS Summit event, North Dakota Senator John Hoeven explained why: "We are offering an opportunity to the U.S. military that they cannot find anywhere else. They can do it faster, cheaper and better if they are doing it here, because nobody has the kind of partners we have."
Those partners include defense giants General Atomics and Northrop Grumman; both have large facilities on Grand Sky's campus. In October, Grand Sky also cut the ribbon on a new $7 million multi-tenant facility.
"This region, Grand Forks Air Force Base and Grand Sky will play an important role in Sky Range," said Hoeven.
Drone Conversions
That role will initially involve assisting TRMC in converting four Global Hawk Block 20s into Range Hawks.
Rumford noted that TMRC already has a Block 10 Range Hawk-like prototype at a NASA facility in California, but that the military needs new innovation, not just a prototype. The innovation needed includes a way to move instrumentation so that the UAS can literally be underneath the missile as it flies by. This will allow greater information capture.
According to Rumford, "The more information we capture, the faster we understand how the systems work and the faster we can optimize them to get them to our warfighters. Global Hawk Block 20s and 30s will help move us to success."
The Air Force plans to decommission 20 Global Hawk Block 30s, which TRMC will also convert to Range Hawks. North Dakota is making a play for local innovators to have the opportunity to make that happen.
But Sky Range will consist of more than just Range Hawks. TRMC will similarly be converting MQ-9s into Range Reapers with advanced sensor packages.
TMRC is poised to start issuing contracts for all of this work, and has a special Other Transaction Authority to expedite acquisitions. It remains eager to work with small businesses on both instrumentation packages and operational services. This will provide companies with a wide range of opportunities to partner across the DOD.
In closing, TRMC's Rumford noted, "The fastest way to get there is take what is already here and get it done fast."
And that is exactly what military leaders hope to achieve with Sky Range.