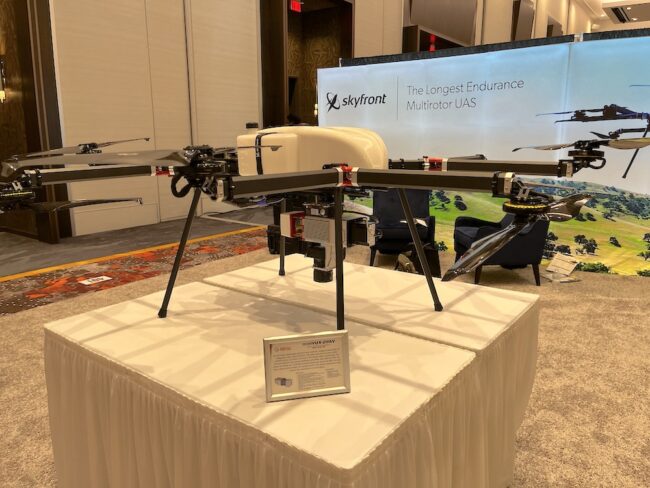 Skyfront displayed its newest-version hybrid drone at last week's Commercial UAV Expo in Las Vegas. The company makes hybrid (gasoline and battery) powered drones because gasoline, for the same amount of weight, provides more power, explained Hemant Chaudhary, mechanical and controls engineer for the Redwood City, California, firm.
"Our primary source of power is gasoline," he said, as he showed off the Perimeter 8 Plus, the newest version of Skyfront's Perimeter 8 hybrid 8-rotor drone.
"It came out a couple of months ago," he continued. "The newest part about it is the engine. It's been upgraded and is both more efficient and can carry more payload. Before we could hit about 8,000 feet with our payload; now, we can go up to 12,000 feet. This is very useful for people who are in Alaska or other high mountainous areas."
While some new elements are proprietary, Chaudhary said, "the new engine is basically a two-stroke engine, but a little more advanced than that. We have better moving parts in the engine. We also extended the base of the software."
Skyfront's fuel-injected, gasoline-powered engines convert fuel into electrical current to spin the drone's rotors. The drones are equipped with a five-minute battery backup to land and protect payloads in case of engine failure
The Perimeter 8 Plus builds on the Perimeter 8, an eight-rotor, hybrid-electric UAV. Both have additional rotors to provide propulsor redundance and increased payload capacity.
Chaudhary anticipates the market for the drone to include government agencies, power companies, fire services, the Department of Defense and others who need to do surveying or search and rescue. "Everything is made in America, which is important, especially when it comes to defense customers," Chaudhary pointed out.
"We design everything in-house," he explained. "Then, we send out to local vendors for manufacturing. They ship back to us and we assemble."
Sensor Packages
Skyfront works with clients to develop the right sensor packages and offers a number of payload options, including IR and thermal sensors for search and rescue and LiDAR for mapping, inspection and surveillance. "Depending on what a client wants to do, we recommend a sensor payload," Chaudhary said. "For example, for search and rescue we'd recommend an IR sensor; for surveying, a, lateral sensor; and for photography, Phase One cameras. We work with camera companies, LIDAR companies and others to provide the right packages."
The original Perimeter 8 set a world record last year for the longest multi-rotor drone flight ever, flying 205 miles over California's Coastal Range for 13 hours and 4 minutes, according to the company.