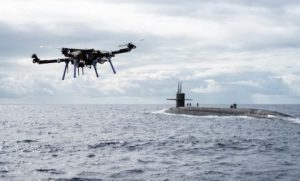 A Skyfront Perimeter Drone recently launched from a moving vessel to deliver supplies to crew members on a ballistic missile submarine—completing the first sUAS ship-to-submarine delivery.
The long-endurance hybrid-electric drone demonstrated its command and control handoff capabilities during the test flight, according to a news release. Pilots aboard the surface vessel launched the drone and flew it near the submarine. When the drone arrived at the submarine, pilots there took control of the system and released the package onto the top of the vessel.
The command and control handoff capability is available as an option on all Skyfront Perimeter drones, including systems integrated with Silvus Technologies' Streamcaster radios for the data link and Optimum Solutions' long range tracking antennas. With the handoff feature, an unlimited number of pilots and ground control stations can view video from and take control of the drone at any time. The drone can be controlled with joysticks or the company's satellite map software.
This capability is critical for maintaining line-of-sight control for long-range missions that use multiple distributed pilots. It also makes it possible for pilots to maintain full control when flying over rugged terrain where radio links may be compromised.