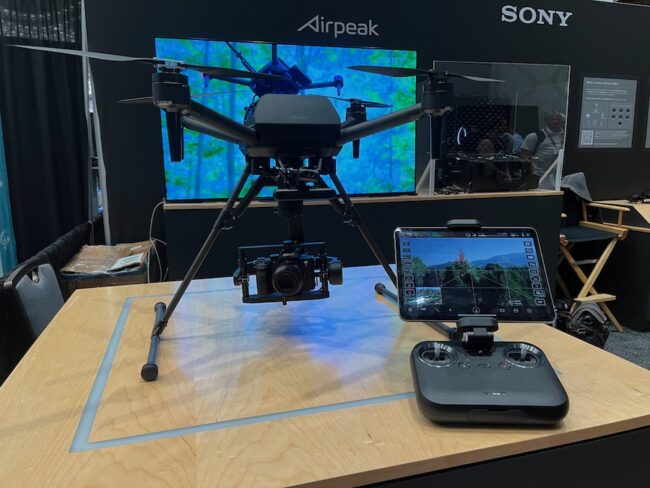 Las Vegas NV: Sometimes you design a product for one market and find it embraced by another. That's true of the Sony Airspeak S1 Professional Drone, the Sony Electronics AI and Robotics Group's new offering, officially launched in December of last year, and featured at the Commercial UAV Expo here.
Sony, long known for its cameras, decided to enter the drone marketplace as an extension of its work with the film industry, according to Daniel Roe, who does business development at Sony Electronics AI and Robotics Group, which makes the drone. He is based at Sony's US corporate offices in San Diego, California.
"The concept was to provide cinematographers and photographers an additional tool to use with their Sony cameras," Roe said. "When filming, directors often have requirements that involve different combinations of light sensitivity, tracking ability, filters, shutter speeds and more, to obtain a desired effect."
Marriage Offers Added Capability
"We already offered 200 combinations of camera bodies and lenses, Roe noted," but when the Sony camera is mounted on another drone, not all the features are available. "With the Sony drone, you can access all the features and settings on those cameras including additional access to software," he explained.
"A pilot can fly the drone by themselves and control both the drone and camera functions, although the people in cinema often use two people to control each function separately."
Word Spreads to Inspection
Plans for the drone were announced in 2020, and during development, word spread to utility companies and others that use drones and cameras to carry out inspections. "We've had people in these industries using our cameras to collect images of bridges, windmills, dams, power lines, cell towers and more. A few years ago, some began to use our Sony Alpha line of cameras with other drones."
Sony pitches the relatively small and lightweight drone to Alpha camera owners who want to use their library of lenses and stay within the Sony digital ecosystem. The drone includes a vision sensing system and return-to-home feature.
"The combined system offers the inspection industry different settings and adjustments for different tasks," Roe said. "In the case of a windmill, for example, you might want to get close and take a better or closer shot. You can easily adjust what you're doing for the kind of data you want to capture, whether it's a still image or an image with a GPS location, for example." Roe also noted that the relatively small size of the drone is useful for users such as law enforcement, who need to place the drone in the trunk of a car.
Roe noted that Sony makes everything on the drone in its factories in Japan, except the gimbal, which is made by Gremsy. "We're the largest provider of sensors for both the drone and automobile industries," he noted, underscoring Sony's track record with sensors, computers and additional components.