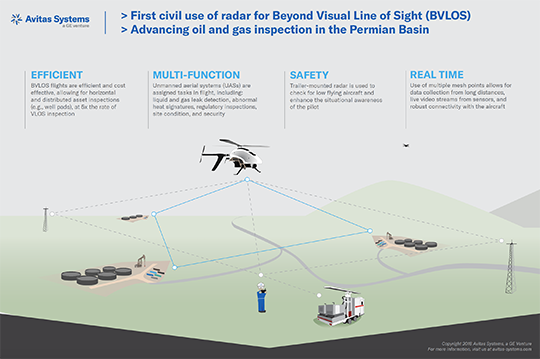 Avitas Systems, a GE venture, recently received approval from the Federal Aviation Administration (FAA) to fly a drone beyond visual line of sight using radar—marking the first time the FAA has approved civil use of BVLOS with radar.
With the permission, the company can fly a 55-pound unmanned aircraft system (UAS) in Loving County, Texas, for Shell Oil Company. The drone will perform an industrial inspection at low altitude without a visual observer, according to a news release.
"Being the first FAA-approved civil use of BVLOS with radar is a significant achievement for Avitas Systems and our customers," Avitas Systems Interim CEO Brad Tomer said, according to the release. "Using a technology-centric and collaborative approach is what drives our ability to transform industrial operations and provide safer and more efficient services. We worked closely with Shell Oil Company (Shell) for the use case, location, and to show how this technology can improve industrial operational efficiency and safety. The FAA provided the necessary feedback to enable our team to design a system that safely meets the aviation regulatory requirements. And, we had system design, safety, test, analysis, and validation support from AiRXOS, also a GE venture company."
Flying the system BVLOS allows for safer and more efficient monitoring of industrial infrastructure, including well pads that are separated by rough terrain in the Permian Basin in West Texas. Traditionally, the necessary data would be collected by driving to each individual inspection site. The ability to receive information quicker leads to faster repairs and more efficient operations, while also improving safety. It also allows for more accurate and efficient monitoring/detection and leak repairs.
"Drones are already an integral part of Shell's digital operations, with missions flown daily across our global footprint," said Bruce Culpepper, U.S. Country Chair for Shell. "Now, with the FAA's approval and with the assistance of Avitas Systems, we can fly over a larger area of our Permian Basin operations to conduct aerial monitoring of our oil and gas infrastructure. This includes leak detection and data gathering needed to make more efficient operational decisions, which will result in improved environmental performance with less strain on road infrastructure in the Permian Basin. This is a tremendous achievement made possible through collaboration with the FAA, GE, Avitas Systems, and Shell, and represents the future of drone-based surveillance technology in the U.S."
Avitas Systems integrates pilot-in-the-loop safety measures, using trailer-mounted radar, to ensure situational awareness during UAS flights. The drones use robust data links that allow their sensors to upload live streams of inspection data in real time to the Avitas Systems Platform for review and analysis while safely controlling the flight operation.
"We received the FAA's permission due to our systematic approach of using airspace management with a unique combination of proven UAS radar and communications technologies, which demonstrate that safety is our top priority," Director of Flight Operations for Avitas Systems Michael Clatworthy said, according to the release. "This is the first step in our approach to larger-scale BVLOS inspection operations."