During the UEFA Champions League final played on June 1, 2019 at the Wanda Metropolitano stadium in Madrid, police forces used the Elistair tethered drone system coupled with UMILES Global solution U06 Plus drone for traffic monitoring, crowd control, and global surveillance.
For the 64th season of Europe's premier club football tournament, Madrid welcomed 200,000 fans in its streets and more than 67,000 in the Wanda Metropolitano Stadium. It was the first time a drone has ensured the supporters' security at a Champions League final, according to a press release. In response to the heightened terrorist threat level in Spain, authorities conducted the largest security operation for any sporting events in the Spanish capital.
The response included 4,700 police officers, civil protection teams, firefighters and paramedics on standby and for the first time, a drone piloted by UMILES Global Solutions teams, and tethered to Elistair's Safe-T station. Police Director Francisco Pardo said this was probably the largest deployment ever made to ensure public safety, and that aerial control of the surroundings and coordination in real time via a drone was a unique capability.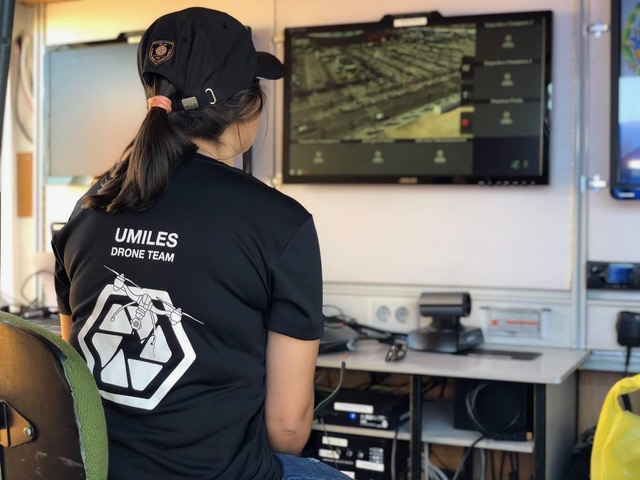 Deployed close to the stadium, the UMILES Drone was tethered to Elistair's Safe-T station to provide extended flight time. Continuously supplied with power, the drone maintained its position at 50 meters height for 8 consecutive hours. Watching over the stadium surroundings and 3,000 car parking spaces, it provided authorities
with immediate images of the crowd and vehicles movements, considerably facilitating the decision-making process and coordination of security teams.
The National Police had instant access to the drone images through a fiber connection and directly communicated with UMILES pilots to monitor the camera and control the main highways and streets leading to the stadium, as well as the crowd movements and the entrances of the Wanda Metropolitano.
"National Police needed eyes in the sky to control the Stadium surroundings during the eight hours deployment," said José Calcedo, UMILES Group Commercial Director. "The tethering system was the key to achieve this mission and maintain our drone in the air for so long in the safest conditions, all the more since we had to fly day and night, with buildings very close, a lot of people walking around and helicopters flying in the same area. It is the first time a drone company has been allowed to fly in such conditions. This would not have been made possible without the Safe-T tether."
Using its patented micro-tether technology, Elistair connected UAV receives a continuous and unlimited power supply providing it with an almost unlimited flight duration at heights up to 100 meters. The micro-tether also is designed to guarantee a fully secured high speed data transfer, and prevents all risk of fly away.