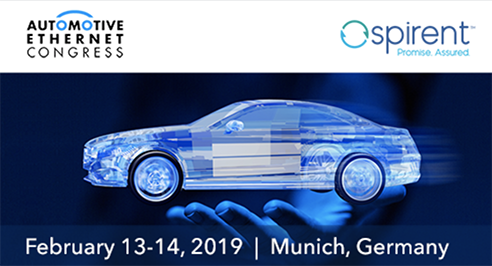 Spirent, a provider of automotive ethernet test solutions and Gold Sponsor for Automotive Ethernet Congress, will showcase a comprehensive test portfolio at the event in Munich, Germany on Feb. 13-14.
The company will showcase its latest offerings in automotive ethernet test solutions designed for easy network testing that suits every budget. Spirent will be at booth #20 and attendees also can see a demonstration of OPEN Alliance SIG Conformance Test Solution running on Spirent C1 and C50 devices that support 100BASE-T1, 1000BASE-T1 (BroadR-Reach), and 10/100/1000BASE-T.
Additionally, the company will have speakers presenting at the workshop — Functional Ethernet-ECU testing: Simulation, Data-Logging & Troubleshooting on Feb. 13 from 4 to 6 p.m. The workshop will address understanding how different tools help you design, prototype, develop and troubleshoot ECUs with automotive ethernet technology. Attendees can experience a "hands-on" session with practical training tasks and access to the tools used in the workshop.
In Munich, Spirent will present its latest developments for automated testing of in-vehicle and V2X connectivity to:
Validate Automotive Ethernet functionalities against standards and own test specifications
Optimize TSN devices and networks on performance, reliability, and conformance
Evaluate new V2X implementations based on conformance and real-world simulation
For more on the Automotive Ethernet Congress, visit the event page: www.automotive-ethernet-congress.de/home.html