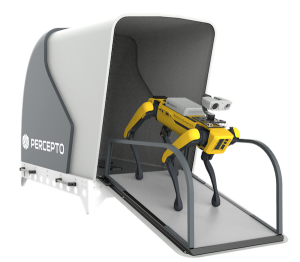 Percepto recently launched the first smart home for Boston Dynamics' Spot at Florida Power & Light, enabling the company to employ a fully autonomous inspection cycle in outdoor remote environments.
Known as the Percepto Base for Spot, the end-to-end solution protects Spot in extreme weather conditions and from theft, according to a news release. It also increases the speed of emergency response and protects workers from dangerous situations.
Florida Power & Light has deployed Percepto's Sparrow drone for years and is one of the first companies to integrate Spot with other robots. The robots, managed by Percepto's Autonomous Inspection and Monitoring (AIM) platform, are deployed for autonomous remote inspection as part of the company's hurricane recovery plan.
The software controls when the base opens and closes, so there's no need for staff to man the robot on site. The base keeps Spot safe while charging. The weather-proof enclosure makes it possible to deploy Spot at any substation independently, in all weather conditions.
Spot features Percepto's dual payload of 4K and thermal cameras, as well as the company's onboard module. This enables live streaming during missions via a secure LTE connection.
"Early this year, we released a charging dock for Spot, unlocking the opportunity for customers to deploy remote inspection solutions with Spot. The Percepto Base for Spot widely expands the potential use cases for Spot by offering superb protection from the elements," said Michael Perry, vice president of business development at Boston Dynamics, according to the release. "The enclosure, combined with Percepto AIM, provides our mutual clients the ability to automatically and autonomously deploy Spot in isolated but vital locations regardless of the weather conditions."