The use of autonomy in the mining industry is ramping up as demand for minerals grows and open-source systems become available.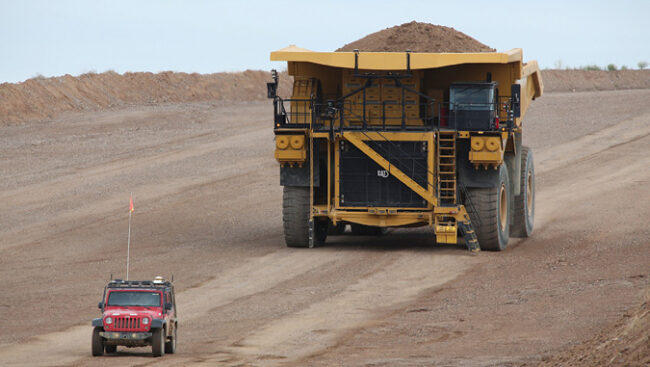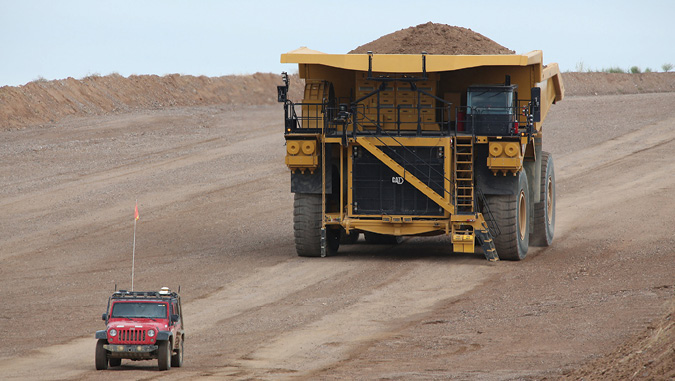 Change is underway on mining sites around the world as the industry gears up to not only supply the the minerals needed for renewable energy, but to reduce their own environmental footprint. The mining sector is responsible for 4% to 7% of all greenhouse gases. Autonomous mining trucks are a $1.6 billion market and currently account for approximately 2% percent of all mining trucks, but there is tremendous opportunity with revenue expected to increase to $12.6 billion by 2031.
"The smart mining industry is expected to be worth about $28 billion by 2027 as automation continues to rise in this industry," said Sudhanshu Singh, senior vice president of global operations at SafeAI, an autonomous solutions supplier. In addition to mining trucks, autonomous drilling equipment, dozers, loaders and graders are coming to mining sites.
Early adopters tended to be large tier 1 mining companies, but Drew Larsen director of business development for ASI Mining, an autonomous technology supplier, said that is beginning to change as the technology continues to prove itself. "Deployment has become much more mainstream," Larsen said. "Autonomous technology is starting to be sought after by mid-tier mining firms."
Tim Ledbetter, vice president of R&D and automation for Epiroc, a productivity partner for the mining, infrastructure and natural resources industries, believes autonomy is the future of mining. "The technology has become more viable for the mine operator both in cost and complexity," he said.
DEMAND DRIVERS
Fueling growth for mining companies is demand for critical minerals, which is expected to rise by as much as six times, as governments, businesses and consumers transition from fossil fuels to renewable energy sources. Demand for lithium, a key mineral used in batteries, is projected to increase 42 times over current levels, according to a report from the International Energy Agency (IEA).
Labor is another driver, as mining companies find it challenging to hire people who want to complete mundane, repetitive and challenging tasks in hazardous or challenging conditions.
"People often don't want to move to remote locations and the typical fly-in, fly-out lifestyle has a lot of family consequences," said Diederik Lugtigheid, president of ASI Mining. "The trend in mining is toward making things that can be run autonomously and at a distance."
Improving safety and productivity are key goals for the industry, and autonomy is helping achieve it.
"Mining companies turn to autonomous solutions to increase site safety by removing people from harm's way and to deliver greater efficiency and 24/7 productivity," Singh said.
Caterpillar, with more than 550 autonomous mining trucks in operation, reports productivity improvements of up to 30% versus manned mining trucks and as of May 2022, had not recorded a single lost time injury in 90 million miles driven.
Autonomous trucks also offer improvements in tire wear and maintenance costs. As an example, Komatsu reports a 40% improvement in tire and brake life.
"Autonomy is a more controlled process and very repetitive," Lugtigheid said. "There is less need to deal with the variability that human beings bring to processes and that makes a huge difference in the overall productive environment mining deals with."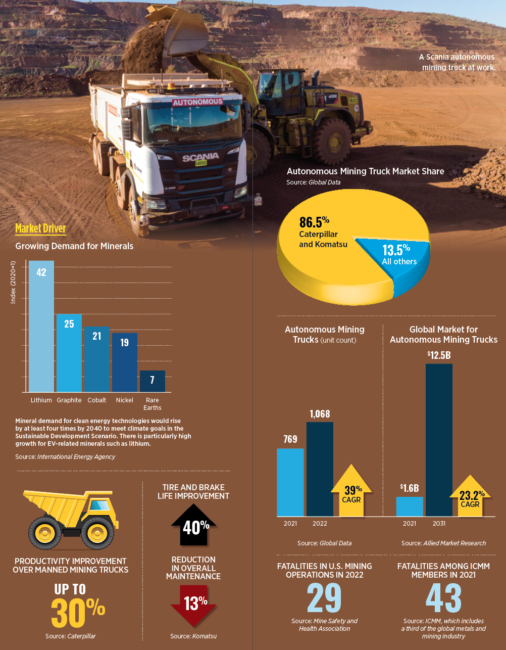 IMPACT OF SUSTAINABILITY
Efforts by mining companies to reduce their environmental footprint is changing the way mines operate. Autonomy is enabling a transition from diesel to electric vehicles.
"Mining companies are constantly looking for ways to consume less fuel and run trucks for fewer hours," said Cat Culkin, chief technology officer of Pronto "From improving cycle times to reducing idle time, autonomy is a key tool in any mining company's toolbox to reduce emissions and environmental harm."
"Autonomy changes the math for which trucks are most efficient: Instead of using larger and larger trucks to haul material, smaller and more fuel-efficient trucks make sense when the labor cost no longer scales with operators," Culkin said.
This can be seen in a new partnership between Scania and Rio Tinto, announced in October. Rio Tinto's Channar mine is the first active partner site for Scania's autonomous mining solution. Trials were launched in April 2022 on Scania's smaller, 40 ton-payload autonomous mining trucks. It would take six to eight of these trucks to match the payload of an ultra-class mining truck. The agreement includes options for the future transition to electric-powered vehicles.
Daniel Bergqvist, business owner for Scania Autonomous Mining Solutions, said the maximum benefits of smaller trucks will be experienced on green field applications, where the entire infrastructure can be designed specifically for smaller construction-size trucks and construction equipment versus large mining equipment. Smaller trucks are also easier to convert to battery power than the large ultra-class mining trucks.
"One of the really important driving forces of going small is electrification," Bergqvist said. "Autonomy is simply an enabler for going small."
Rio Tinto has set a goal to reduce emissions by 15% by 2025 and 50% by 2030. "Everyone wants to go electric," Bergqvist said. Scania is focused on making its on-road electric trucks suitable for harsh mining environments.
WHAT MINING COMPANIES WANT
The market for autonomous mining trucks consists of both original equipment manufacturers (OEMs) and aftermarket autonomous solutions.
Among the OEMs, Caterpillar introduced prototype autonomous mining trucks beginning in 1994, and Command, its first commercial hauling system, in 2013.
Komatsu's Front runner Autonomous Haulage System (AHS) was introduced in 2008. Autonomous haulage systems integrate on-board vehicle controllers, precision global positioning and obstacle detection and avoidance systems to control the mining trucks as well as their integration with other mining vehicles, manned and unmanned.
Caterpillar's autonomous mining trucks initially operated in a closed systems. CAT now offers a retrofit solution for used CAT mining trucks and other brands. Komatsu's AHS is focused on Komatsu equipment. Original equipment anufacturers who entered the autonomous market later, such as Volvo, Liebherr and Scania, offer open, interoperable solutions.
Australian mining firm Roy Hill recently announced the expansion of its AHS by converting its fleet of 96 conventional haul trucks to driverless operation and creating the world's largest autonomous mine. ASI Mining will provide the autonomy package, while Epiroc (which owns 34% of ASI Mining) provides local support.
SafeAI introduced its retrofit solution for mining trucks in 2017. The retrofit approach to autonomy allows companies to upgrade existing equipment—regardless of make, model, type, manufacturer or age—instead of forcing them to purchase new autonomous vehicles, which Singh said is costly and unscalable.
Pronto, founded in 2018, offers the A2B AHS, which is also vehicle agnostic. "Thanks to new technology, new autonomy kits, and lower price points, smaller mines and quarries are finally able to adopt this technology, too," Culkin said. "Because of this, we will continue to see an increased rate of deployment in AHS across the world, driven by safety improvements, financial pressures, and the increasingly difficult labor market."
Bergqvist and Larsen agree clients are looking for interoperability and flexibility in making new equipment purchases.
"As a mine looks at deploying autonomous trucks, if they can have an open, interoperable solutions, which allows them more choice with machine assets, that will be preferred," Larsen said.
Singh said he expects this to lead to an acceleration of autonomous system deployment, "especially among small and mid-size firms.
"As mining companies begin to look beyond trucks, into water carts, graders, dozers, excavators, drills and blasting units, it's compelling to have systems that can cut across all those different mining applications to enable integrations between those applications," he said.
WHAT'S NEXT
The dependency on communication networks and GPS corrections can pose challenges to efficient autonomous operations in certain mines. "Reducing dependency on those inputs is definitely where I think many of the autonomous providers are focused on," Larsen said.
SafeAI calls this Autonomy 2.0, where an advanced suite of sensors (LiDAR, radar and cameras) and more robust and advanced on-board computing power enable real-time decision-making accurately, independently and without a network connection.
"Several sites have difficult-to-reach areas with a network, and SafeAI's autonomous solution can help vehicles confidently navigate through dead zones," Singh said.
When Pronto found that reliable, affordability connectivity was often unavailable from legacy carriers at remote locations, they built their own decentralized, wireless LTE network.
COMPONENT SUPPLIERS
One of the challenges of sourcing components for autonomous technology is finding components that provide the hardness required for mining, Larsen said.
"Mining is a step above industrial grade in terms of abuse," he said. "Technology moves fast, so we're not wed to any one sensor manufacturer. We try to find the best-in-class level of fidelity and capability, along with components that satisfy the hardening requirement."
READY FOR TAKEOFF
With autonomous hauling solutions becoming easier and less expensive to deploy, the number of companies that can benefit is growing. The technology developments that make this possible are coming at the right time for mining firms, who need to expand to meet growing demand for minerals, while also reducing their environmental footprint.