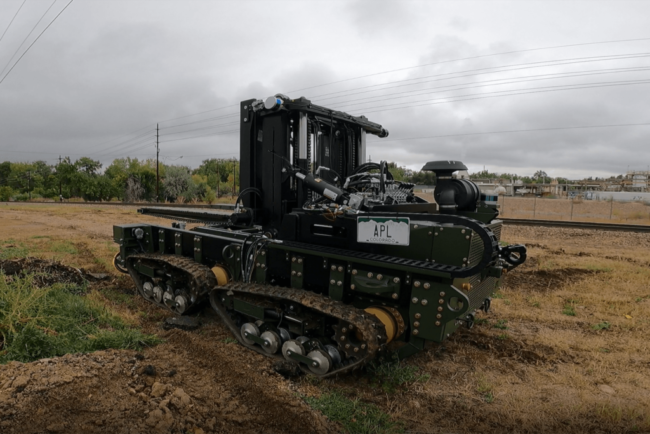 BOULDER, Colorado—Focusing on making ground logistics easier, Stratom plans to display an autonomous pallet loader and showcase a robotic refueler at AUVSI's XPONENTIAL show in its home state of Colorado May 9-11, in Denver at Booth 3107.
At last year's show, the company highlighted its summit autonomy stack software control system. This year, it's showing the actual hardware it runs, the Autonomous Pallet Loader (APL), designed to automate offloading cargo aircraft in austere environments.
"We're getting multi-service interest out of that capability set, from both the Marine Corps as well as the Air Force," Mark Gordon, Stratom president and CEO, said of the APL, which is still under development.
Summit provides autonomous capabilities for APL, which can be customized to fit a customers' needs. The APL includes 1:1 lift ratios, meaning the 10,000-pound system can lift its own weight. "That's kind of unheard of in the marketplace," Gordon said, where more common ratios are 2.5:1 or 3:1.
"We really see the niche beyond the warehouse," Gordon told Inside Unmanned Systems. "Thinking about transitioning between last mile and the warehouse, that's where a lot of our systems work."
The company is also displaying information about RAPID, its autonomous refueling, recharging and liquid transfer system that can refuel aircraft, trucks, ground vehicles, unmanned aircraft, and eventually even electric vehicles, using custom robotic arms.
RAPID is also being considered by the U.S. military and is undergoing commercial evaluation in a pilot program for a large, unnamed U.S. company to refuel its vehicles.
"Both of them have, of course, military and DOD applications, and both of them have commercial applications," Gordon said.
RAPID uses a commercial robotic arm that is customized with Stratom's software—a different package from Summit—and hardware to match various industry nozzles.
"None of the fuel ports are common across any vehicles, any trucks, any aircraft. There are commonalities, but they are not in the same spot, you don't access them in the same way," Gordon said.
The streamlined and customizable RAPID platform addresses logistics and operational challenges in various industries, including aviation, commercial heavy retail/warehouse operations, defense, maritime, trucking, mining and construction, according to Stratom.