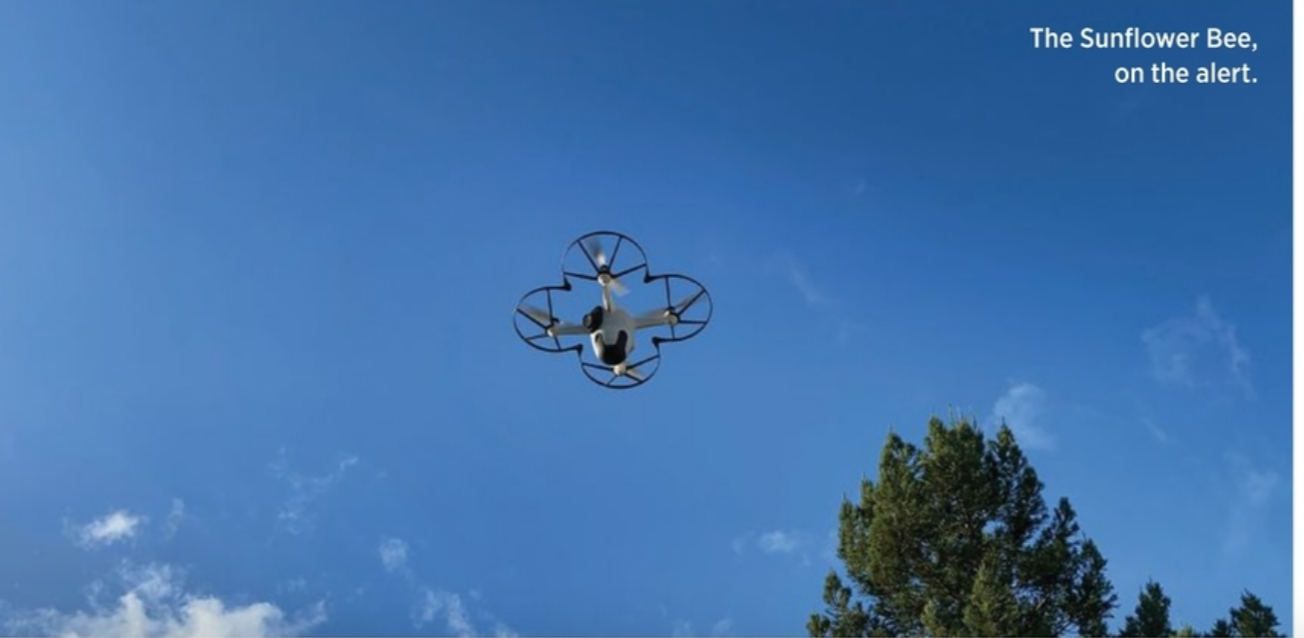 A high-end residential security provider expands into autonomous business surveillance.
Early in 2020, Sunflower Labs' launch at the Consumer Electronics Show (CES) won multiple notices for a fully autonomous, active-residential-security setup. At that time, what's now called the Sunflower Beehive System combined sensor, processing and aerial elements. "Sunflower" sensors disguised as garden lights detected and identified motion and vibration from vehicle to footsteps. A weatherproof "Hive" base station used AI for data evaluation while also charging and sheltering the drone. If investigation was merited, the "Bee" quadcopter autonomously deployed to offer real-time video. After three-and-a-half years in development, the rollout looked promising.
Then the coming of COVID limited residential adoption—and led Sunflower to pivot to business applications. "We just found that the UI that we built, all of the work that we already put into residential security—it's very easily transferable to an assortment of other uses," co-founder/CEO Alex Pachikov said from California. "People have come to us, basically saying, 'Look, we can't have as many security guards, as many people deployed there. We need this to be autonomous."
Pandemic and pivot pushed shipping back to December, but Sunflower has scored interest across business categories. Security companies protecting warehouse and storage facilities. A cannabis farm in California. A railway dealing with depot intruders. An infrastructure inspection client—"we've done 330 customer flights, not just test flights," Pachikov said.
ROOTS
Sunflower Labs is headquartered not only in the San Francisco Bay Area but also in a suburb of Zurich, Switzerland. Three reasons: Pachikov had started a previous company with Sunflower's Swiss co-founder/CTO Christian Eheim after the two roomed together at the University of Colorado Boulder (Pachikov studying astrophysics, Eheim aerospace engineering); universities in Zurich offer a deep talent pool; Pachikov's wife is Swiss.
The Bee can fly for 15-20 minutes, in up to 35 mile per hour winds. Payload options include cameras for low-light and high resolution operations, and an infrared camera assists landings. Commercial applications allows use of both the "sunflowers" and existing third-party sensors. "Most of our focus right now is on the drone in the box aspects," Pachikov explained. "The only thing you tell the drone is what you want it to do, where you want it to go, and it's going to decide how to go there safely and navigate around the property. All of those things are basically built into the system."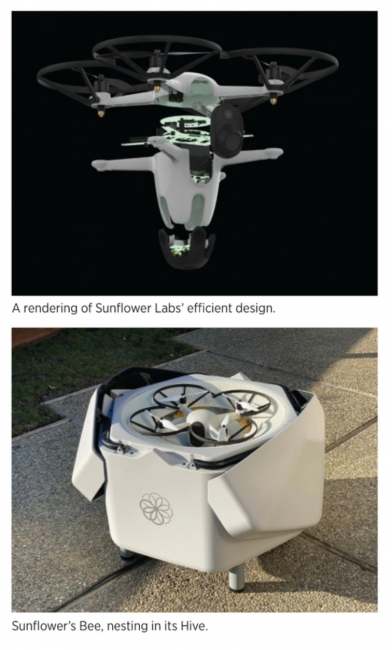 UP IN THE AIR
A mobile app allows for monitoring system status, checking out alerts and the ability to remotely view activity heatmaps. Pachikov shared his screen and showed me video of a building inspection he'd launched.
"This 3D map is how we configure everything. Those green little dots you see everywhere are what we call observation zones. And this preview window, that's going to show me that side of the house over here. Then up above, I have this orbit, and that's for like platform inspections.
"This is the backyard of our office. Down here is our base station. So if an event was triggered by sunflowers or by an external sensor, I'll basically just say, 'Let's inspect it.'
"You see it's dark, so it's switched into kind of low light-activity mode. Now it's basically completed the mission. You can see the base station in the bottom corner; the roof of the hive has opened up. The Bee is going to reposition itself over the landing beacon. And now it's descending."
I assumed Pachikov, speaking from south of San Francisco, was showing me his California office. "Oh, that's Zurich," he said about his Swiss co-headquarters, nearly 6,000 miles away.
AN INTERESTED PARTY
Carlos Islas is the sitting chief of the Bell, California, police department. Bell abuts the Los Angeles River, and a strip within its jurisdiction has attracted not only bikers and hikers but homeless people and gang-related narcotics activity. There have been "several shootings and a couple of homicides," the chief said.
"The homeless are victims as much as anyone else, and it's very difficult to drive a riverbed," Islas noted. "We needed some other way of regular patrol."
Seeking a way to monitor illegal activity, Chief Islas attended an International Association of Chiefs of Police meeting. At that time, he found geofencing and the like overly complex. But when he saw Sunflower's post-CES coverage, he emailed Pachikov.
On his way to another chiefs' meeting, Islas stopped off for a demonstration at Pachikov's home. He liked the Sunflower system's attributes and ruggedness, and is now discussing leasing an early production version, checking in with Bell's city council, the FAA, the public and the sheriff's department helicopter team.
Sunflower, Islas said, has "moved more heavily into autonomous flight patterns, more focus on movement and individuals, closer visuals, following to some extent. That's exactly what we're looking for. The key piece is to cause people to think a second time, to minimize the incidence of crime. If they know that drone is patrolling the riverbed, my guess is that we'll see a drop in crime."
Sunflower "will come down and program this geofence. It can sit in the hive on the roof of the city yard, and it can go out and do the patrol. If it does what I'm hoping it to do, we would do a 3-5 year contract.
"I'm constantly looking for technology and new innovations to use as a force multiplier and a way to provide better service," Chief Islas said, "reducing crime while, keeping everyone safe, including the perpetrators. When we find it, I'm very quick to move. At the end of the day, it increases trust and reduces the chance of a negative outcome."