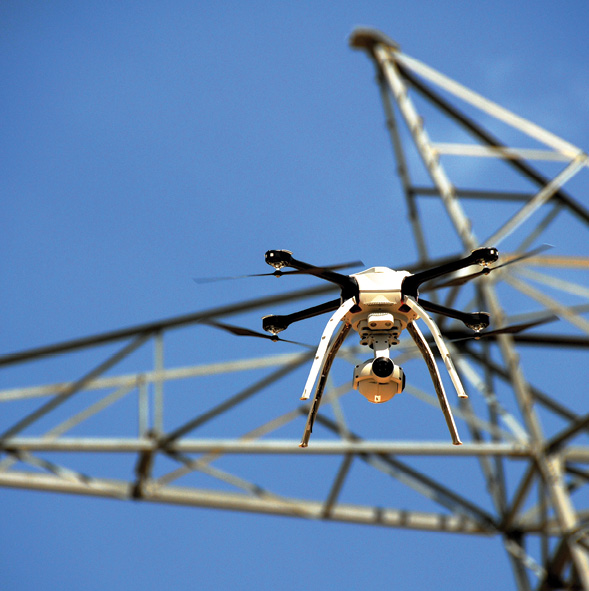 Utlity inspection and repair is dangerous work. Whether a lineman is fixing a high voltage line from a bucket truck or a helicopter pilot is hovering near a transmission tower to inspect it, there's plenty of opportunity for something to go wrong. With more than 450,000 miles of high-voltage transmission lines in the U.S., according to the U.S. Department of Energy, just regular maintenance poses a significant risk to both workers and the power grid.
To limit the risk to employees and improve reliability as well as save costs, utility companies such as Dominion Virginia Power, Southern Company and Duke Energy—plus a number of unmanned aircraft manufacturers—have been researching how Unmanned Aircraft Systems (UAS) might be used for routine inspections and other tasks like supporting storm repairs.
UAS, more commonly called drones, can be used in all facets of the utilities industry from power generation to transmission and distribution, said Jeremy Byatt of ING Robotic Aviation.
"Maintaining the power infrastructure is highly complicated, difficult and expensive. As a society we do not tolerate blackouts, brownouts or temporary interruptions in power. Reliability is expected," Byatt said. "Drones are one of the most cost effective, safest and best ways to collect the data required for monitoring and inspection."
Dominion Starts Utility Inspection with UAS 
As UAS technology is still pretty new to the utilities industry, most companies interested in incorporating it into their routine are still researching just exactly what it can do. Dominion Virginia Power is one of those companies. So far they've completed proof of concept testing with the Mid-Atlantic Aviation Partnership (MAAP), one of the six UAS test ranges formally supporting the Federal Aviation Administration's (FAA's) effort to integrate unmanned technology into the national airspace.
Dominion also has been working with two different service providers, said Steve Eisenrauch, Dominion's manager for Transmission Forestry & Line Services. Last August, Dominion began performing transmission line inspections through UAS service provider Hazon. They're using the DJI S1000 for this concentrated deployment, Eisenrauch said, and so far they are happy with the results.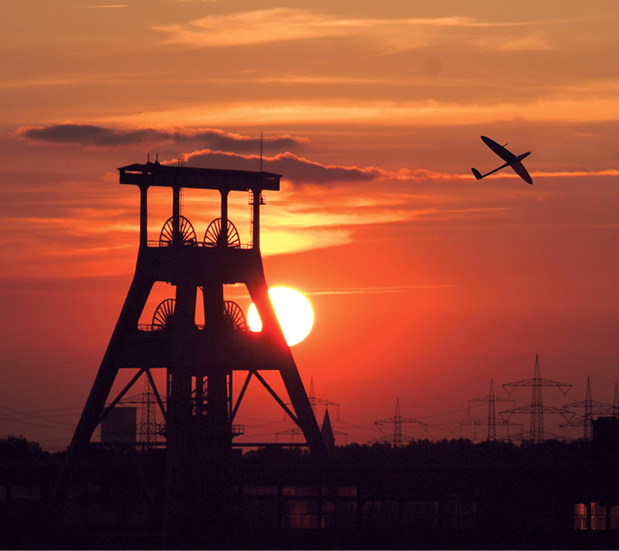 Before performing these inspections, Eisenrauch said they took images of the transmission lines from a helicopter so they could compare data from both the manned and unmanned aircraft. The UAS images not only identified the same issues as the those taken from the helicopter, but because UAS are able to get closer to the lines and snap photos from different angles, they also identified problems the helicopter images just couldn't pick up.
Dominion opted to hire Hazon to conduct its UAS flights because it enables the energy provider's linemen to focus on performing the work they're trained for and helps ensure Dominion has access to the most up-to-date drones without having to continually invest in new systems. Dominion tells Hazon which lines to fly, Hazon gathers the data and then lets Dominion know what defects are discovered, which is similar to how the company handles helicopter inspections. Buying the UAS-generated data helps the firm stay focused on actually making repairs rather than trying to locate what needs to be fixed.
So what exactly are they looking for during these inspections? Any problems with the structure, Eisenrauch said, which could include missing bolts, screws or nuts as well as rust. It could be broken insulators or a conductor with a defect. They're also looking at transmission components to make sure they're not coming apart or missing.
Southern Company Finds Multiple UAS Applications 
Southern Company really began looking at the business case for drone-based inspection in 2014 and received a Section 333 exemption to begin flying last March, said Dexter Lewis, the firm's senior engineer and technical expert on UAS. The Atlanta-based company wants to better understand the technology and determine if it is indeed faster, cheaper and quicker to use remotely piloted aircraft instead of more traditional methods such as manned aircraft and bucket trucks.
They've used the SkyRanger from Aeryon Labs to scrutinize transmission tower infrastructure and hardware components, perform environmental inspections and take construction photos of plant operations at two nuclear towers they're building. They've also used various DJI Phantoms and the Sensefly eBee to map larger tracks of land around electricity generation plants.
Because FAA regulations still restrict operators from flying beyond their visual line-of-sight, Lewis said the best uses for UAS today are local. One great success story involves Southern Company deploying a UAS to inspect an osprey bird's nest sitting on top of a transmission tower. Under the Migratory Bird Treaty Act, if a nest has eggs in it, the company must wait to begin a planned construction project until the eggs have hatched and young have grown and left. An already empty nest means they could proceed on schedule.
Typically they'd send someone up in a bucket truck to take a look at the nest, but because this tower was in the bay near Mobile, Alabama, that wasn't possible—which normally would leave a helicopter as their only other option.
"We went on a boat and flew a UAS, and within 10 minutes we could see there were no eggs in the nest," Lewis said. "The UAS gave us a different angle we couldn't get from the ground. Using a helicopter would have not only cost more, but operating it at low altitudes near the vertical structure comes with risk. If there's a case where you have a few towers you need to look at or a bird's nest, and everything is in just one location, it's really easy to use a UAS. Those applications are low hanging fruit."
Duke Energy Turns to Advanced Cameras 
The team at Duke Energy spent about three weeks testing UAS applications in its generation facilities. They've assessed about 20 different use cases, said Aleksandar Vukojevic, a technology development manager for Duke. These include transmission line inspection, distribution line inspection, solar plant inspection and coal pile inspection.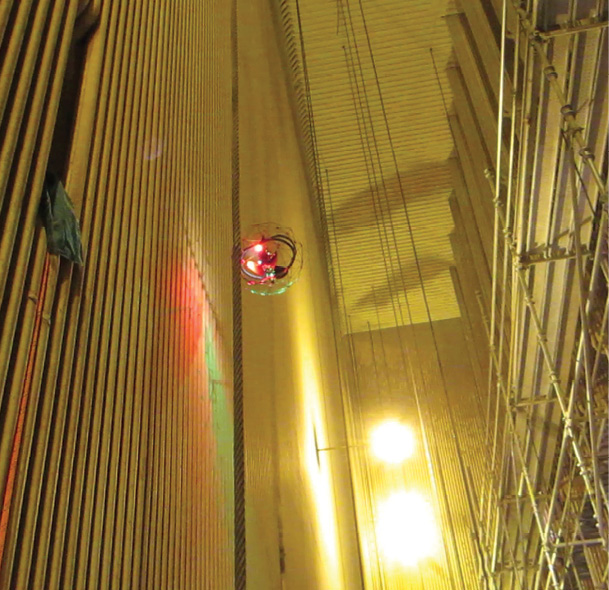 Duke recently worked with an AeroVironment Puma AE, which enabled them to use advanced payloads to gather data far beyond what they need for typical inspections, Vukojevic said. They've completed LIDAR inspections of transmission right of ways, they've developed a 3D model to help identify hot spots in coal piles, which could lead to large fires, as well as take measurements of those piles. They can not only identify vegetation, they can see how far that vegetation is growing and predict how long before it encroaches on the right of way.
"If you look at the drones on the market, a lot of them have a regular camera and some have an infrared camera," Vukojevic said. "Very few have LIDAR, multispectral and photogrammetry. We wanted to know if we use these advanced cameras and analytical tools, how much more can we get out of this? Not only did we get what we were looking for, they also enable us to do all kinds of 'what if' scenarios."
A Growing Interest 
Duke Energy is one of many utility companies AeroVironment has worked with, and they're all interested in what kind of information the platform maker can deliver, said Steve Gitlin, AeroVironment's vice president for marketing strategy, communications and investor relations. They want to know when they should use it and when they shouldn't. They want to create 3D models and compare them over time, which is key to quickly, effectively and safely performing power line maintenance as well as reacting during emergency situations.
Phil Buchan of Cyberhawk agrees, and said it's important for UAS manufacturers to provide utility clients with an end-to-end solution. The team at Cyberhawk sits down with customers from the beginning to define their goals and develop that solution.
After the UAS collects the data the company needs, it gets fed into iHawk, the company's asset management software.
"We're not giving them thousands of raw photos. We're giving them asset management information," Commercial Director Buchan said. "We're giving them an analysis of those images so they can quickly and effectively make decisions about those assets."
And UAS technology is already changing the way some of Cyberhawk's clients perform inspections, Buchan said. Many have already reduced the use of manned helicopters in favor of UAS, while others have fewer engineers climbing or walking around towers to perform inspections. The engineers are not only safer but also freed for tasks such as repairing some of the problems the UAS finds.
"There will definitely be more utility companies using UAS in the future," Buchan said. "Every customer we speak to is delighted with the results and wants to increase the scope of what we're doing."
In the end, it all comes down to whether the technology can improve safety, operations and costs, said Andrew Phillips, who directs the drone research program at the Electric Power Research Institute, or EPRI, a non-profit research organization focused on utilities.
"For us safety is key. Next is increasing the reliability of the transmission system by collecting higher fidelity data that's time stamped. And then of course there's cost optimization," Phillips said. "It reduces cost in two ways. First if you identify a high risk component before it fails you can reduce outages and reduce costs by being more proactive. And then there's the actual cost of doing the inspection. In the long run it offers an opportunity to reduce the cost of inspection and assessment."
The Challenges 
Making UAS a routine part of utility inspection and eventually repair operations won't be easy, but the research happening now will help the industry get there faster.
For more than three years, EPRI has looked into how UAS can be safely and effectively integrated into the utilities sector, Phillips said. They've evaluated and compared UAS in certain scenarios, he explained, and worked with various UAS manufacturers—including conducting a field test in Canada with ING Robotic Aviation.
Now, they're researching the effects an electrical environment can have on drones—one of the challenges to incorporating UAS into this sector.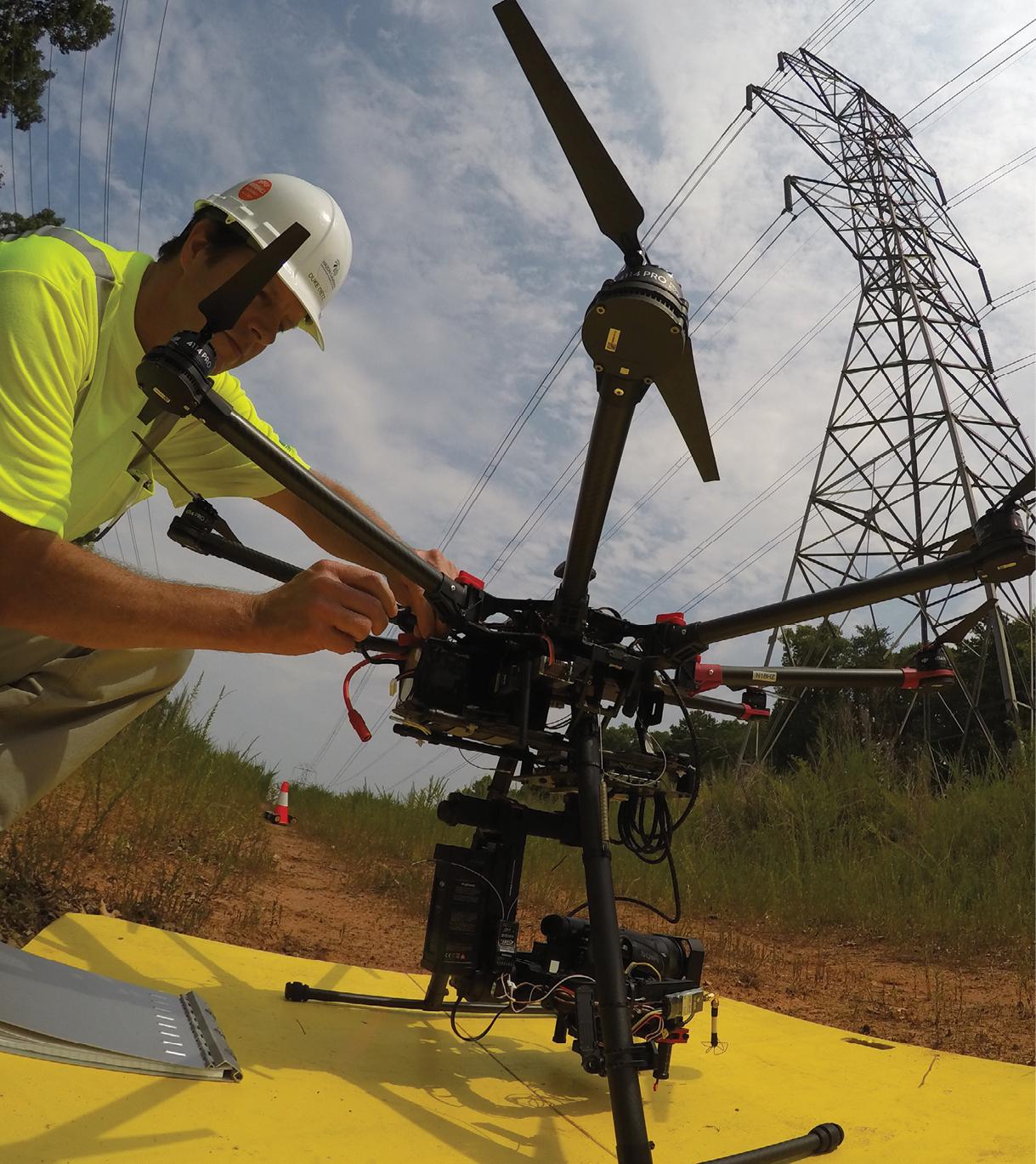 "UAS are impacted by the electromagnetic field. We've developed a test to prove UAS can work in this environment," Phillips said. "We don't want a UAS to fly off into the distance and impact public safety or the reliability of the transmission system. Before we can qualify vendors and qualify the technology, we must have a test protocol for them to go through to show they can operate in an electric environment."
For Vukojevic, the biggest challenge is making the business case for UAS, in part because the technology is so new to the industry. That's why they're working through various use cases, he said, to see where the biggest interest is and where UAS can improve on safety, efficiency and costs.
"It's not always more cost effective," Vukojevic told Inside Unmanned Systems. "The question is how much data can you get that you couldn't get before. Flying a UAS might be more expensive than what we do today in some cases, but if we can use the system to get more beneficial data, maybe it makes sense to use this technology."
Like with any new technology, it can take time for people to embrace change and work through internal operational barriers, said Dave Kroetsch, president and CEO of Aeryon Labs. The thought of operating a UAS also can be a bit intimidating, he said, which is why it's important for utilities to find a system like the SkyRanger that's easy to use and a service provider that offers analysis of that data.
"The power sector will be the biggest sector for drones," Byatt of ING Robotic Aviation said. "It's not there yet because of cultural and regulatory reasons. It's a very conservative industry, which is a good thing. It's dangerous. This is not where you want people experimenting."
Weather, battery life, terrain, working in remote locations and payload capabilities are among the other challenges to incorporating this technology, but most everyone agrees there's one main barrier keeping UAS from becoming a common staple in the utility industry: The FAA regulations. Specifically, the beyond line-of-sight restrictions.
Like in many industries, this limits what utility companies can do with the technology. Once the beyond visual line-of-sight restriction is lifted, it will open up an entire new world of capabilities.
One of the biggest areas beyond line-of-sight operations can help with is power restoration after a storm, Eisenrauch said. The goal at Southern Company is to automate these inspections and simply hit a button when they need to send a UAS to locate damage—showing crew members exactly where repairs are needed and what equipment to bring, saving them valuable time once they get on site. With information from an unmanned aircraft managers will be better informed as they set priorities during wide-area emergencies.
"Today, we have evaluator teams go to the site and ride the lines. If the lines disappear off the road or if the right of way cuts through trees and they can't see it, they have to get out of the truck and walk the line to look for damage," Lewis said. "That's slow and it exposes crew members to the terrain and any animals that may be there. UAS can revolutionize that process by making it a lot quicker to identify the damage, which in turn will help us dispatch crews quicker and get the power on quicker."
While it might take a while for this technology to become an integral part of utility inspection and repair, Byatt expects there will be "massive and rapid change" in the industry at some point, with tens of thousands of UAS used for these types of applications. You'll see them in bucket trucks and workers will routinely use them for both short and long range inspections.
UAS will never completely replace helicopters or trucks, but they'll offer crews another option. Someday UAS might even be able to bring crew members tools to help them work faster, fly between substations to identity where repairs are needed or fly between small gaps from structure to structure and put down conduit along the way.
"We're very excited about what UAS can do, but want to make sure we implement this technology in a responsible, safe way that doesn't impact the reliability of the system," Phillips said. "We don't want to rush too quickly and make mistakes. But EPRI and our members see an enormous potential, mainly, of course, because safety is so important to us."