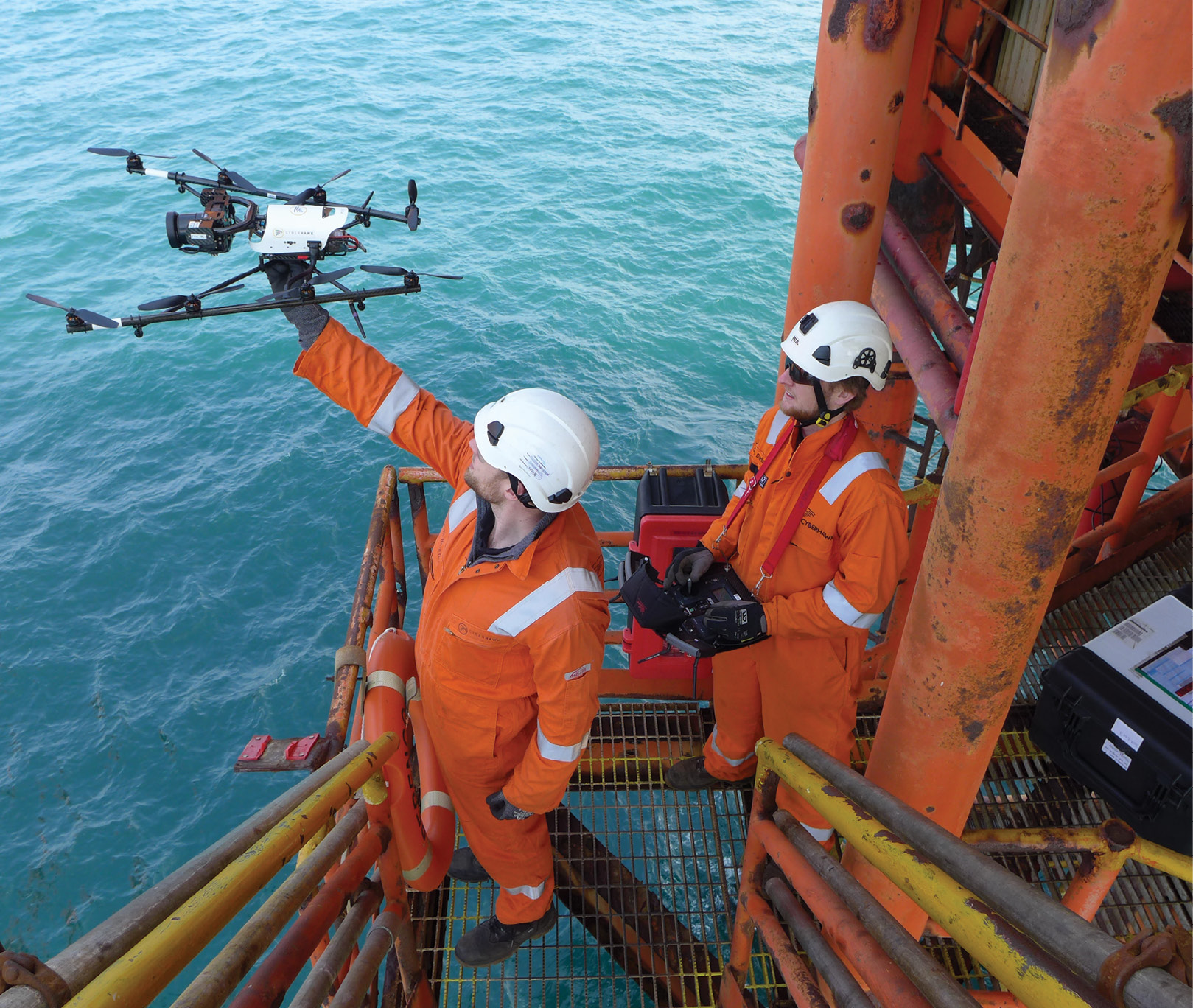 When the team at Richmond, Virginia-based Dominion Energy first deployed drones in 2014, the focus was on linear inspection, which primarily meant identifying defects on electrical transmission lines. Since those early days, Dominion has discovered many other applications and has expanded its drone program to reach various operational business segments, including power generation facilities, gas infrastructure and solar farms.
Storm response, asset management, methane emission detection, solar panel examination, land and facility surveys and boiler inspections are among the many drone use cases that are improving safety and efficiencies for the company, said Nate Robie, Dominion Energy's unmanned aircraft systems program manager. Dominion also recently installed offshore wind turbines, and while the team isn't inspecting the blades with drones just yet, the interest is there—it's a matter of getting the waivers and choosing a fixed-wing system that can handle the task.
Applications continue to come to light as the technology improves and industry players become more comfortable using it. UAS are no longer a novelty item for early adopters; these systems are becoming mainstream, serving as critical inspection tools that are deployed on a regular basis.
Traditional energy companies are creating worldwide drone programs, while oil majors like Chevron, BP and Shell are relying on drones for a growing list of applications both onshore and off, including environmental monitoring, security, leak detection, reclamation and asset inspection. As the renewables segment continues to grow, drones are being deployed for inspections, whether that means flying over a solar farm or getting a close-up view of a wind turbine blade.
And while the COVID-19 pandemic may have dropped the price of oil and halted capital projects across the industry earlier this year, those projects are now starting to get back on track.
"Energy really is one of the prime growth areas for drones. It may have been held back a little by the pandemic, but nonetheless it has extremely strong prospects for the future," said Philip Finnegan, director of corporate analysis for the Teal Group of Fairfax, Virginia. "There's a lot of interest in wind and solar. If you think about where some of the venture capital funding is going and where acquisitions are, a fair amount is happening in renewables."
Moving past the proof of concept stage to adoption, with payloads that continue to grow in sophistication, drones are safely collecting data and quickly getting information in the hands of decision makers, keeping operations safe while also boosting bottom lines.
PAYLOADS: RGB AND THERMAL
Many energy-related applications require only a high-res camera or video, Aerodyne Measure CEO Harjeet Johal said, especially when it comes to inspections. For example, images of a flare stack or vessel can be collected and a 3D map created from them. Images might be used to monitor progress of a capital project, keeping stakeholders updated, or to create a checklist of classified defects in an asset that needs repaired.
Thermal cameras are also popular energy payloads, said Randall Warnas, global sUAS segment leader for FLIR, which is headquartered in Wilsonville, Oregon. These sensors make it possible to measure temperature without contact, giving users a standoff distance from a power pole or substation to obtain the temperature of a component, for example. The heat signature can indicate a problem that's looming or a small defect that might not be visible to the naked eye. When an issue is found, a lineman can be sent to the exact location to address it, rather than searching for problems via more traditional methods.
Thermal inspections are also critical on offshore oil rigs, Warnas said. These tall structures are built in remote areas, making it difficult and dangerous to get to them whether it's done by rope access or scaffolding. Oil rigs have stringent inspection guidelines and drones make it easier and safer to meet them.
"Every screw, rail rivet and railing must be inspected at a regular cadence," Warnas said. "Drone technology can zoom in on the nut and bolt level to make sure everything is tightened or look for lightning bolt damage on top of an oil rig. It has the ability to keep the rig up and running and reduce the likelihood of any catastrophic failures."
Drones are also finding homes on solar farms, flying thermal cameras that get down to the cellular level to determine panel health, said Troy Hittle, senseFly's general manager, North America, from the Raleigh-Durham area. Panels that aren't working properly give off a higher heat signature, a problem that takes much longer to spot on-foot. With drones, inspections can be put on a repeatable schedule, so data is collected weekly versus every few months—meaning damaged panels are discovered and fixed faster.
OTHER SENSORS GAINING POPULARITY
While RGB cameras are typically used in wind turbine inspections to identify structural issues on blades, the team at Aerodyne Measure uses LiDAR as well, the D.C.-based Johal said. The drones follow a fully autonomous pre-programed 3D flight plan to capture defect dimensions and locations. Blades can be inspected in real time, with the drone flying in orbit around the turbine to get a 3D rendering. The idea is to create a depository of data that asset owners can access to postulate when new issues, such as leading edge erosion, will turn into bigger problems, enabling them to prioritize repairs.
LiDAR can be used for a variety of other applications throughout the energy sector, such as vegetation management along power lines, Johal said. LiDAR also has a place in engineering design. Three-dimensional point clouds of power lines, for example, can be pulled into engineering software for various assessments, including sag analysis.
Engineering and design firm Maser Consulting has 55 drone pilots who fly missions for various energy segments, with power line mapping, sag analysis, vegetation encroachment, solar site assessment and topographic surveys for new construction among the applications, said Rob Dannenberg, discipline leader, unmanned aviation, from Red Bank, New Jersey. As an early adopter of mobile LiDAR, it was a natural progression for Maser to deploy the sensor on UAS as well. The company flies the AeroVironment Vapor 55 for LiDAR missions, expanding from one system when they started the program four years ago to three now.
Among many applications, Maser combines UAS LiDAR, terrestrial LiDAR and photogrammetry to create as-built drawings of hydroelectric dams, Dannenberg said. The floodgates for some of these dams are as much as 100 years old, and clients need updated information of these assets and their surroundings before placing new floodgates.
"Each dataset has their different advantages, Dannenberg said, "and we can merge them all into a single dataset to give the client the best picture."
Multispectral sensors also bring advantages to the energy industry, particularly for vegetation analysis, Johal said. Healthy plants deflect light in a different way, and multispectral sensors capture that, indicating which ones are likely to grow faster. Companies can then plan their tree trimming cycles and budgets based on that information.
Sensors can do more than capture imagery and point clouds; they also detect dangerous and costly leaks. Dominion Energy uses two different methane-detecting sensors, a laser spectrometer and an optical gas imaging (OPI) unit, to determine flowrate, pinpoint exactly where a leak is coming from and then classify the leak as urgent or as a repair that can wait. Before, personnel went out on foot to find leaks, a much longer process that brought with it safety concerns.
"An OGI camera is basically a calibrated thermal camera that's able to see the heat signature of what isn't physical," Warnas said. "A regular thermal camera can measure the temperature of any physical surface, but if looking at a plume of methane it may miss it because the particle size is too small or not sensitive enough. OGI has heightened sensitivity to heat signatures not necessarily physical in presence, allowing you to look into an open space and see plumes of gas."
IT'S ALL ABOUT THE DATA
Drones collect an overwhelming amount of data, making storing and turning that data into actionable information challenging. Manufacturers are working toward streamlining the process as much as possible, using tools like artificial intelligence (AI) and machine learning and creating deliverables that only provide the information clients need. Many offer cloud and web-based portals as well as more traditional methods, such as SD cards, to deliver data.
"Drones create one of the most complex big-data challenges today," said Illy Gruber, VP of marketing for Percepto, the Israeli company behind the Sparrow drone in a box. "Drones collect mass quantities of visual data, which are non-binary and difficult to organize and analyze. Data being collected must be of high quality from the outset, and software solutions are required to sift through and analyze the data."
Utility customers are most interested in defects, said Robert Henley, VP of energy solutions for PrecisionHawk (Raleigh North Carolina; Virginia Beach, Virginia). This might include rotting poles, cracked components, damaged isolators or missing parts. Images can be run through machine learning tools or AI to look for these defects, which are then flagged so clients can act.
One PrecisionHawk utility customer feeds data collected with a high-res camera and LiDAR into engineering tools to generate specific information, Henley said. Let's say they want to know what assets might fail in a 150-mile-an-hour windstorm. After adding wind speeds, pole height, type, equipment weight and how deep the pole is in the ground to the dataset, a map indicating which poles are likely to fail is automatically generated—giving them the opportunity to replace those most at risk.
Another client is using drones to update its asset database, Henley said. Imagery is again run through AI software tools to see what is actually on the poles. Comparing the type of hardware in the imagery with what is in the known database allows them to true up their data. And they're not just finding one or two discrepancies; Henley has seen legacy systems with data that's 77 percent incorrect.
"Over time you see the system depart from what is actually in the field," Henley said. "That impacts everything in the business because they're basing decisions on false information. Giving them a true account of what's in the field is extremely important."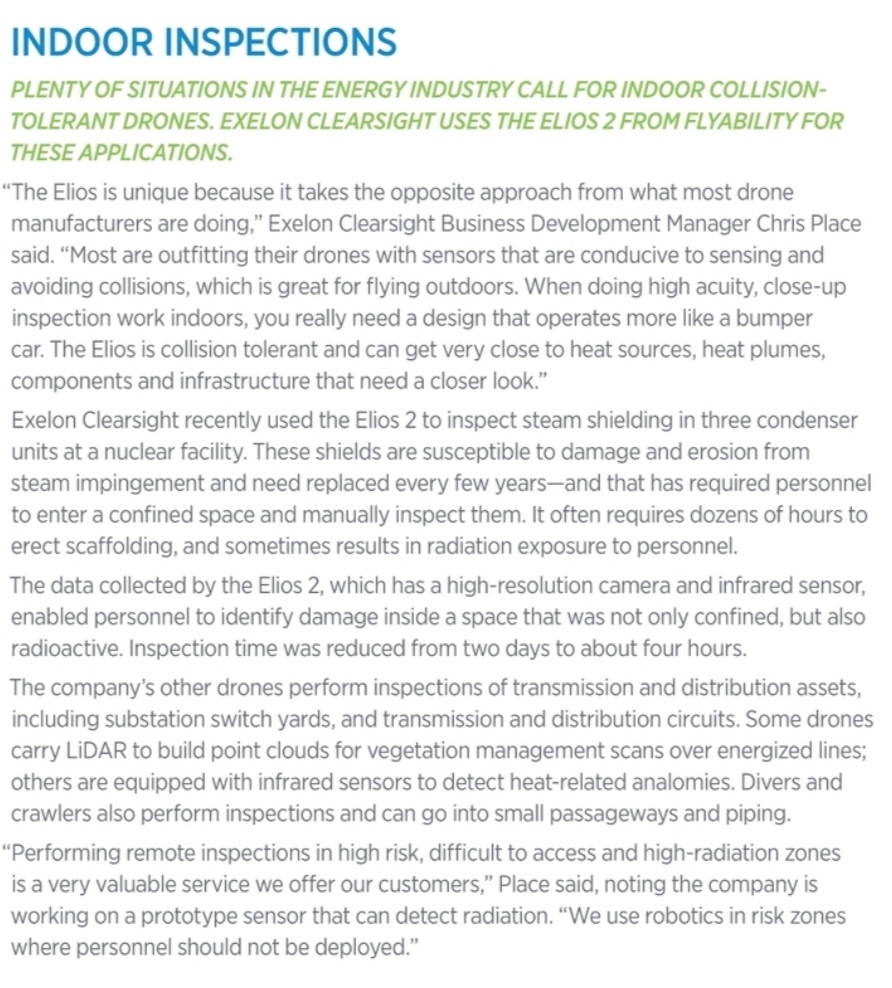 NARROWING IT DOWN
Asset owners just want to see the problem, not the hundreds or even thousands of images taken of a transmission tower, Cyberhawk's UK-based CEO Chris Fleming said. Cyberhawk's iHawk software categorizes the imagery based on whether there's an anomaly spotted.
Clients receive all the data in case they might want to refer to it later, Fleming said, but the anomalies "bubble up to the surface" and are graded based on a number or coloring system that allows them to quickly hone in on problems and prioritize repairs. With GPS-enabled tablets as a guide, a supervisor heads to the tower with a known defect. He then confirms the defect, allocates a work order and sends a linesman to make the repair. Once done, the linesman takes a photo of the repair and closes the loop.
Most software platforms are cloud and web based, Johal said, making it easy for clients to log in and see inspection results. Aerodyne Measure's platform filters data so clients are alerted to the most severe issues first. They also can filter to look for a specific defect, say a lightning strike on the tip of a blade. Every defect identified includes a time stamp and location, what Johal describes as true digital bookkeeping.
Exelon Clearsight, a subsidiary of energy provider Exelon Corporation, offers a web portal that allows clients to view data in a cloud-based platform with a secure log-in, enabling customers to immerse themselves in the environment inspected, Business Development Manager Chris Place said. They get a localized view of data collected and can zoom in to see individual areas and callouts that prioritize conditions.
The Kennett Square, Pennsylvania company's newest service—concrete examination that satisfies an ASME code—offers an even more thorough report that also includes spatial location for each defect. Reports of analyzed imagery and 3D reconstructions are other common deliverables. The company uses a variety of drone platforms including the Elios 2 from Flyability.
EXACT REPLICATIONS
Digital twins have become popular requests, especially in oil and gas, Fleming said. Drones are flying complex assets like refineries and oil and gas platforms to create a replica of the original, saving time and improving safety.
"If something goes wrong on an oil and gas facility or refinery the consequences are high, so they want to limit exposure," he said. "If we can create a digital twin, they can walk around in a virtual world, seeing where valves are and discussing job needs, whether they involve replacing or maintaining something. All planning can be done remotely."
Digital twins are useful during active construction projects or demolitions, Johal said. It's important to detect change over time, and a digital twin model makes that possible.
More energy clients also are interested in as-builts of critical infrastructure so if there's flooding or a large storm that causes severe damage, they have a better picture of what it looked like before, Dannenberg said. AI can then be used for change detection.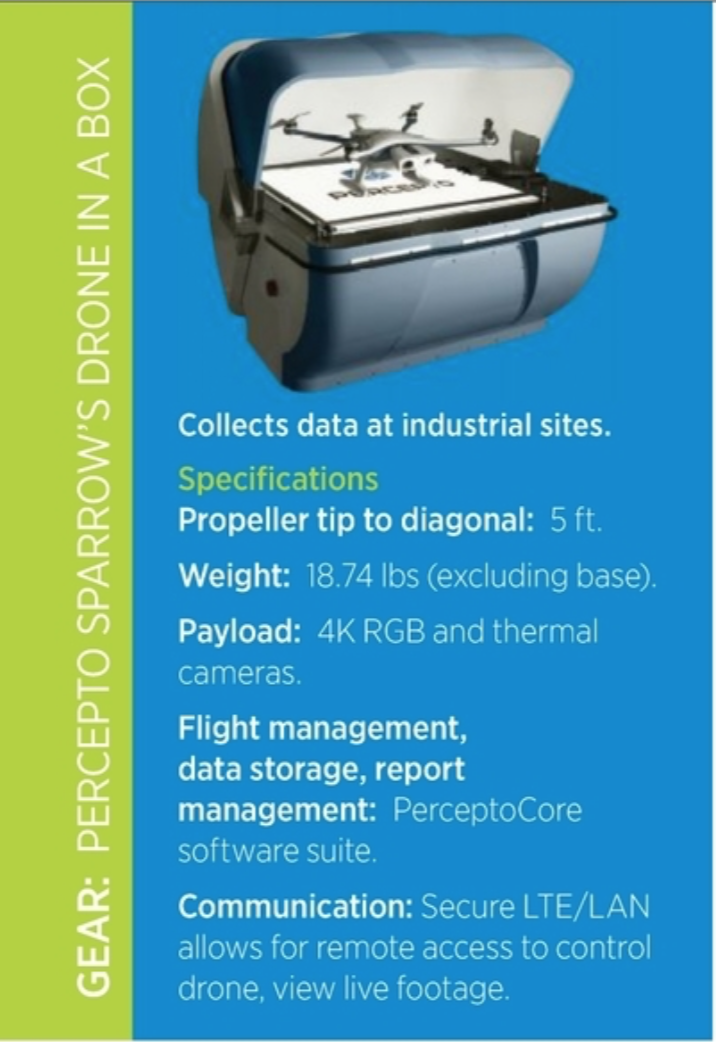 PROGRESS, BUT STILL CHALLENGES
As leaders across the energy industry stand up drone programs, they're gaining a better understanding of the technology, its limitations and how they can get the most out of it, Dannenberg said. They're embracing UAS, but of course there are still challenges to overcome. Battery life and flight time are among them, but as in other industries, the biggest is regulations that keep them from flying beyond visual line of sight (BVLOS).
Through the Integration Pilot Program (IPP), Dominion is working with the FAA and other partners to help overcome the BVLOS challenge, Robie said. The goal is to eventually fly BVLOS "anywhere in the Dominion footprint," and to help determine which systems and technologies will help make that happen. Dominion has completed initial testing and has a waiver for BVLOS flights for a stretch of line in Virginia.
The consolidation of drone companies, leaving only the best to prosper, and the recent type certification guidance from the FAA, will open up BVLOS flights and flights over people, Maser's Dannenberg said. Type certification ensures reliability, and that will help the industry build even more trust in the technology. As prices stabilize and more pilots are trained, bigger picture items will come next.
"Once you can take a UAS 30, 40, 50 miles, you'll see a different level of adoption," Dannenberg said. "That will be the next large jump in UAS."
LOOKING FORWARD
Over the next few years, we'll see even more new applications and broader drone adoption in the energy space, Finnegan said. The industry will begin to rely more on automated inspections, where a drone deploys at a specified time, collects data and then returns to its station—all without a pilot. When pilots are involved, they'll fly more than one system, improving efficiencies and cutting labor costs. AI and machine learning will become ever more critical, automatically detecting defects and reporting them to end users on a regular basis.
Over the next few years, Hittle expects to see more onboard data processing in small inspection drones, allowing for real-time assessments. AI algorithms will run while the drone is looking for failures, Warnas said. And as AI and machine learning tools
advance, the industry will focus on proactive predictions of failures. If there's three years of data on a feedline, for example, owners can compare the degradation of the system over time and start to create AI tools that predict which component will fail and when.
The sensor technology and software capabilities will continue to evolve, making drones an even more critical tool for applications across the energy sector.
"What we're going to see is a couple of trends coming together, including increased automation in terms of the flights and in terms of the analytics and the ability for pilots to operate more than one drone," Finnegan said. "A lot of this is still held up in regulation, but these trends are gradually going to come together and help continue to improve the economics of the application of drones in the energy industry."