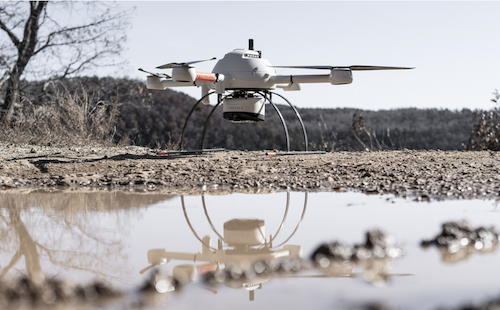 Microdrones, the global aerial mapping technology company, is rolling out a major initiative. MdaaS—Microdrones as a Service—provides a broader market of surveyors with customized solutions and price points across LiDAR and photogrammetry. Its goal is to make geospatial productivity simple, affordable and of specific benefit to both customers and their clients.
"We developed mdaaS to propel the industry and expand the market from innovators and early adopters into the early majority phase of growth," Microdrones CEO Vivien Heriard-Debrueil explained. As Heriard-Debrueil told Inside Unmanned Systems. "Microdrones as a service will help us expand our market presence by making our integrated systems accessible to a broader base of users. …It's really a game-changer for us, and I think for the land surveyors too."
Microdrones delivers quality mapping systems across surveying, mining, construction, oil and gas, and precision agriculture. The MdaaS program's customer-focused flexibility allows professional users to hone in on equipment, software and service selections based on clientele, anticipated use and cost. There's a traditional but repriced "Buy It" program and, in an innovation analogous to a cell phone or digital TV plan, usage-based "Rent It" options. "Rent It" is further divided into an "Unlimited" plan suitable to companies that do repetitive work over time and need sustained processing capabilities, and a "Pay per Project" choice that can attract companies with variable projects and/or limited budgets. MdaaS also provides access to more data processing modules, from strip adjustment and precision enhancement to point colorization and more.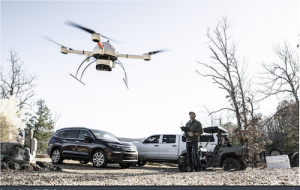 Based on a needs assessment, aaS customers can decide which solution from the mdLiDAR, mdMapper or mdTector families of fully integrated technologies best meets their requirements. Then they choose whether to buy it or adopt a subscription model with monthly payments. MdaaS also leverages Microdrones' mdInfinity data processing software to match "Pay per Project" or "Unlimited" deliverable demands. Post processing, maintenance, service, training and support arrangements are flexible too. "You can activate a feature or a module when you need it," Heriard-Dubreuil told Inside Unmanned Systems.
To make Microdrones a full partners in its customers' success, the company's sales force is being realigned to provide greater consultative service. "Our sales teams are well trained to explain the full suite of options and to help customers to maximize their decisions," said Vice President of Global Sales Vincent Legrand.
To help customers understand their aaS options, Microdrones is offering an educational webinar, "MdaaS: An Easy Way to Make Drone LiDAR and Drone Surveying a Part of Your Business on Wednesday, May 13 at 9 a.m. or 6 p.m. Participants can register here.
"We will grow with our customers and the breadth of projects they tackle," Heriard-Debrueil added.