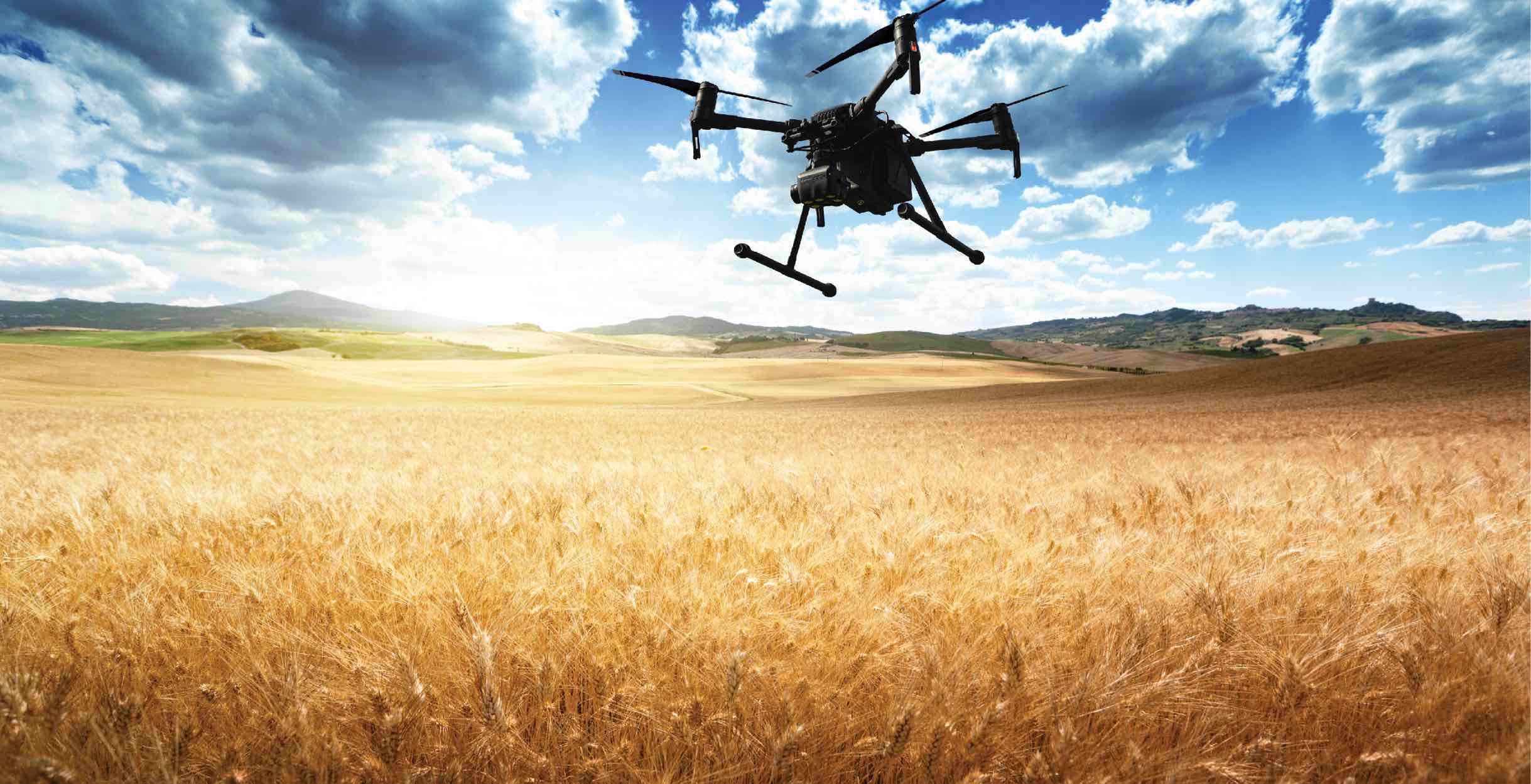 Drones are integrating with other technologies and aerial image capture methods to provide both big-picture views and detailed information about specific plants.
Early in their introduction, commercial drones seemed like the perfect fit for the agriculture industry. The systems brought clear potential for increased efficiencies, yields and profits, and no worries about flying over people. Even so, the industry has been slow to adopt the technologies, with mostly researchers and large ag companies exploring use cases.
But as the trailblazers experience success with unmanned aircraft systems (UAS), drones are becoming critical across precision ag, integrating with other sensors and providing growers with information they didn't have access to before, often in real time. Targeted, automated and varied application possibilities abound, from identifying disease and spotting weeds to recognizing drainage issues to letting farmers know when it's time to harvest.
Growers now can access maps of their entire field, particular zones or specific crops causing them concern. While drones can't yet tell farmers exactly what the problem is, they can alert them to issues that otherwise could have gone unnoticed until weeks later, allowing for quick decisions that have significant economic impacts. Drones are incrementally empowering field management, and as increasingly affordable software and sensors prove they can consistently provide actionable data, that trend will continue.
"Data is the key to precision ag. If you cannot produce useful data for the farmers to help them make decisions, the technologies are worthless," said Xin (Rex) Sun, assistant professor of agricultural and biosystems engineering at North Dakota State University (NDSU). "The most important part is figuring out how to produce useful data to help farmers make intelligent, quick decisions, no matter what sensors or equipment they're using."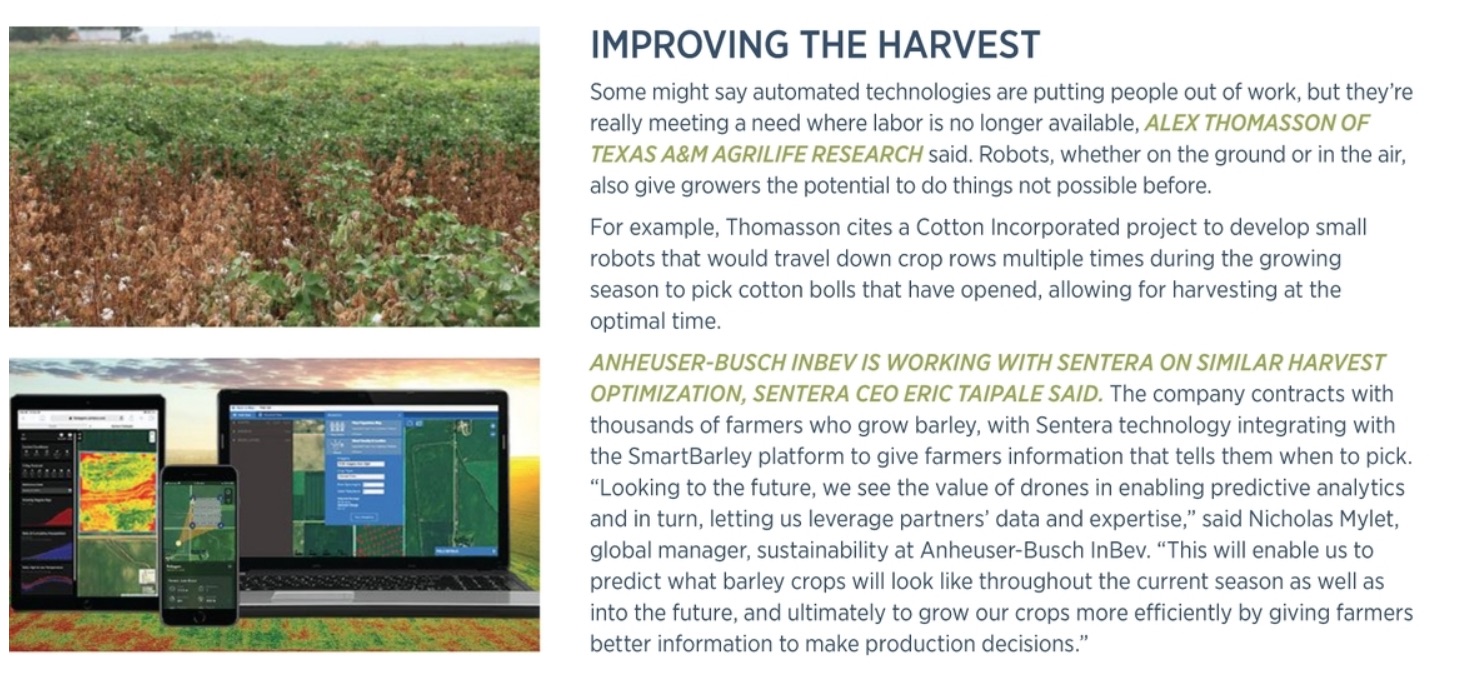 A FOCUS ON MACHINE LEARNING
One of the biggest trends in precision ag—and one former PrecisionHawk general manager, agriculture Kevin Lang called a game changer—is the development of more dynamic machine learning modules. Before, most modules were static, designed for one specific crop or disease. Newer, flexible modules are easier to retrain to look for specific problems, giving growers even-faster access to accurate information.
The next step, and the real game changer, is empowering users to do this as well.
"Enabling customers to train themselves is how we unlock machine learning more broadly," Lang said. "Give users a platform where they can tag and train modules to meet their own specific use cases. It's almost like open-sourcing ag analytics. Users can create modules and share them."
These modules can tell growers if corn stands have established early in the season, or identify invasive species that could damage a crop, to name a few uses.
"When you're talking specifically about imagery, regardless of platform, it's all about how we can use machine learning or AI [artificial intelligence] technology to help us interpret what we're seeing in the imagery," said John Nowatzki, ag machine systems specialist at NDSU. "There are a lot of images to go through, so having some kind of software package to help evaluate is critical to making the imagery really valuable from an efficiency standpoint."
INTEGRATION TOOLS
When drones first came onto the precision ag scene, they competed with satellites and manned aircraft, Lang said. Now, there's a push to highlight which applications each image acquisition method is best for and to be realistic about what each can do. A satellite image might show a problem somewhere in the field, for example, while a drone can provide a high-resolution image that exactly locates it.
"With a drone, we have the ability to get in close and from an imaging perspective we can see things not possible to see from space or a manned aircraft, but there's also a cost associated with sending a drone on a per-acre basis," Minneapolis-based Sentera CEO Eric Taipale said. "So, users have hybridized how these things work. When a crop doesn't look the way they expect it to in a satellite image, they have the option to investigate further, and the best way is to task a drone with collecting data to get more specific. Then you're only sending the drone to where an issue exists."
Sentera's software, FieldAgent, also integrates with other field data, Taipale said. Digital information collected by a tractor could indicate when and where a crop was planted or sprayed, as well as provide weather details. The software then looks for problems and alerts users when something isn't right. It works with platforms from manufacturers, providing insights into operations that give growers more reason to engage with such companies' tools.
The ultimate goal with precision ag is to ensure that each piece of equipment, uses all available digital data to make quick decisions, Nowatzki said. For that to happen, farmers not only need to access real-time data, but also historical data, including soil and weather details, as well as future data, such as product value and inputs.
"All that has to be done in the cloud, and each piece of equipment has to have access to that cloud on a continual basis," he said. "That's the next step in precision ag."
Alex Thomasson, a lead UAS researcher for Texas A&M AgriLife Research, the agricultural research arm of Texas A&M University, also sees this type of integration as the future, and is working to develop a collaborative system of robots that connects drones to ground robots. These machines could speak to each other wirelessly, giving farmers the ability to fly a drone over part of the field collecting images, identify an issue—say, weeds—and then direct the robot to the area to spray the appropriate herbicide. Similarly, ground robots can provide reference information to drones so they can adjust their image data to ensure accuracy.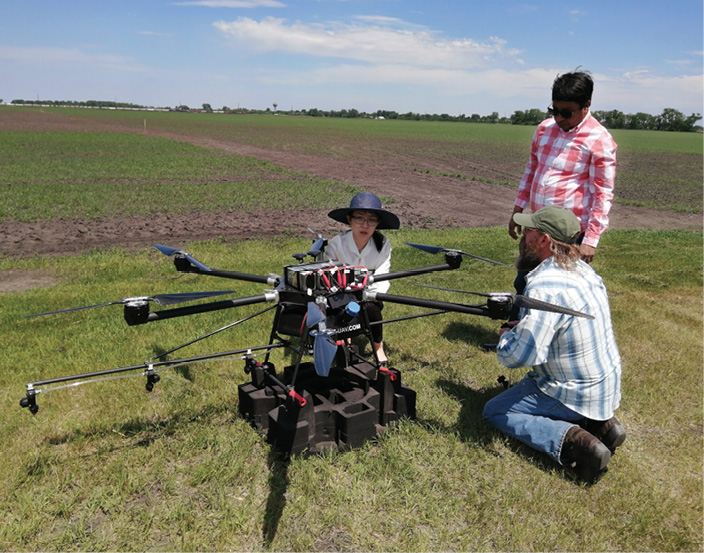 MORE SPECIFIC INFORMATION FASTER
As precision ag continues to evolve, there's more pressure to get it right, said Troy Hittle, general manager, North America for Swiss-based senseFly. "We have to feed more people but we're not making more land," he said, "so precision ag is becoming more of a focal point in most operations."
One way to get the drone piece right is to create customized systems and sensors designed specifically for agriculture applications. "We don't send pictures of corn plants. We send the count or the height of those corn plants instead," Sentera's Taipale said. "It's information they can use directly without having to do an interpretation."
Companies are also providing growers with more software functionality and are making the process more user-friendly, Lang said. Users can create zones within the tools in the PrecisionHawk software and easily draw and redraw boundaries to get information for a specific area, for example.
Farmers are also more interested in simpler flights, Taipale said. Instead of collecting as many images as possible and stitching them into orthomosiacs, drones might fly over a specific spot of a field to take a few images to combine with other data sources. If an anomaly is spotted, the grower can walk the field or send the drone back out to collect a full data set.
And growers now have access to this information in real time. After VTOL Quantix finishes its flight, for example, data is processed on board and a tiled image of the field is sent to the farmer, said Mark Dufau, AeroVironment's director of business development, commercial information solutions. It's possible to put the SD card from the Quantix onto a tablet, giving growers access to a raw image they can view even without connectivity. With DroneDeploy's Live Map feature, a map is created in real time, even with no internet connectivity. The map can be shared, with no need for uploads or SD cards, allowing farmers to make decisions on the field's edge.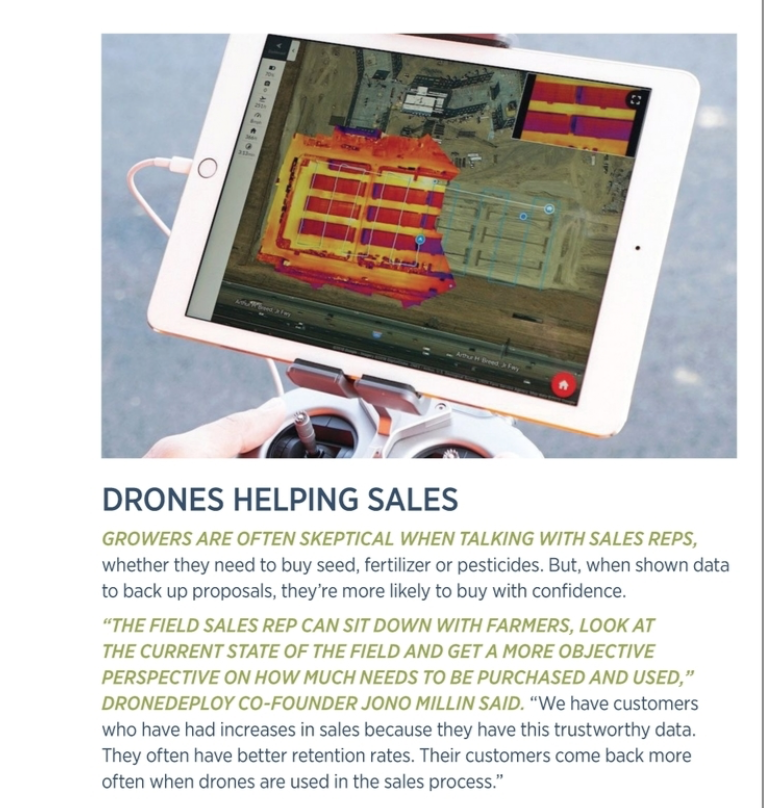 PHENOTYPING: Researchers and corporations are leading the way in ag-industry drone use, with plant breeding among the areas seeing success, Texas A&M's Thomasson said. A farm might have a thousand plots of different genetic varieties of corn, with researchers trying to understand how they respond to different conditions.
KWS, a German-based plant breeding company, invested in the Microdrones mdMapper1000DG a few years ago for this purpose. "Our core business as a breeding company is to make selections. We have to decide which plants we want to keep and which ones to dispose," said Christian Jebsen, team lead of global field phenotyping for KWS. "Drones give us the ability to look at plants from a different perspective and get information about a variety of plant traits. Without a drone, this is all done manually. People go into the field and evaluate the plants by eye—as you can imagine, there's bias. Drones objectively measure the plants the same almost everywhere, helping us improve our selection process."
KWS invested in the Microdrones system because it has the Applanix direct georeferencing system, Jebsen said. Accuracy is crucial, as the team must focus on small regions of the field, or plots, when evaluating crops. There can be thousands of plots per field, so centimeter-level accuracy is needed to ensure the data collected is assigned to the correct plant. Just a small tilt will change the camera's perspective, and georeferencing will correct that during post processing.
STAND COUNTS AND CROP MONITORING: One of the broadest and most basic uses of drones in ag is providing a count of how many seeds planted emerge as plants, and how big and uniformly sized they get. Because software analytics have improved so much, growers can now get an accurate crop stand count from a high-res RGB image, senseFly's Hittle said. This is valuable information growers can use to identify areas of potential yield loss, allowing for quick decisions regarding replanting.
Jono Millin, co-founder of DroneDeploy, has noticed a "big uptick" in growers using drones for stand counts as well as for monitoring growth. Identifying which plants are growing more quickly than others allows for adjusting inputs even as the drone is flying. Quicker-growing plants require more nutrients, and knowing where they are allows farmers to be prescriptive with their fertilizer rather than applying maximum amounts uniformly, saving them money, and to plan where to harvest first, optimizing yield count and quality.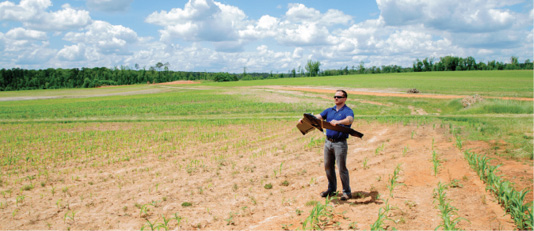 DISEASE AND WEEDS: While drones are mostly used for scouting applications that only require RGB images, there is interest in multispectral, near infrared and thermal cameras as well. These sensors can identify disease or other health issues in crops; images often delivered as an NDVI help farmers determine how to improve crop health or if it's time to pull out of an area.
"Farmers will fly a field and look for hot spots and then walk to those areas. If they see an impacted area and don't know why, they take steps to figure out what's going on," Dufau said. "They may decide the 15 acres in the corner that was flooded out is not worth farming, so they'll…focus on their other 80 acres that will yield. It gives them an opportunity to make real financial decisions about how they farm."
While drone data can tell growers there's an issue with a crop, they often can't identify what that issue is—and that's one reason farmers have been slow to adopt, Dufau said. They want to know what the problem is without having to walk the field, and the technology just isn't there yet. Even so, there's still tremendous value in being alerted to an issue before it can be seen with the naked eye.
Weeds also can hurt yields, making it critical to find them as soon as possible. Sun of NDSU is studying how best to use drones and ground sensors to identify and spray for weeds. The drones would spot weeds, ideally before they're 5 inches tall; then, through a prescription map, communicate the location with an autonomous ground robot known as "weed bot." The robot, in real time, sprays the appropriate herbicide just on the weed identified, saving farmers money and reducing the amount of chemicals that go into the environment and the food supply.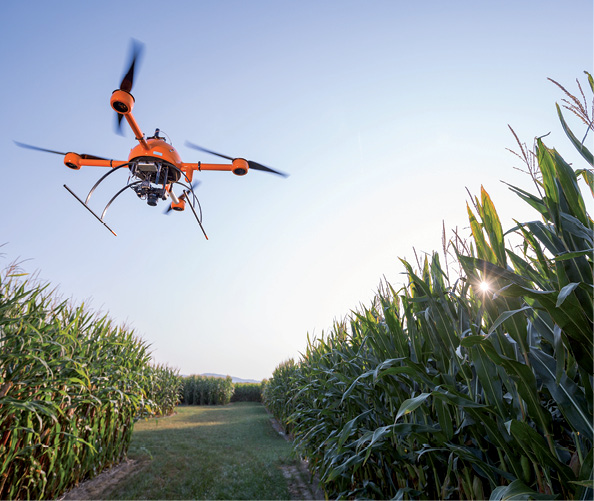 ADOPTION PICKS UP: Drone adoption in the ag industry has faced several impediments. Parts of the industry overpromised on what UAS could do in the beginning, which hasn't helped, said John Gibson, precision ag specialist for Crop Quest, of Dodge City, Kansas. But, now that larger companies and researchers are seeing success, more farmers and agronomists are ready to try drones for a variety of applications, many very specific to individual farms.
"A lot of people thought every farmer and agronomist would have a drone and fly their fields daily to map and get a NVDI image of the field. They soon realized the cost and feasibility of doing that was not there," Gibson said. "It's hard to put a value on how they're using it now. It's about them saving steps or knowing what's going on along a pivot or checking a fence or something like that."
At first, drone manufacturers didn't really understand what the agriculture industry needed, Lang said, but that's all starting to change. Similarly, there's been a push toward reeducating growers so they have a realistic view of what drones can do for their operations today, and what they might be able to accomplish in the future when it comes to reducing labor costs and improving efficiencies.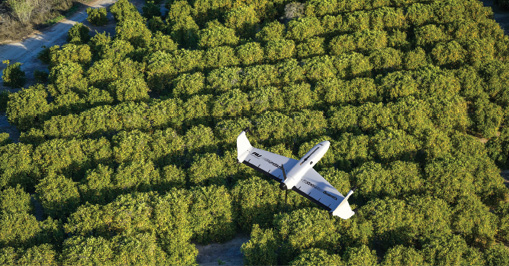 Then there's the ROI. It can be difficult for growers to see the financial benefit drones bring, Dufau said. "[But] the first time a grower finds a big problem they didn't know about, it pays for the drone instantly. We want growers to think of the drone more like a shovel in the back of their truck. Rather than asking, 'What's the ROI? What's your ROI on a shovel?'—you don't really know, but you know you need it to dig. It's the same concept we want them to have with drone imagery. You might not be sure exactly what the ROI is, but you know you want to see the field from a different perspective."
WHAT'S NEXT?
The future will bring more integration and automation. A spraying drone might detect an area that needs more water or nutrients and automatically fly out and deliver inputs directly to the field, Millin said, or direct a ground robot to perform the task. Growers will get a holistic view of their field as the technologies work together to provide critical information and use calibrated data to see how the field has changed over time, Hittle said. And when regulations change to allow higher altitude and beyond visual line of sight flights, even more opportunities will surface.
"Automation is going to be a driving force in farming operations, and drones are a leader in that," Dufau said. "There's the potential for spray drones, higher-altitude drones and bigger drones that can cover counties and states rather than fields. There's a scalability potential. A lot is driven by the FAA and how easy it's going to be to fly larger systems at higher altitudes, but the future is going in this direction. It's just a matter of when."