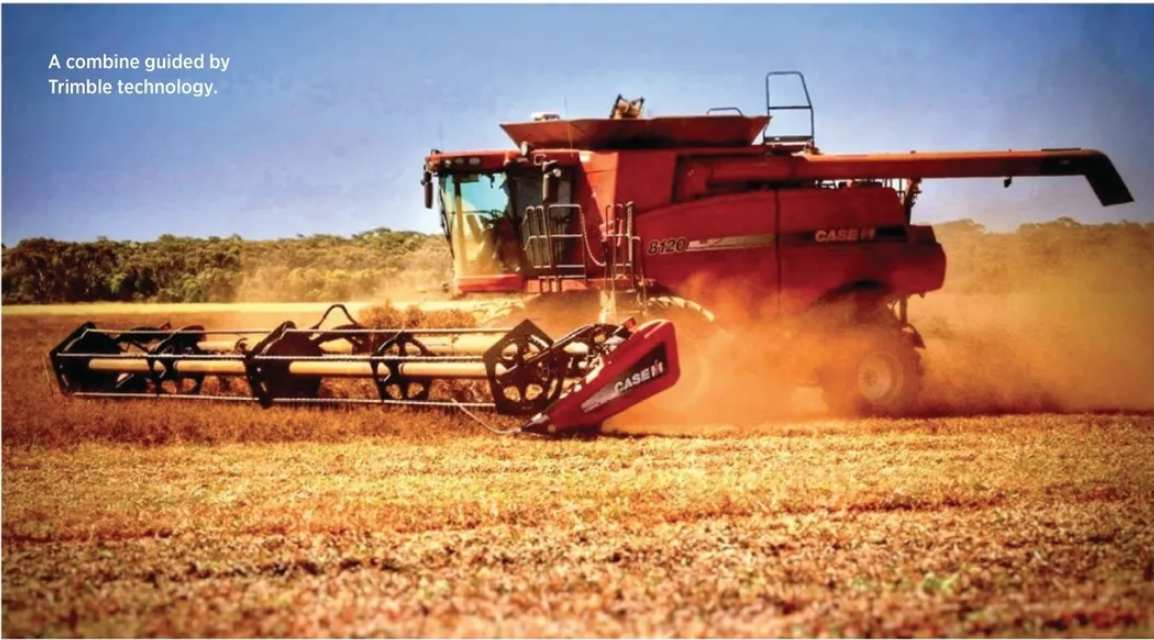 Trimble has been involved in connecting the physical and digital worlds for more than 40 years. The last 25 or so have engaged the rise of precision agriculture. Now, the company is pursuing ways for farmers to use autonomy to increase efficiency, reduce error and turn a profit. For Meiko Martin, product manager, Trimble Autonomous Solutions, this means pushing past Level 3 toward a fully autonomous future.
"It's a journey toward autonomy," Martin said, speaking from Westminster, Colorado, about the company's full range of products and systems. "We have guidance, we have automating of implements. We are utilizing core technologies like object recognition, satellite positioning, path planning and machine control.
"The agriculture space is very dynamic," Martin continued. "So you're not going to find the same conditions, day in day out, region to region. We have to further automate the steps and workflow in the field before you come to a fully autonomous solution. We have automation in steering. We have automating implements for section or rate control. But the operator is still making a lot of in-field decisions, and you have to combine these individual steps.
"The next step is automating more of the in-field operation, and enabling the users of the technology to have a consistent quality independent of your labor force."
A SUITE OF SOLUTIONS
To empower those next steps, Trimble offers a wide suite of guidance steering, control, application and water management products. In something of a lightning round, Martin drilled down into a number of them.
He began with location. "GNSS positioning is crucial for the autonomous and autonomy mode, so we're providing correction services by CenterPoint® RTX, for example. Security and safety is crucial for positioning machines in the field." Trimble claims GNSS positioning accuracy of 2.5 centimeters or better via satellite or cellular, which, for Martin, means that "I can guarantee my machine operates in a defined area." He noted that Trimble's profit maps, "by combining inputs and expected yields, can help select the right seed variety."
Planting and plant health followed. The Field-IQ™ crop input control system handles planting, nutrient and pest management. "It's there to automate the application and rate control on the machine. You can control the amount of application and you minimize waste." GreenSeeker [a handheld crop sensor] analyzes plant health; "based on that," Martin said, "you can adjust your fertilizing for where you have the highest yield potential versus less productive areas." The Field Level™ II System plans and manages the surface of the field, and optimizes water management. WeedSeeker® uses advanced optics and processing to detect weeds passing under the sensor so a linked spray nozzle can deliver herbicide, reducing the amount of chemical applied by up to 90%.
Trimble also has bundled technologies into what's called the Trimble Connected Farm, an integrated, cloud-based suite of applications offering automatic, real-time connectivity to remove human error and delay. To best accomplish this, Martin called for exploring a job-specific mix of sensor types. "If you talk about functional safety, you can't just rely on one sensor; you need something to validate it."

THE ROAD TO LEVEL 5
"I have the eyes for where I can work," Martin said. "I can focus on preparing my logistics for my spray, I can look at the inputs I need, I have the ability to manage my farm operations. That's something that's coming in the very near future. That's something we are addressing today."
Martin is confident Trimble and its partners are moving toward full autonomy.
"The key for autonomy is automating the full workflow and the decisions in the field, and also reacting to unforeseen objects or events," he observed. "As we automate processes and connectivity and learn from the operations, we make those operations more efficient."
Trimble stresses the value of manufacturer cooperation and engineering collaboration. "Cooperation with the manufacturers on a factory level is important," Martin said. "We provide technology and the history of domain knowledge and agriculture. I think bringing that shared understanding into the field is key" (see the HORSCH-Trimble article that follows).
"Trimble," Martin concluded, "has a legacy of automating agriculture activities, and we will move forward."