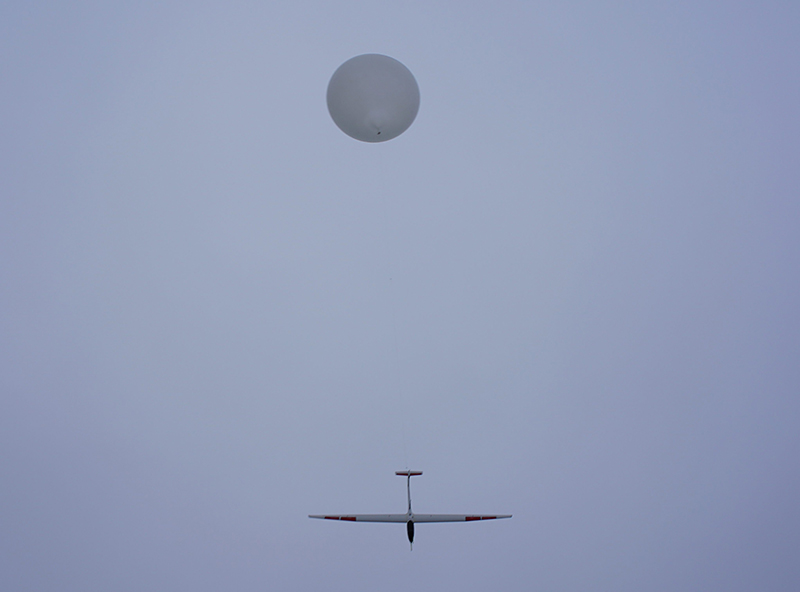 The HiDRON, an Earth observation platform, recently completed test flights where it reached 82,000 feet while carrying an atmospheric measurement system.
UAVOS Inc. and Stratodynamics Aviation Inc. completed this stage of testing in collaboration with researchers from the University of Kentucky, according to a news release. The stratospheric aircraft flew at night for about four hours, which includes the one-hour weather balloon launch period. The return flight, where it descended at a rate much slower than a comparable parachute borne instrument, took about three hours.
The aircraft performed well in standard operation modes and beyond visual line of sight (BVLOS). It flew in headwinds up to 180 km/h (112 mph), -60° C (-76° F) temperatures, experienced wing icing and was able to return home and land autonomously.
"The HiDRON performed well in challenging winter winds and night conditions," said Gary Pundsack, Stratodynamics Aviation Inc. Founder and CEO. "At the 25km launch altitude, the HiDRON travelled 36 km from home. The return glide was controlled and, at an altitude of 18 km, the HIDRON was above the home position where it loitered in a slow descent down. Even with a build-up of ice on the wings, from passing through low-level clouds, the HiDRON landed autonomously. The test demonstrated the HiDRON's aerodynamic capabilities and avionic system reliability."
The main objectives of the test were to achieve flight stabilization after balloon release and to tune unmanned aircraft system (UAS) controls and components for stratospheric flights. Operators also checked the performance of the avionic systems, flight characteristics, safety features, instrument integration, and auxiliary tracking systems.
During the flights, the system collected meteorological data. Atmospheric instruments were integrated with the autopilot telemetry and sensors were custom-fit to the aircraft. Data was collected at the ground station in real-time and compiled with flight records. Instrument integration also was evaluated.
While there's still room for improvement, the onboard measurement system performed well even in rough conditions. The data collected will be used for the next testing phase, where the system will reach an altitude of 30 kilometers (98,000 ft.).
The HiDRON has a 3.4-meter wingspan and weighs less than 5 kilograms. Data from the instrument integrated into the system is immediately transmitted via telemetry and during the ascent into the stratosphere to a ground station, After reaching an altitude of 25 kilometers, the aircraft disconnects from the balloon and glides back to the landing site. Flight plan changes can be made in real time, while algorithms automatically process efficient flight controls to maintain optimal energy, increasing flight time.
"This is the first time that this kind of atmospheric-sensing equipment has been integrated into a balloon-launched, unmanned glider and the results will enable the evolution of new UAV technology and in-situ observation methodologies," University of Kentucky researcher Travis Schuyler said, according to the release.