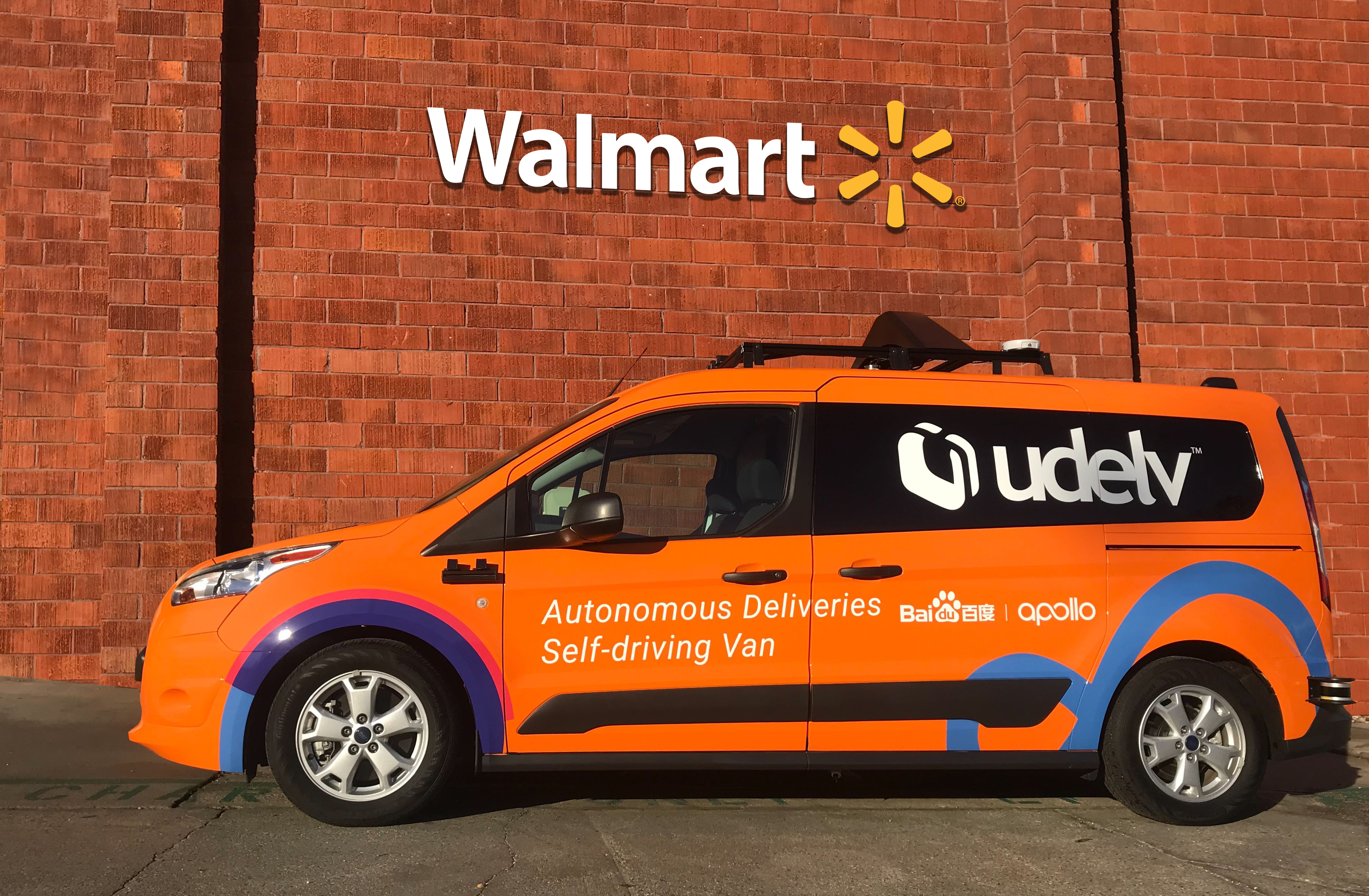 Walmart customers in Surprise, Arizona will soon start receiving grocery deliveries via Udelv's autonomous delivery vans (ADVs).
The custom-made cargo vans will begin making deliveries in February with safety drivers onboard until its deemed safe to remove them. Walmart will use Udelv's recently introduced second generation ADV, the Newton, for the trial. The Newton will have the ability to travel up to 60 mph on urban and suburban roads. The vehicle's new adaptable cargo system will be able to hold a variety of packages with different dimensions and weights. The design should make it quick and easy for Walmart's personal shoppers to load the groceries, as well as for customers to unload their order once the vehicle arrives.
According to Udelv, this partnership has the potential to take autonomous delivery mainstream. The goal is to make autonomous delivery a permanent part of Walmart's customer experience and to eventually roll out an ADV program across the country.
"It will greatly improve the customer experience by creating the convenience of faster deliveries at the place and time customers choose," Udelv CEO Daniel Laury said. "By introducing autonomous technology, autonomous delivery vehicles can reduce overheads for merchants including driver costs and overtime, meaning savings can be passed on to the consumer. Eventually, this technology will allow community retail to thrive for the benefit of local residents. It also means merchants can provide better service to customers with deliveries that fit into their daily lives, rather than disrupt them."
The cargo vans, which come equipped with the VLS-128 LiDAR from Velodyne, can carry up to 32 orders per delivery cycle. They also feature an upgraded autonomous driving software with delivery-specific functionalities as well as a set of mobile apps that help merchants and consumers load and unload the goods. An advanced tele-operations system allows Udelv's operators to closely monitor the vehicles, and they have the ability to take control if necessary.
Walmart is focused on making shopping easier for customers with services like grocery pickup and delivery, according to a blog post written by Tom Ward, senior vice president of digital operations for Walmart U.S. Adding ADVs to the mix takes that a step further.
"We're still learning – it's a pilot – but, we want to make sure we stay on the cutting edge of grocery delivery by exploring what's new and next," Ward wrote in the blog post. "For example, we recently explored a few pilot projects with other self-driving car companies to start understanding how customers will want to use the technology when it comes to their grocery shopping."
Udelv formed several partnerships in 2018, including one with the Houston-based XL Parts. Based on current growth, deployment and interest, Laury expects growth to continue in 2019 and beyond.
"We are confident Udelv will be a leading delivery company, with several thousands of vans deployed in the U.S.' largest density markets for retail," Laury said. "You can expect to see more partnership in 2019 as well as more Udelv vehicles on the roads. We're already in production mode for hundreds of vehicles in 2019 and now taking orders for 2020."
Click here to read more about other retailers testing ADVs and what they see as the benefits for their stores and their customers.