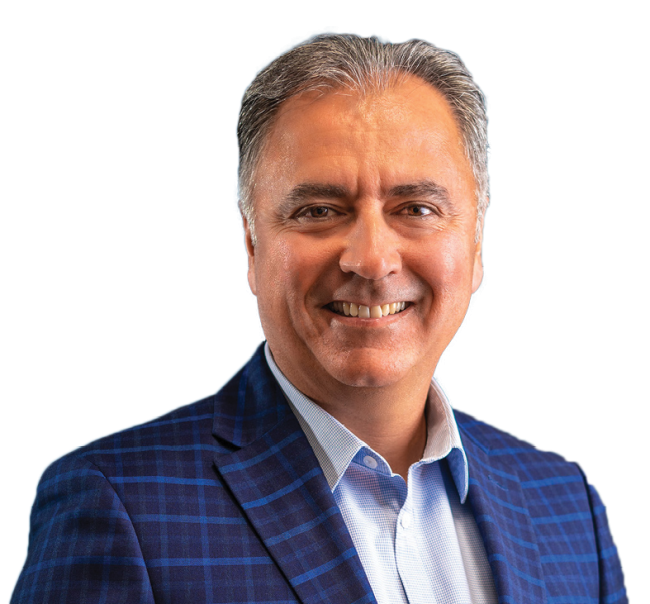 From Switchblade® to Quantix™, AeroVironment is filling the skies of Ukraine with capable UAS. For Wahid Nawabi, the reasons are both technical and biographical.
These days, AeroVironment's website comes out, well, firing.
"We stand for freedom," the message begins, "and we stand with our allies and sovereign nations in their right to protect their homelands and their very lives when this fundamental right is threatened."
That "full dedication" is bulwarked by the "next-generation, game-changing capabilities with out Switchblade® loitering missile systems…" and by other autonomous vehicles. The U.S. military has committed to provide as many as 700 Switchblades (and counting) to Ukraine. Furthermore, at least four other AeroVironment UAS have deployed against invading forces.
First fielded in 2010, the Switchblade has gone from initial low-quantity deployment to thousands being distributed to the U.S. military and beyond. At 120 pounds all in, the Switchblade 600 can be set up and launched in less than 10 minutes, dash at up to 110 miles per hour, loiter for 40 minutes and use high-precision optics to precisely deliver an anti-armor warhead against larger, hardened non-line-of-sight targets.
The smaller Switchblade 300 is rucksack-portable. Weighing just 5.5 pounds including payload and launcher, this mini tube-fired loitering vehicle can fly for 15 minutes and 10 kilometers, bringing both real-time video and strike capabilities.
Moreover, AeroVironment has donated more than 100 hybrid Quantix™ Recon drones to Ukraine. Each can cover 400 acres or 20 kilometers as 18 megapixel RGB and multispectral cameras capture automated and hands-free reconnaissance data. On-board processing provides georeferenced, high-resolution imagery on a user's tablet upon landing.
Small, hand-launched Ravens® and Pumas™ are also in the field, fulfilling intelligence, reconnaissance and surveillance (ISR) needs.
To learn more about the portfolio's capabilities and how they came to be deployed halfway around the world, Inside Unmanned Systems talked with Wahid Nawabi, AeroVironment's chairman, CEO and president. Nawabi spoke from AeroVironment's main facility in Simi Valley, California, but was just back from Washington, near AeroVironment's recently relocated corporate headquarters in Arlington, Virginia.
We also discussed how a commitment to resistance dates back to his growing up in Afghanistan, from where he fled at age 14 with his three younger siblings after that earlier Soviet invasion.
IUS: CAN YOU TAKE US THROUGH AEROVIRONMENT'S PRESENCE IN UKRAINE?
NAWABI: Ukraine's had a fairly decent fleet of Ravens in its force structure. They use them just like the U.S. military, primarily for ISR missions, primarily in cross-border areas with Russia and with Belarus, quite extensively for the last five, six years. With Puma, we just received the first contract. Puma is very similar to Raven, but it has a much more capable gimbal and flies for much longer. They use it for force structures bigger than companies, for primarily ISR, but also for target acquisition.
IUS: HOW DID UKRAINE'S INVOLVEMENT WITH THE SWITCHBLADE COME ABOUT?
NAWABI: DOD has been using Switchblade for many years, and Ukraine reached out to the White House and the Pentagon, as well as us. Their conflict is ideal for Switchblade.
IUS: WHY IS THAT?
NAWABI: I'll just give you some of the most important reasons. As a U.S. three-star general said, this is the first weapon system or missile system that he knows of that the target acquisition system and the target prosecution systems are all into one system. You can launch Switchblade pretty much from anywhere. Even Switchblade 600 is man-portable, so people can carry it in the back of a pickup truck, take it out in a matter of minutes, and set up and basically launch it. As soon as you launch it, you can go away and your launching site is not disclosed.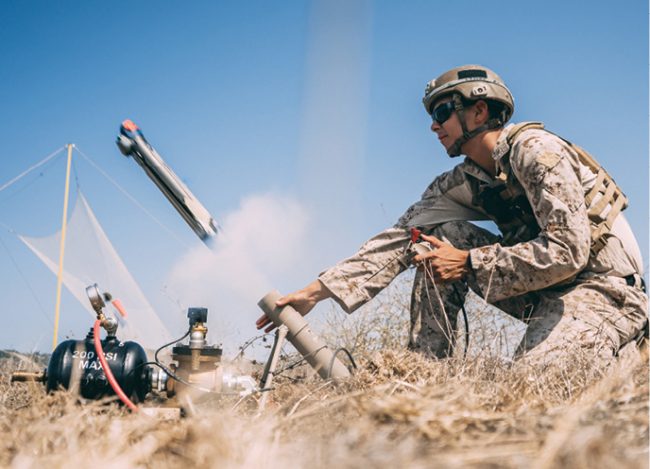 IUS: WHAT ABOUT TARGETING?
NAWABI: You don't have to have a target yet to launch Switchblade. Switchblade 600 has the Javelin warhead, but it actually goes 10 times further. Once it picks a target, it has between 40 to 50-55 minutes of actual loitering time, depending on the atmospheric conditions. With these long standoff distances, you can then decide to designate the target. And the other beauty of Switchblade is that depending on what the target is, you can decide what angle you want to come in, what side of the target you want to come in, what time you want to come in. All of that is in the control and the command of the operators. It's extremely precise because it has vision algorithm and object tracking algorithms, and the gimbal intelligence essentially tells how to sweeten the target and hit the bullseye. And once you have a multipack launcher, one operator can basically do six to 20 Switchblades. It's extremely asymmetric.
IUS: AND THE WAVE-OFF FEATURE?
NAWABI: The 600 is electrically powered, it has almost no heat signature, very little noise signature, a very, very small radar signature—it looks like a bird in the sky. And then it flies just like a UAS. Basically, you can go up, you can come down, you can come sideways, you can go around. The operator has literally all these choices on their fingertips. The 300's getting soft assets like a radar station, a supply vehicle. You don't have to destroy it, you can disable it.
IUS: CAN YOU SAY HOW MANY YOU HAVE PROVIDED TO THE UKRANIANS?
NAWABI: I am not able to. The customer [the U.S. government] has said they have provided hundreds of them.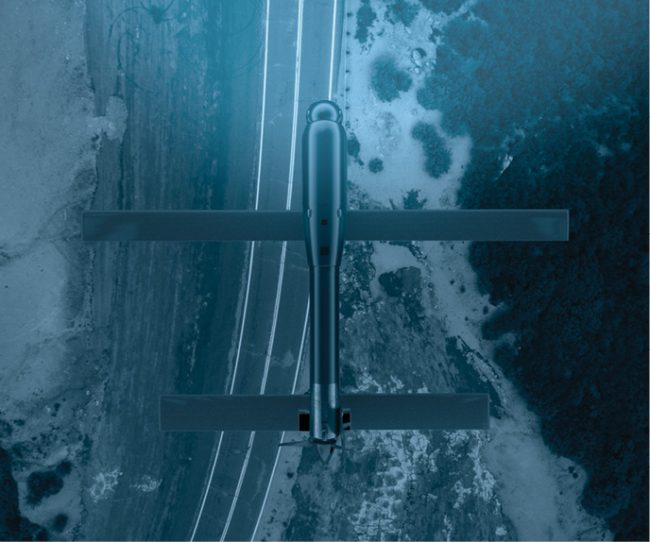 IUS: HOW DO YOU THINK THESE KINDS OF VEHICLES ARE CHANGING THE NATURE OF WARFARE?
NAWABI: As soon as we came up with the concept we realized this is actually a "disruptive missile" category. People who are actually warfighters who have used them, generals to individual soldiers on the ground, have all said that this is going to completely change the paradigm of warfare. Imagine a weapon system that can go beyond visual line of sight. It's quiet, it's undetectable. It could create havoc. It's also going to change the paradigm on most, if not all, ground fighting vehicles, to have a Switchblade 600 on optionally manned fighting vehicles. It's a program of record for the U.S. Army. General Dynamics Land Systems, the incumbent, they have designed that vehicle with nothing on it except Switchblade 300s or 600s—60 to 100 of them.
IUS: SO INSTEAD OF ENDING TANKS, TANKS BECOME AIRCRAFT CARRIERS?
NAWABI: They become aircraft carriers and they have their own long-standoff firing power. A lot of missions will be done much more effectively.
IUS: WHAT LEVEL OF TRAINING IS NEEDED FOR EITHER SWITCHBLADE?
NAWABI: That's another advantage. The joystick, the controllers are all like a great video game. We know that 18 or 20-year-old young kids are going to be operating this stuff. The training is extremely straightforward—a few days onsite or in a classroom. We do this on a regular basis, worldwide.
IUS: WHAT DO YOU THINK OF THE "KAMIKAZE" REFERENCES AROUND SWITCHBLADE?
NAWABI: I don't like "kamikaze." It's simple, a mental note, but it's not really a kamikaze, where it's sacrificing a human. It's a loitering missile. "Loitering munition" is much better.
IUS: IS THERE ANYTHING ELSE ABOUT SWITCHBLADE YOU WANT TO GET ACROSS?
NAWABI: Switchblade is also very effective—especially 600—against ships. If you have small-size fast ships, or from the shoreline, and you want to take out Russian ships, it's extremely effective. I also see the maritime domain in the future changing, where Switchblade will not only be on helicopters, airplanes and ground vehicles, but also on ships.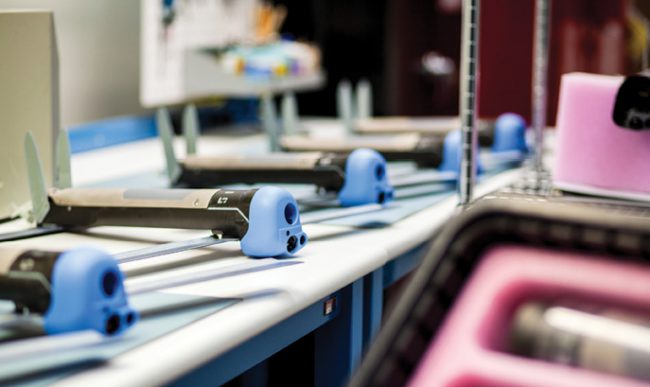 IUS: WE STILL DON'T FULLY KNOW HOW THE [GUIDED MISSILE CRUISER] MOSKVA WAS SUNK.
NAWABI: No comment.
IUS: LET'S SWITCH OVER TO THE QUANTIX. WHAT'S ITS UTILITY IN THE CURRENT CONFLICT?
NAWABI: It's a very good mapping and reconnaissance UAV to give them actionable intelligence on the frontlines, where Russians are digging in or where their tanks are. It's extremely simple to operate: it's got a tablet, and you draw boundaries and you push "Go." The UAV plans its mission and takes off on its own. You can't jam it. It's extremely quiet. It maps the area, comes back and lands in the same exact spot. And it does that in less than one hour, giving a very accurate, precise map of the actual battlefield.
IUS: DID YOU DONATE THESE?
NAWABI: Yes. It was 108. Not only the UAVs, but also the whole system plus training. We actually deployed our team to be able to go and train them. We are believers in a family of systems architecture. And they all work as an integrated system together.
IUS: CHANGING SUBJECTS, ARE YOU GETTING HIT BY THE CHIP SHORTAGE?
NAWABI: Yes. We use very, very high end graphic processors, GPUs, we use very high-end microelectronics that have low power consumption. We use a lot of very sophisticated sensors. We are not a big consumer relative to guys like Sony and Apple. Because we're a much smaller customer in that category, we need priority orders from the DOD, where can make thousands of these.
IUS: LET'S SWITCH OVER TO THE "MORAL DIMENSION." YOU AND THE COMPANY HAVE BEEN PRETTY OUTSPOKEN.
NAWABI: Life has very mysterious ways of things happening. I was born and raised in Afghanistan, and came to the United States as a refugee because of the Soviet invasion back in the very early '90s. When they invaded, I was a teenager. I used to be able to go on the roof and it was the first time I ever saw a Russian helicopter or a Russian MIG-21. And the United States' Stinger missile just switched the paradigm remarkably—it basically disabled the power of the Russians at that time.
IUS: HOW DO YOU ALIGN BEING THE STEWARD OF A PUBLICLY TRADED COMPANY WITH A MORAL STATEMENT?
NAWABI: We, always as a company, had what I call a moral True North. We discussed it as a team within our organization, with our employees. We even debated whether we should be in the business of making loitering munitions. It was pretty much unanimous. It is not right for a power of that nature to just bully its way into a country and just devastate millions and millions of people's lives. Every single one of us who enjoy these freedoms in the free world, we have a moral and ethical responsibility to do whatever we can to help.
IUS: WHAT DO YOU WANT TO ADD?
NAWABI: They could use thousands of Switchblades. This sounds like a sales pitch; that's not really the intention. We'll do fine as a company. But I spoke to the minister: if they had four-five thousand Switchblade 300s or 600s 10, 20, 30 kilometers from the border before this conflict started, that 40-mile long caravan of the Russian troops would have been annihilated in a matter of probably four or five hours. We could have saved ourselves as a country billions of dollars, probably millions of their lives. And billions in devastation. We would have stopped the Russians on its tracks right at the beginning.