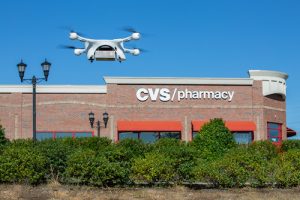 These days, enabling social distancing efforts and faster-same day delivery can save lives. That's why UPS and CVS Health Corporation are launching a residential drone delivery service that will send prescription medications from a CVS pharmacy to the largest retirement community in the U.S.
In early May, UPS subsidiary UPS Flight Forward will pilot and transport time-sensitive medicines via Matternet's M2 drone and on-demand delivery system to a site near The Villages, a Florida retirement community where 135,000 residents live. A ground vehicle will then complete the delivery to the resident's door.
According to a UPS press release, the initial half-mile or less flights will provide an alternative to in-person pharmacy visits, prioritizing the health of both the high-risk residents and our health care heroes.
"Our new drone delivery service will help CVS provide safe and efficient deliveries of medicines to this large retirement community, enabling residents to receive medications without leaving their homes," said Scott Price, UPS chief strategy and transformation officer, in the release. "UPS is committed to playing its part in fighting the spread of Coronavirus, and this is another way we can support our healthcare customers and individuals with innovative solutions."
Just last year, UPS and CVS announced plans to explore the use of drone delivery together, which resulted in the successful completion of their first joint drone deliveries of medical prescriptions from a CVS pharmacy in Cary, N.C. in November 2019.
The new May 2020 deliveries to The Villages will begin in cooperation with the Federal Aviation Administration under Part 107 rules, giving them the authority to operate throughout the pandemic, with the possibility of exploring and expanding deliveries in the future as ongoing needs arise.
"Now more than ever, it's important that our customers have access to their prescriptions," said Jon Roberts, executive vice president and chief operating officer of CVS Health, in the release. "In addition to our in-store pickup, free delivery services and drive through pickup, this drone delivery service provides an innovative method to reach some of our customers."