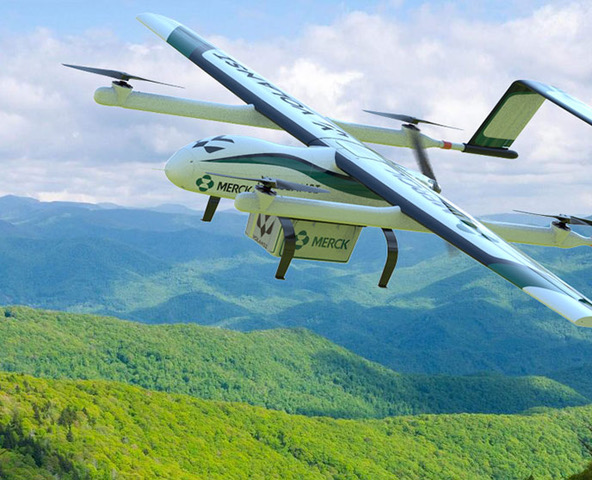 Volansi recently completed the first successful drone delivery of temperature-controlled medicines within the U.S.
The deliveries, which took place in North Carolina in September, represent phase one of a project with Merck and Vidant, and is what Volansi CEO and Co-Founder Hannan Parvizian describes as "an important first step toward redefining the biopharmaceutical supply chain of the future."
The VOLY C10 UAS transported cold chain medicines from Merck's Wilson, North Carolina, manufacturing site to a Vidant Health clinic. Deliveries between these locations will be ongoing.
"The goal of the project is to better understand how drones can be used to improve access to health care—a critical issue in eastern North Carolina, where the project is taking place," Parvizian said. "The largely rural area is home to 1.4 million people, with many living miles from the nearest pharmacy or clinic. For those suffering from diseases or chronic conditions, having a supply chain that works for them isn't just about convenience—it's a matter of life or death."
The Aircraft
The all-electric vertical take-off and landing (VTOL) VOLY C10 was designed to deliver this type of sensitive cargo, Parvizian said. Rather than dropping it by parachute or lowering a rope, which has its risks, the UAS lands like a helicopter at the delivery location. Then, a "soft touch" system automatically releases the cargo from the drone.
The UAS requires minimal infrastructure to operate, Parvizian said, and can transport 10 pounds of fragile cargo up to 50 miles.
"There is less risk to our cargo than other transportation methods because the delivery is made immediately upon receiving the shipment and taken directly to the delivery point (as opposed to being sent to a centralized distribution center and then onward via plane, truck, etc.)," Parvizian said. "Furthermore, drones can streamline such logistical tasks as order confirmation by delivering temperature trackers and shipping confirmations on the return flight."
Challenges and Next Steps
Airspace access is one of the biggest challenges for this type of application, Parvizian said, which is why Volansi is working closely with the FAA's Unmanned Aircraft System Integration Pilot Program (IPP) and the North Carolina Department of Transportation. These collaborations help ensure deliveries are made safely and in line with state and federal guidelines.
For phase two and three of the project, Parvizian hopes to receive approvals from the FAA to operate in other locations, enabling a "flexible, on-demand, and responsive supply of critical medicines."
Volansi is taking a "crawl, walk, run approach" to these deliveries, Parvizian said, with the goal of opening up more opportunities in the future. For example, the VOLY C10 drone now making deliveries has a 10-pound payload capacity. In future phases, the company would like to scale up to its larger VOLY C20, which can carry a heavier load.
"For this to happen, the U.S. must first open its national airspace more widely to drone flights," Parvizian said. "Once we have the right regulations in place, we could potentially deliver hundreds of pounds or more on a daily basis and to multiple locations far and wide."
And while for now the VOLY C10 is carrying Merck's vaccines against measles, mumps, rubella, chickenpox, pneumonia, and hepatitis, that can be expanded to other vaccines and cargo as well.
Strengthening the Supply Chain
This isn't the first time Merck and Volansi have collaborated, Parvizian said. The companies helped deliver temperature-sensitive medicines in the Bahamas and Puerto Rico after hurricanes Maria and Florence. These demonstrations "foreshadowed how we intend to redefine the biopharmaceutical supply chain of the future," Parvizian said.
"As a health care leader, Merck is very supportive of collaborations using new technologies to explore how one day we could help better serve the health care community," Merck's Senior Vice President, Global Supply Chain Management Craig Kennedy said, according to a news release about the deliveries. "Our existing distribution system is strong, and this pilot helps us explore new innovative delivery options that would complement our existing supply chain capabilities."