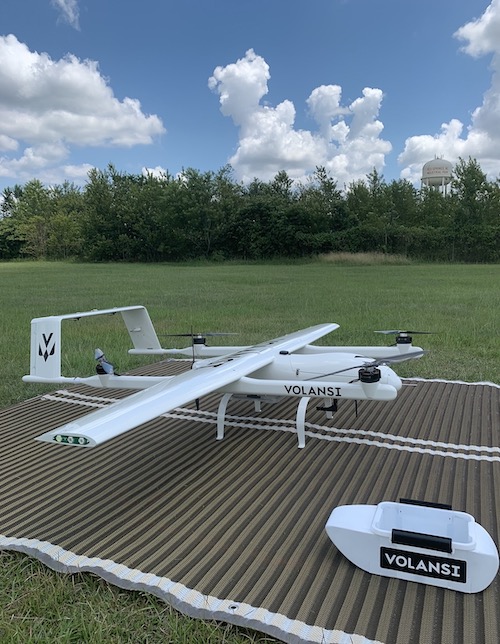 The VOLY C10- Gen 2 all-electric UAS from Volansi will soon be making middle-mile deliveries in North Carolina.
The Concord, California-based cargo drone delivery service provider recently signed a teaming agreement with the North Carolina Department of Transportation to make that possible. They'll work closely with the FAA throughout the project, which is expected to get underway with deployments in the next few months.
To start, the drone will perform tests under Part 107 rules as part of the UAS Integration Pilot Program (IPP) in North Carolina, Volansi VP of Operations Mike Jackson said. Once granted the proper waivers, the team plans to eventually fly missions not covered under Part 107, including those that take the drone beyond visual line of sight (BVLOS).
"If we're going to scale and bring value that [BVLOS] is a key component," Jackson said. "You have to be able to provide a value proposition when helping distribution centers, for example. You need to be able to provide something that's scalable and that saves them time and money."
Jackson couldn't give details of what the drone will deliver or exactly where, though he did say flights will take place in a central part of the state in rural environments. The company is targeting multiple markets through this project and working with two other partners.
The VOLY C10, the drone being deployed for this project, is an all-electric, hybrid VTOL fixed-wing system that can complete two-way missions with minimal infrastructure needs, Jackson said. The drone lands at the delivery point, giving it the ability to deliver and return items such as samples for analysis and diagnosis and parts for repairs.
The UAS can carry up to 10 pounds of cargo 50 miles, with the company's flight operations team handling all operations to provide an end-to-end delivery service.
The IPP group will collect data from every mission the VOLY C10 flies, Jackson said, to gain a better understanding of how drone delivery programs can be incorporated into the current transportation infrastructure long-term.
"The goal is to expand across the state and learn how we can safely integrate beyond visual line of sight deployments into the National Airspace," Jackson said. "We hope to meet the customers' needs and deliver value in a way that's safe and garners trust so that we can scale."
There is no end date on the project, Jackson said. Work has already begun to prepare for flights.
"We are excited to have this opportunity to work closely with the FAA and the N.C. Department of Transportation to help shape how drones fit into our home country's infrastructure," Volansi CEO and Founder Hannan Parvizian said, according to a news release announcing the agreement. "We believe that one day, autonomous flight will be as commonplace and accessible as mailing a letter, and Volansi technology will play a pivotal part in this transport revolution."
One of the challenges to getting there is, of course, regulations, Jackson said, which is what projects and partnerships like this one help shape. The team is taking what he describes as a "crawl, walk, run approach" to build trust with the FAA and the public to show drone cargo delivery "is something that's valuable and that can be done safely."