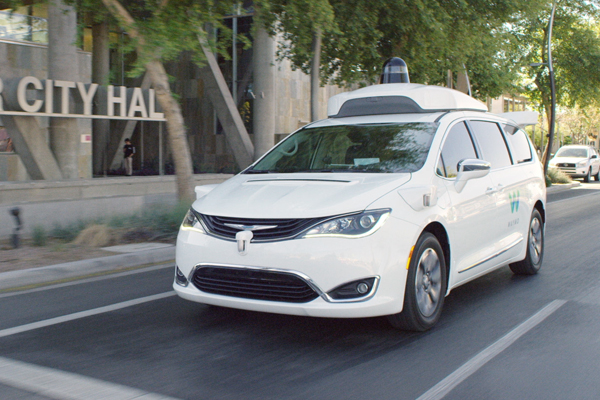 Waymo last week announced that they were teaming up with ride-sharing giant Lyft is another deal that has the industry pondering the competitive implications for rival Uber.
The deal is one of several in the past month that brings together technology companies from various sectors to take advantage of what could be a multibillion-dollar industry.
Both companies said they would work together on autonomous vehicle technology pilot projects and product development, according to published reports.
While Waymo's parent company Alphabet was an early and large investor in Uber, the relationship has soured as the Silicon Valley tech giants are embroiled in a lawsuit over self-driving technology. Waymo alleges that Uber is using stolen company trade secrets in its autonomous vehicle efforts.
Still, Waymo's deal with Lyft, the No. 2 ride-hailing service behind Uber, may be a case of strange timing.
"Is this something Henry Ford would have done? Alphabet-Waymo can readily replicate, even leapfrog, Lyft's technology," said Alain Kornhauser, Princeton professor and autonomous vehicle expert, in his blog. "Is this largely about their confrontation with Uber?"
Kornhauser said that if Waymo is still interested in driverless car development, GM may not be the best manufacturer.  GM last year invested $500 million in Lyft.
The tangle of autonomous vehicle partnerships is sometimes hard to keep track of. Lyft investor GM recently announced it is putting millions in a Silicon Valley research center. At the same time, Waymo has partnered with Honda, which has established a new entity called Honda R&D Innovations Inc., also headquartered in the Silicon Valley.
In addition to Honda, Waymo and FCA announced late last year that production of 100 Chrysler Pacifica Hybrid minivans, with fully self-driving functions, has been completed. The 2017 Chrysler Pacifica minivans, expected to join Waymo's test fleet next year, are outfitted with the company's self-driving technology, including a purpose-built computer and a range of sensors, telematics and other sensors.
In terms of testing Waymo has pilot projects in several states, though they have not announced what testing or products will be rolled out with Lyft.  The company said it will offer autonomous vehicle ride-sharing in the Phoenix area and will add another 500 Chrysler Pacifica Hybrid minivans to its self-driving fleet.
The company plans to offer free ride-sharing, called Early Rider, to families in Phoenix, Chandler, Tempe, Mesa and Gilbert. Those interested can apply at Waymo's website, the company said.
So far, in the eight years Google/Waymo has been testing autonomous vehicles, the company said it has driven nearly 3 million miles.  Waymo says that measured in time, it amounts to 400 years of on-the-road autonomous vehicle testing.
Currently, Waymo's autonomous vehicle testing is conducted at several sites in Arizona with Chrysler; at its headquarters in Mountain View, Calif.; Kirkland, Wash.; and Austin, Texas.
In other autonomous vehicle news:
The head of Ford's autonomous vehicle program, or "smart mobility" program, Jim Hackett, is replacing Mark Fields as CEO. Ford's stock has tumbled under Fields, who was seen as a major proponent of autonomous vehicle technology and testing.  However, a 40 percent drop in the company's stock price and decrease in earnings hastened the decision to replace the retiring Fields, according to published reports.