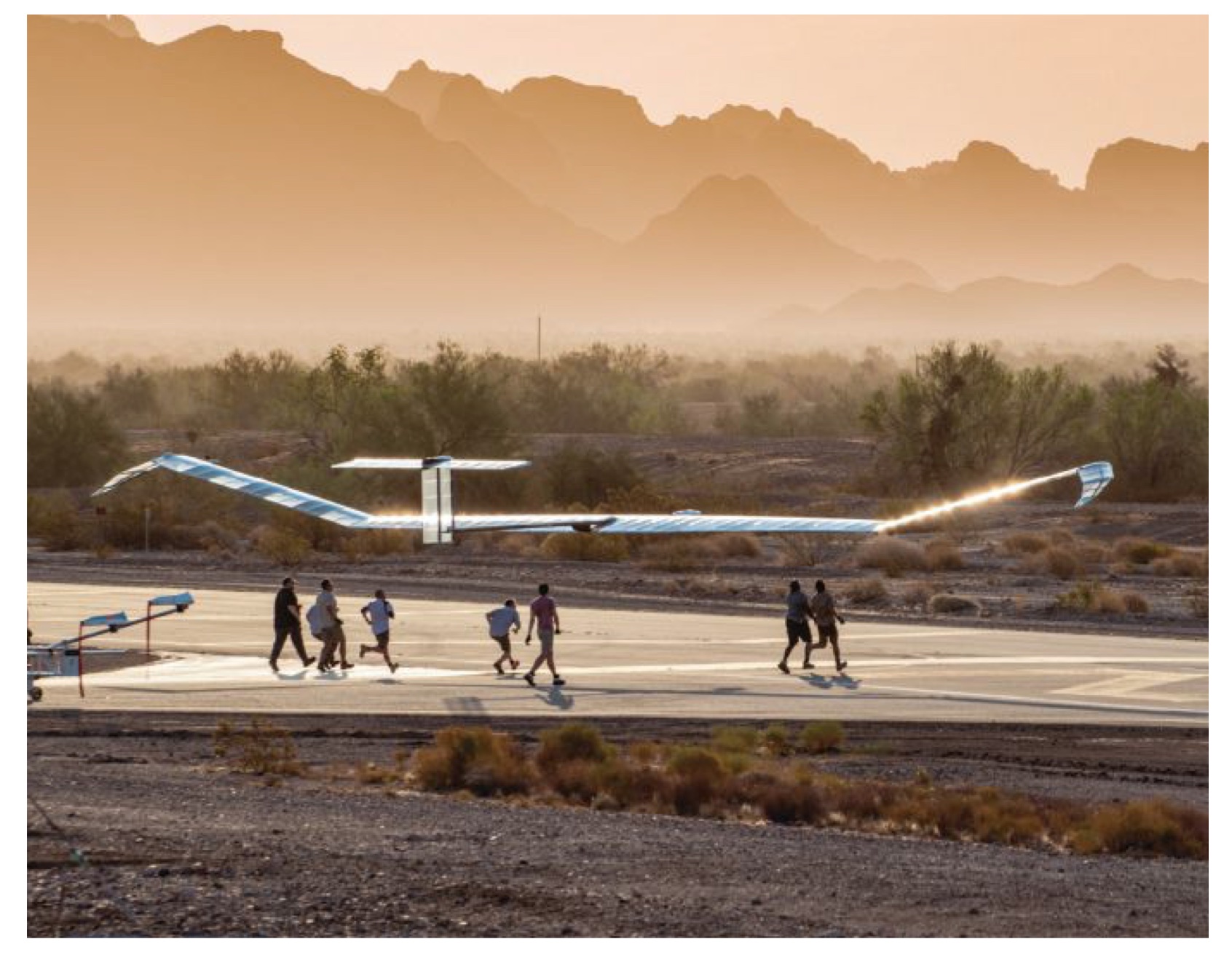 Airbus's high altitude sustainable flight entry glides toward deployment.
Although Airbus' Zephyr is still in development, the high altitude platform system (HAPS) glided closer to commercial viability in 2021. During a strong year for the vehicle, the unmanned solar-powered aircraft earned approval from the FAA to conduct test flights in the U.S. stratosphere, broke an altitude record and completed test flights that further validated its feasibility as a communications platform and an aerial observation post.
Zephyr dates back to 2003, when an early prototype was designed and built by British defense contractor QinetiQ. The Zephyr was sold in 2013 to EADS Astrium (now Airbus Defence and Space). Currently in its eighth generation, the system, sometimes referred to as "Zephyr S," continues to inch closer to production.
Zephyr is a performance heavyweight in ultra-lightweight flight. The completely solar-powered drone has a wingspan of 25 meters yet weighs only 75 kilos. Powerful enough to reach the stratosphere and resilient enough to stay there, the Zephyr S flew two approximately 18-day stratospheric flights this year in U.S. air space, reaching 76,100 feet, a new world altitude record for this kind of unmanned aerial system.
Zephyr also won FAA approval to operate not only in unregulated air space but in the civil U.S. National Airspace System (NAS). This NAS permission is said to be a first for this category of vehicle, with Airbus the first HAPS constructor to have gained this authorization.
For Tim Down, head of engineering for unmanned aerial systems in Airbus Defence & Space, winning FAA approval for the test flights was not the least of the year's achievements. "It's absolutely a huge step forward to be able to operate," he said. And there was more: "There's a lot that we learned this year."
SATELLITES NAY OR YEA?
Ultimately, Airbus executives said, Zephyr can offer a number of special advantages over traditional satellites—even as the systems work together to maximize capabilities.
First, Down explained, Zephyr will be cheaper to send aloft. "If you think simplistically about the fact that to launch a satellite takes a jolly big rocket full of fuel and so forth, it's going to cost you a lot in terms of logistics to make it happen," he said. "That's quite a tricky proposition. We don't launch rockets in very many places on the planet."
Flying closer to the ground gives Zephyr some accuracy advantages, including as a surveillance platform. "Where a new, very high resolution satellite typically can offer about 30 centimeters of resolution," Down said, "the Zephyr OPAZ payload can shoot pictures at 18 centimeter resolution, meaning it can distinguish objects as small as 18 square centimeters, about the size of a plate. Last summer, the Zephyr team shot 20,000 pictures during one test flight."
As with other HAPS vehicles, latency also would be lower than a satellite's, making Zephyr easier to use as a "mobile tower" for cell phone and 5G communications. A Deutsche Telekom white paper notes that the communications lag with Zephyr would be less than 10 milliseconds round trip, compared to 600-700 milliseconds for a geo-orbital satellite. That makes Zephyr a good potential alternative to cellphone towers in areas with poor infrastructure or rugged terrain, or places that have been disrupted by a disaster.
That said, satellites can stay in orbit even longer than today's HAPS vehicles, and can form large-scale, large footprint constellations.
Consequently, Down said, "Zephyrs are complementary to satellites. It is not a question of using one or the other; together they provide a mesh network—whether that is for EO [earth orbit] or connectivity.
"To complement satellite capabilities," Down continued, "Zephyr can actually land and be reconfigured, and take off again and go off and perform a different mission."
Roser Roca-Toha, head of UAS marketing at Airbus Defence and Space and secretary of the HAPS Alliance board, agreed. "I don't want to say it's a one-size-fits-all," she added. "But we have the capability to adapt where the capacity is needed in any of the current infrastructure, whether terrestrial, drone or satellite."
Down: "They are designed to work together."
HAPS, PERHAPS
In the future, even Zephyr landing and taking off may be optional. Down envisions being able to launch a fleet when weather conditions are right and then "effectively park Zephyrs in the stratosphere in what we're terming a 'HAPS park,' which gives us a great deal of operational flexibility. You can traverse the globe very quickly indeed—which is an interesting, different method of operating airplanes."
And by "park," Down means "park." Unlike conventional atmospheric aircraft, the system is designed so solar cells can charge the aircraft's batteries enough to keep it aloft in the stratosphere through the night. The Zephyr's current record flight is almost 26 days; Airbus engineers are shooting for 100 days of nonstop flight and they're aiming for more.
For now, however, Airbus's HAPS offering is still a work in progress. "We are not yet at the point of full industrialization," Roca-Toha said, "as we are still testing and defining this new capability, working with our customers to operationalize the stratosphere. We are advancing at pace with the flight trials, we believe that we need still a couple of years before we enter into serial commercial operations."
But this hasn't stopped Airbus from leaving a commemorative mark on the stratosphere. On one of this year's flights, Zephyr engineers wrote "Airbus" in the sky, directing the aircraft via 250-plus waypoints. This was more than marketing, Roca-Toha said. "It was actually also a demonstration of the precision that Zephyr can have."
Zephyr's schedule for next year is not finalized. Yet, Roca-Toha predicted, "it's going to be a very busy one."