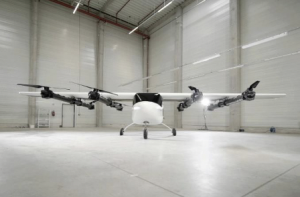 The ground test of the VTOL ZURI concept has recently been carried out. The results of the trial allow ZURI to soon proceed to the hovering stage. ZURI now shares the appearance of the technology demonstrator for the very first time. ZURI.com SE, a Czech Republic-based company, is developing hybrid VTOL aircraft for advanced regional air mobility capable of efficiently transporting passengers and cargo at distances exceeding 600 kilometers.
The tests of the technology demonstrator took place at an airport near Prague. The trial included testing the interoperability of individual systems, the verification of theoretical calculation and analysis, and confirmation of power unit performance and physical arrangement, power supply and control methods.
Due to a complex system simultaneously controlling several electric motors, many ground tests were necessary. The ZURI team needed to test the two-way communication between the control system, the power supply system and power units. Unlike aircraft with one or two engines, hybrid VTOL technology using many electric motors needs to precisely control the power of each electric motor and respond to the movement of the aircraft in milliseconds so that the vertical take-off and landing is entirely smooth.
Basic Parameters
Wingspan: 36ft
Power units: 8 brushless DC electric motors
On-board power source: Lithium-based batteries
The brand-new ZURI model with the internal designation ZURI 2.0 will be officially introduced during the autumn of 2021. Its introduction will begin the third phase of developing hybrid VTOL aviation technology, focused primarily on regional air transport of passengers and cargo.
With progress towards the next stage of development and the introduction of ZURI 2.0, ZURI brings an opportunity to join this unique project to everybody interested in changing the world of air mobility. ZURI offers cooperation, especially to experts in the positions of aircraft designer, aerodynamic engineers, electrical engineers.