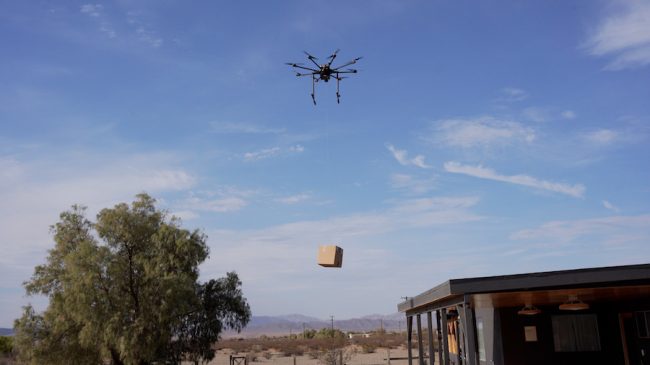 A2Z Drone Delivery recently introduced the second generation of its Rapid Delivery System (RDS), the RDS2. The delivery winch is factory installed on the company's new RDST integrated cargo drone, an off-the-shelf system for last mile deliveries.
The RDS2 automated tethered delivery system provides a high payload capacity (up to 22 pounds) and eliminates the need for specialty payload boxes, according to a news release.
While the RDST features an integrated RDS2, the standalone Rapid Delivery System also can be installed on various enterprise delivery drones.
"Most drone delivery systems in deployment today require payloads to be packaged in special boxes, pouches or on-board payload compartments; the RDS2 is designed to meet what every shipper wants, using what every shipper has," Founder and CEO of A2Z Drone Delivery Aaron Zhang said, according to the release. "The RDS2 can auto-release the shipper's own boxes, removing the need for a recipient on the ground to meet the drone, and retrieve packages without landing."
He continued: "These capabilities, combined with the utmost payload flexibility and the heaviest payload capacity currently on the market, makes our RDS2 a strong investment for drone service providers looking to rapidly scale commercial delivery applications."
The systems are designed for residential drone delivery but also can be flown for a variety of logistics challenges, such as delivering medical supplies or equipment for search and rescue operations. Customers have deployed RDS for intra-site transport of tools and samples in mining operations, shore-to-ship delivery of urgent supplies and port documents, as well as placement and retrieval of ground sensors for industrial inspections.
"The RDS2 has completed over 2,000 test deliveries and is already deployed with six of our beta test partners, which have tested the platform in a diverse array of applications," A2Z Drone Delivery CTO Evan Hertafeld said, according to the release. "Consistency and reliability are the name of the game and this testing has reinforced the effectiveness of our hardware. Responding to partner feedback, we also sought to streamline maintenance with our new A2Z Assistant software and a longer-lasting tether to reduce downtime."
Like the original, RDS2 features include a compact design and redundant safety mechanisms for its payload monitoring system, passive payload lock, manual or automatic tether controls, and tether abandonment. New features include a heavy-duty drive motor to enable heavier payloads; the ability to work with any off the shelf delivery boxes; a patent-pending auto release mechanism that doesn't require a human receiver; payload pickup; an easy to integrate form factor; an upgraded tether that extends maintenance cycles up to 800 deliveries between tether replacements; a general purpose payload hook; and A2Z Assistant.
The RDST integrated cargo drone has a stable, redundant octocopter configuration paired with the RDS2 to offer a ready-to-fly delivery system. While the operational range of the platform is dependent on the payload, the RDST can extend operations up to a 9-mile round trip from a main distribution center. It can carry typical drone payloads up to 11 pounds. It comes with the RDS2 winch, a large cargo bay, an upgraded ground control station, extended radio range, onboard LiDAR and open source flight control software.
Image courtesy of A2Z Drone Delivery.