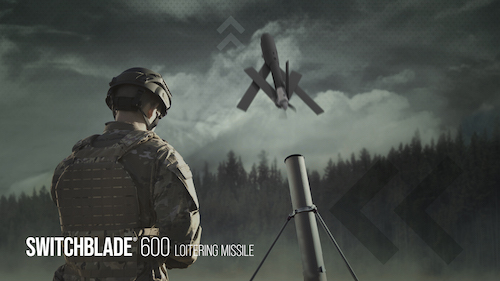 "Precision strike capabilities at the battlefield's edge" was the mantra at AeroVironment's September 30thannouncement of the its new Switchblade 600 and a briefing on the related Switchblade 300 and Blackwing systems. As President and CEO Wahid Nawabi put it, "The ability to take our base designs and make multiple variants to address new missions and different concepts of operations is very, very critical to our strategy, and to our customers' needs and desires for the issues they run into."
For nearly a decade, those capabilities have been exemplified by the Switchblade 300, the company's combat-proven, short-range collapsible wing, rapidly deployable and quiet sUAS. The 300 can identify, confirm and neutralize threats with a high degree of precision, targeting obscured or moving targets without placing the user in harm's way. At just 2 feet long and 5.5 pounds, the so-called "kamikaze drone" can fit in the rucksack of front-line fighters—along with three missiles that can be used against personnel and light-skinned vehicles. The warhead is small, effective, modular; the operator can wave off a mission to avoid collateral damage.
Switchblade 300 remains so viable after nearly a decade of service and thousands of delivered units that AeroVironment recently received a $76 million contract from the U.S. Army for it. In keeping with the premise of multi-domain deployment, AeroVironment has teamed with General Dynamics Land Systems for a next- generation combat vehicle carrying an integrated battery of Switchblade 300s. AeroVironment is also teaming up with Kratos Defense and Security Systems, integrating Kratos' high-speed, long-range air combat vehicle as a mothership for a large number of Switchblade 300 precision-strike missiles to overwhelm an enemy's defense. Initial air launch tests are scheduled for after the first of the year.
The launch of the day, however, revolved around the new Switchblade 600 and what Product Line Manager Tactical Missile Systems Todd Hanning called "future defining capabilities." Responding to DoD customers' desire for "the same features as the 300 but with greater effects," as Hanning put it, the 600 is "bigger, faster and more effective in every way": greater stand-off range (40 kilometers vs. 10), endurance (40-plus minutes vs. 15) and dash speed (115 miles per hour, up from 63 miles cruise or 100 miles per hour dash speed). Switchblade 600's five-times-larger payload can include multi-purpose anti-armor munition for use against hardened targets. Tube-launchable from land, air or sea, the 600 features an advanced EO/IR gimbaled sensor suite to enhance tactical reconnaissance, while a touch-screen tablet-based Fire Control System offers tap-to-target guidance with manual and automatic options. Onboard data links are encrypted and signal integrity is protected against spoofing attacks.
"Today we're very excited about Switchback 600 because we believe it opens up a much bigger market in terms of the new use cases and missions we can address with this capability," Nawabi continued, "and there's nothing like it in the market today." The system has been tested over the past two years, with more than 60 ground-launched flights against fixed and moving targets. Currently, system development is involved with several DOD customers, including a flyoff in January for a Marine Corps downselect. Eventual movement into both air and maritime environments is planned.
Blackwing, a third member of AeroVironment's loitering missile system family, was noted for its ability to be deployed from a submarine, surface ship or ground vehicles. Under contract to the U.S. Navy, it uses a built-in Digital Data Link to connect vessels in the middle of the ocean. It gathers actionable reconnaissance via advanced electro-optical and infrared sensors, and is interoperable with other of the company's UAS. At 27 x 20 inches and 4 pounds, with a quiet motor, Blackwing also is hard to detect.
"Our Switchblade family is designed to be interoperable," Nawabi concluded. "The roadmap of our products is such that we believe this family of loitering missile systems could grow over time, with multiple variations and all kinds of applications. It's designed to be flexible enough to integrate into those systems."
Photo courtesy of AeroVironment