By Arthur Stout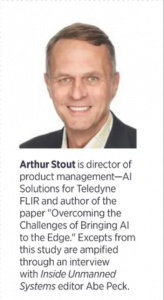 "Overcoming the Challenges of Bringing AI to the Edge" is a new, insightful paper authored by Arthur Stout, Teledyne FLIR's director of product management–AI Solutions. The study (a condensed version of which follows) explores how multispectral imaging is leveraging advanced vision processors, efficient neural networks, large image datasets and synthetic image data. It especially homes in on how Teledyne FLIR, a subsidiary of Teledyne Technologies, is developing powerful artificial intelligence solutions for industrial and defense imaging applications.
Additionally, Stout commented on the paper during an interview with Inside Unmanned Systems Executive Editor Abe Peck, describing how these innovations are geared to providing paths to ever-more-precise modeling.
Specifically, Stout delineated three approaches—in-house, open source and synthetic—to maximize the power of AI:
• Conservator™, a cloud-based data lifecycle management tool developed by Teledyne FLIR to visualize model performance
• ONNX AI, an open source project that establishes a model file format standard and tools to facilitate runtime on a wide range of processor targets
• A collaboration with CVEDIA, a synthetic data technology company, to produce the tools and IP necessary to create multispectral data and models using computer-generated imagery (CGI). Teledyne FLIR develops high-performance networks trained on synthetic data in collaboration with CVEDIA and Teledyne FLIR's Research and Development Center.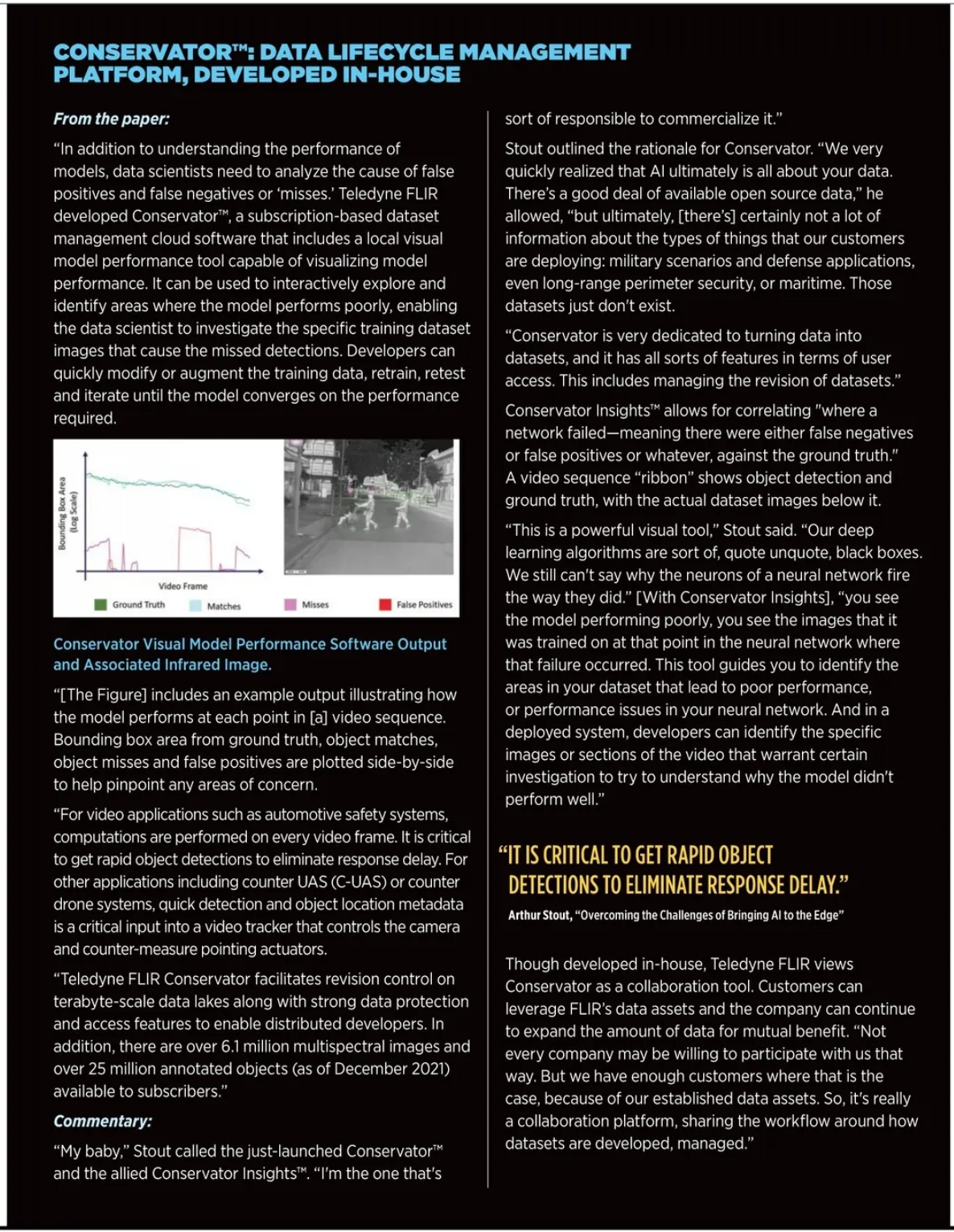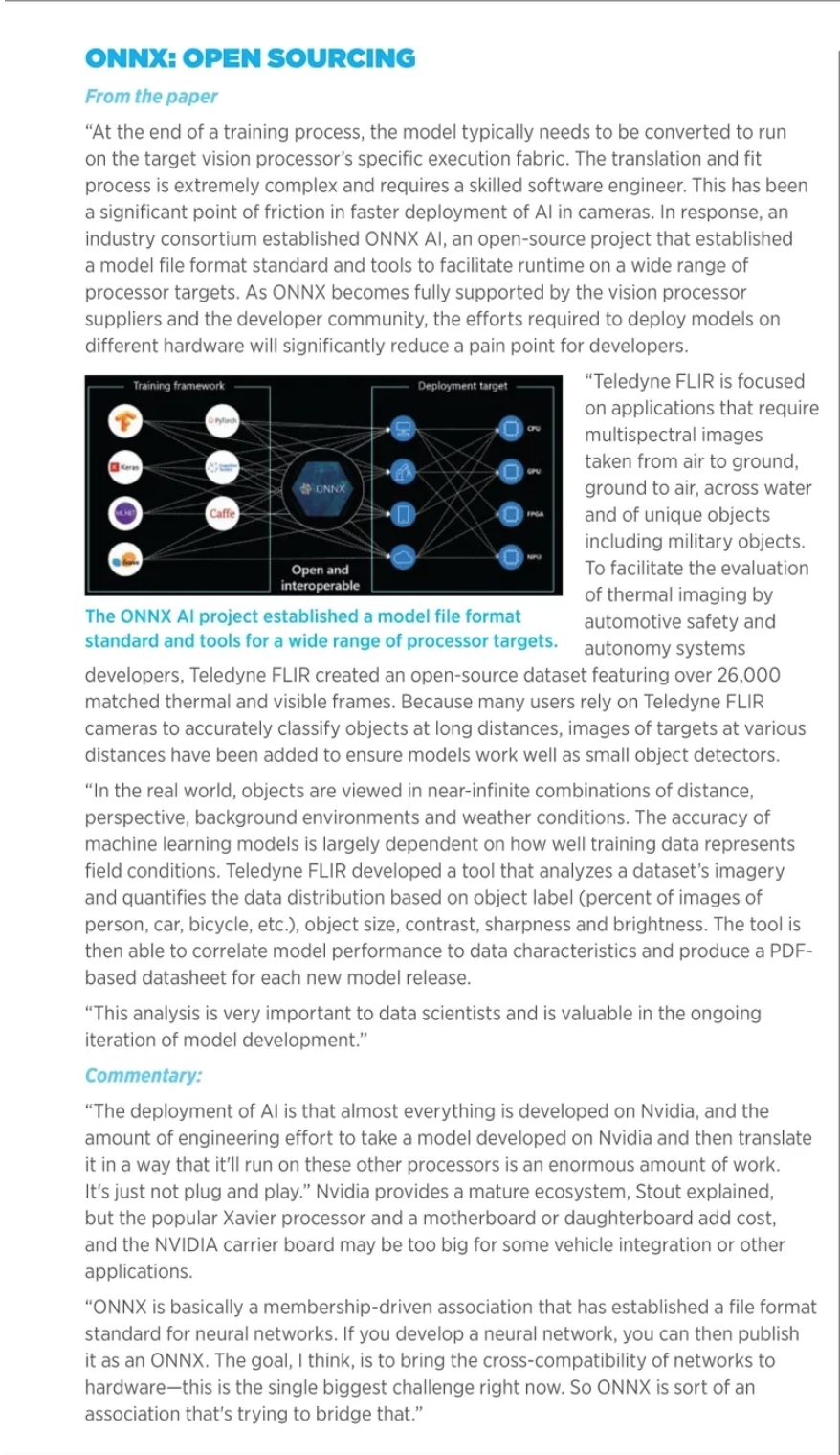 THE STATE OF AI
"Obviously, there's a lot of companies doing good things in autonomous vehicles and such," Stout told Inside Unmanned Systems from Goleta, California, where FLIR has a manufacturing and R&D operation. "But I still think we're in the early goings, particularly in our field, where the economics don't necessarily align with the investments necessary to deploy AI into our end use markets."
But there's good news. "I think 2022 is going to be the breakthrough year, and certainly 2023," Stout continued. "In the very near future, certainly within the next 12 months, we'll be able to offer customers very sophisticated, very powerful, very accurate AI capabilities in these core imaging modules."
Teledyne FLIR has positioned itself as a "buy option" for customers. The effort it takes to integrate AI into products and the difficulty low-volume companies face gaining access to both high-end providers and deep technical support, Stout said, make the company's ability to purchase silicon and invest in edge technology at scale attractive.
"Our value proposition is, 'Hey, we can be your AI source as well as your infrared technology.'"
Flexibility is another attribute of Teledyne FLIR's approach. "Not all applications require the same large networks," Stout said. "We can dial down so we can always optimize frame rate and power, and then trade that off against accuracy, object detection, the measures of neural network performance, whether it be frame rate, or precision or sensitivity, depending on the customer's performance requirements."
At the same time, Teledyne FLIR needs to support high-end customers with large format imagery. "Pixels on target is a very important parameter for our customers," Stout explained. "Those automotive customers want to know how far out in front of the vehicle we can accurately detect a pedestrian or a vehicle. With automatic emergency braking, we want the widest field of view so if a pedestrian steps between your parked vehicles at the curb, we can detect them and then drive the system to stop the vehicle.
"With AI, ultimately, these things are never done. It's a very iterative process. Models are always being defined, and corner cases are always being addressed."