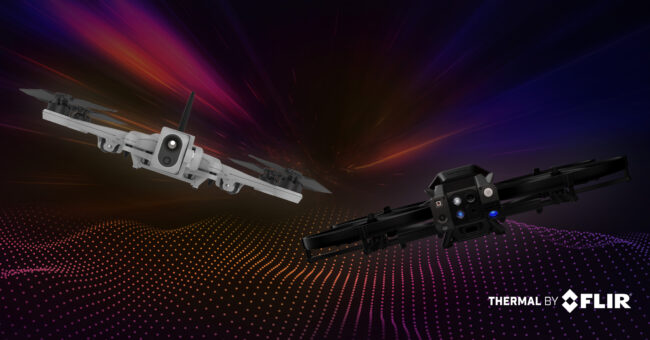 GOLETA, California—Teledyne FLIR, part of Teledyne Technologies Inc., announced continued momentum within its Thermal by FLIR program for small unmanned aircraft systems, highlighted by the integration of its Hadron 640R dual visible-thermal payload within the recently announced Teal 2 drone and the Lepton 3.5 thermal micro camera within the BRINC LEMUR 2.
"Teledyne FLIR brings decades of thermal camera development experience to the sUAS market, with a strict focus on reducing the size, weight, and power while expanding the technical capabilities today's emergency personnel, law enforcement, and warfighters require," said Mike Walters, vice president, product management, Teledyne FLIR. "The integration of the Teledyne FLIR thermal camera modules into the cutting-edge LEMUR 2 and the Teal 2 demonstrates our continued commitment to innovation and streamlined platform integration."
Plug-and-Play Thermal-Visible Integration
Made in the USA, Hadron 640R pairs a performance-leading 640×512 resolution radiometric Boson thermal camera with a 64 megapixel visible camera in a single easy-to-integrate module. With a size, weight, and power optimized design, it is an ideal dual-sensor payload for integration into small UAS, unmanned ground vehicles, robotic platforms and AI-ready applications where battery life and run-time are mission-critical. 
"Teledyne FLIR maintains an impressive track record of innovation by developing industry-leading thermal imaging sensors and supporting integrators through the development and launch cycle," said George Matus, founder and CEO of Teal. "The Hadron 640R provides the military-grade Teal 2 with the situational awareness front-line personnel require to dominate the night in support of defense and public safety operations in a variety of environments."
Thermal for Indoor SUAS
One of seven advanced sensors integrated into the LEMUR 2, the Lepton micro thermal camera is small enough to rest on the tip of a finger, providing 160×120 thermal resolution for capturing accurate, calibrated, and noncontact temperature data within a lightweight and low-power package. It helps provide law enforcement and emergency services with greater situational awareness in total darkness or smoke without placing personnel in danger.
"Each BRINC LEMUR 2 deployed in an emergency situation is one less individual in harm's way, and a potential life saved, thanks in part to the Lepton micro thermal camera embedded within the airframe," said Blake Resnick, founder and CEO of BRINC Drones. "In combination with other sensing modalities and the BRINC Autonomy Engine, the Lepton provides critical, real-time data for law enforcement and emergency response personnel to improve safety and outcomes."