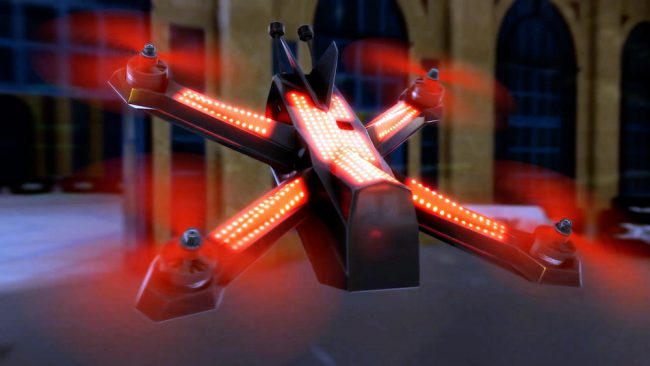 Long-time drone manufacturer Draganfly recently announced a multi-year partnership with the Drone Racing League (DRL), the world's premier professional drone-racing property. Together, the partners are launching DRL Labs, a new innovation hub that will research and develop original, state-of-the-art drone and sensing technologies.
"We want to advance the cutting-edge sport of high-speed drone racing," said Cameron Chell, Chairman and CEO of Saskatoon, Saskatchewan-based Draganfly, "with an eye towards other industries that are also undergoing significant transformations thanks to drone systems, including humanitarian aid and mobility.
"There are a number of characteristics that separate racing drones from other unmanned aerial vehicles," Chell added. "Racing drones need to be fast, agile and durable, and they are typically smaller, only around 250 millimeters." These high-tech speedsters are specifically designed for forward flight and have a camera positioned on the front of the chassis. Pilots use high-performance electronic speed controllers (ESCs) to accelerate their drones quickly or slow down suddenly.
"Given the high-octane and adrenaline-pumping nature of drone racing," Chell said, "it is crucial that the frame of the vehicle is made of sturdy, lightweight materials like carbon fiber, to withstand any impact. If a drone hits an obstacle on the course, a frail frame could be the difference between winning the race and not finishing. These competitions are exciting to watch, full of wild maneuvers and split-second decision-making."
A challenging testing ground
Like any high-level sport, drone racing requires intensive training and finely honed physical skills. "Pilots are looking for ways to better understand their performance during races," Chell said. "To provide them with the insights they need, Draganfly has introduced its AI-driven Vital Intelligence platform as part of the 2021-22 DRL Algorand World Championship Season. With the voluntary consent of participants, our Smart Vital system can screen temperature, blood pressure, heart rate, respiratory rate and oxygen saturation (SpO2) in seconds. The system registers no personal data of the individual being screened."
Vital Intelligence turns existing camera systems into powerful diagnostic tools. The technology behind the platform was originally designed to help premature infants in neonatal intensive care units in the developing world. In September 2020, Alabama State University made history by becoming the first university in the United States to implement the Vital Intelligence health and safety system as part of its campus access program.
Chell hopes the work being done by Draganfly and DRL engineers to advance novel autonomous systems, sensors and AI can provide new insights and benefits for drone operations beyond the racing world. "Innovations created by DRL Labs will be tested in real-time in front of millions of fans during DRL's globally broadcast races," he said. "Highly charged environments like a race allow Draganfly to test various solutions in ways that are difficult to simulate in a lab. Our award-winning team of engineers are excited to work with DRL to showcase racing and non-racing applications for drone technologies."