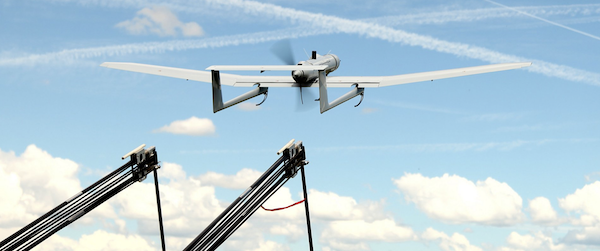 The French Navy will acquire 22 unmanned Aliaca drones to enhance its long-endurance capability.
SURVEY Copter, a mini UAS subsidiary of Airbus Defence [sic] and Space, has signed a contract with the French DGA Armament general directorate to provide 11 systems of its electrically powered fixed-wing Aliaca maritime version UAS. Deliveries are expected to begin during 2021.
Mission capabilities include increased tactical understanding, control of illegal sea operations, search and rescue, traffic monitoring, pollution detection and coastal surveillance, according to a release from Airbus. The GCS monitors and receives real-time day and night images and AIS (Automatic Identification System) data gathered by the vehicle's onboard sensors.
The "off the shelf" Aliaca maritime UAS can fly up to three-hour missions over a 50 kilometer range. It is launched by catapult and lands automatically via a net solution, obviating the need for a helicopter deck. Maximum takeoff weight is 16 kilograms, and the 2.2 meter length and 3.6 meter wingspan footprint eases storage and operations. Aliaca can be deployed within 15 minutes by two operators. The overall solution opens tactical ISR to vessels that traditionally lack similar aerial assets.
The vehicle's robustness and resiliency, Airbus says, also will protect against "the corrosive maritime environment."