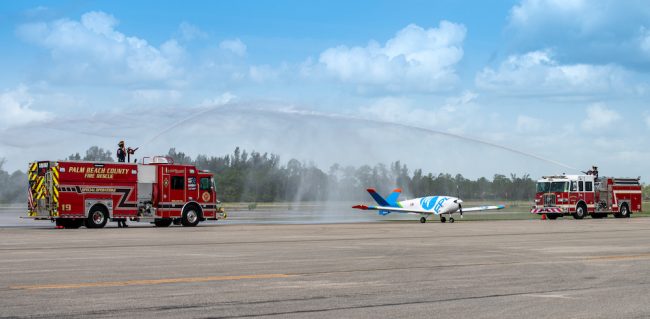 FPLAir One is now flying over a test site near you. That is, if you're near the Rome, New York, FAA site where Florida Power & Light (FPL) is testing a long-range, airplane-sized fixed-wing drone for commercial use. The size of a small plane, the UAV will be capable of operating from South to North Florida to the Panhandle and back, all in the same flight. Along the way, it will capture high quality images of FPL infrastructure, both for advance identification of potential issues and to gather critical information during storms and other severe conditions. The drone was first launched, under an experimental FAA certificate, in mid-August, and the FAA has told FPL it will be the first-ever commercial uncrewed fixed-wing drone of its scale to be used outside an FAA test site for research and development.
"FPLAir One is both historic and groundbreaking."

Chris Eisenbrey, senior director of preparedness and recovery policy, Edison Electric Institute
Eric Schwartz, manager of technology and innovation at the Juno Beach, Florida company, explained how FPLAir One came about. "It started with our Emergency Preparedness Team," he recounted. "They saw the value that under 55-pound drones brought to Hurricane Irma back in 2017. But they also saw the constraints. These included the inability to fly in winds more than 25 mph and the payload capacity was very small." They researched large-scale drones and found that no one was manufacturing for the commercial market; so, FPL decided to make its own.
FPLAir One is currently going through the FAA for testing and a BVLOS COA, and will be destined for storm, blue-sky and R&D situations. "We are doing a lot of machine learning with the sensor payload," said Schwartz. The 19 foot 9 inch long drone has a wingspan of 30 feet 9 inches, and a 600-pound capacity for carrying sensors and other equipment."
"Right now, we have LIDAR, multispectral, and hyperspectral sensors among others," he noted. "We have visual and thermography capabilities as well.
"The LIDAR gives us a three-dimensional twin, showing the design of our poles and wires and our infrastructure. That allows us to do orthomosaic imagery, map out and colorize the LIDAR, and actually zoom into the overhead equipment and look for damage." These attributes are useful in both storms and blue-sky situations, he explained. The on-board turret camera can zoom in for 3,000 feet.
"Hyperspectral capability gives us the ability to identify vegetation, while multi-spectral gives us information on the health of that vegetation. We're looking for changes and to build out both machine learning and real-time models working with our vegetation department. We have over 45,000 overhead lines across the state and we maintain our easements and monitor growth that comes into those easements."
Schwartz noted that the drone's 90-gallon gas tank gives it the ability to fly for 10-plus hours. He also notes it can fly very slowly and loiter for collection purposes.
Moving Toward Deployment
When operational, the drone will fly remotely from two locations, according to FPL spokesperson Marshall Hastings. The mobile air command center, which is the trailer that carries the craft wherever it needs to go, is usually the launch center. The front of the trailer includes a cockpit for operators. Once the drone is in the air, operations are transferred to the Air Command Center at a physical location in Palm Beach County, Florida.
"FPLAir One is both historic and groundbreaking," said Chris Eisenbrey, senior director of preparedness and recovery policy for the Edison Electric Institute, a lobbying group for investor-owned utilities in the U.S. "The drones that our companies have used in the past have tended to be the four-propeller helicopter type of drones, which can't operate during storm conditions. A lot of inspections in the past have been done from the ground, which can be flooded or damaged, and you can't do them until the wind subsides. So, this is a huge advantage."