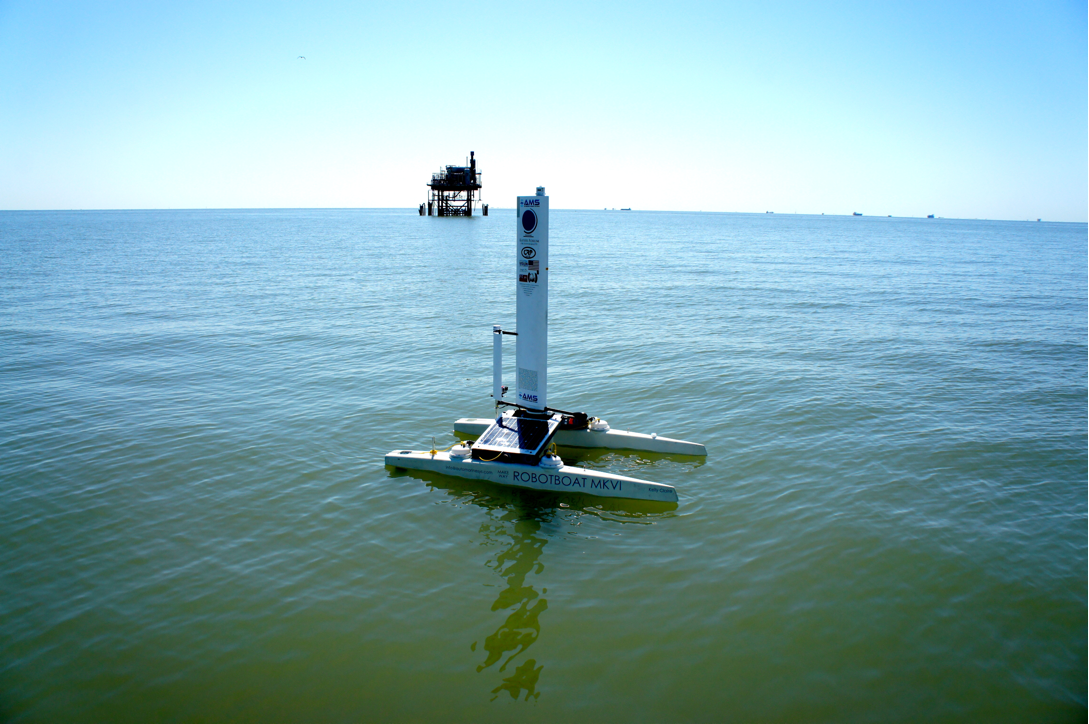 The Autonomous Marine Systems' Datamaran is a solution nearly 10 years in the making.
Company CEO T.J. Edwards and Chief Technology Officer Eamon Carrig first began talking about building the Datamaran back in 2006, as they discussed the difficulties of collecting measurements on the surface of the ocean on a global scale.
They both worked in the aerospace industry as satellite engineers, Carrig in software and Edwards in mechanical systems, and decided it was time to develop a solution that would overcome these difficulties by providing precise unmanned ocean data collection. They wanted to deliver a sensor program that could be deployed on massive fleets and over the vast area covered by the ocean. And they knew if they wanted this platform to be successful, it would need to be lightweight, inexpensive and networked.
The pair kept their day jobs as they worked on their new project during night and weekend hours, Edwards said, and officially founded the company in 2009. Through the help of a Kickstarter campaign in 2012, the team at AMS developed the first Datamaran prototype in 2013.
"We wanted to build something robust enough to be deployed for long periods of time and that could stay on location during harsh conditions," Edwards said. "This technology can be used by anybody who needs precise data from the ocean. We're targeting the defense industry and the offshore energy industry, but there are other applications it can be used for as well, such as general weather prediction and storm tracking."
The Datamaran is currently conducting application specific pilots, and Edwards said he expects its first commercial deployment to happen by the first quarter of next year.
How it Works
As Edwards and his team designed the Datamaran, they focused on making it light enough and inexpensive enough to be deployed in large fleets. That means the system can collect simultaneous measurements over a very broad area of the ocean for a much lower cost than a traditional vessel, which can only get single point measurements, Edwards said.
The simultaneous measurements give a much clearer picture of what's happening, and because the system is networked, an individual drop out or an outlier in the sensor readings is much easier to recognize, Edwards said.
The Datamaran enables users to perform sensing activities on a more targeted scale, he said. Deploying sensors miles from shore becomes expensive, and dangerous when humans are involved. This system takes people out of this dangerous environment, replacing them with a networked group of systems that can collect the same measurements, yet do it more quickly, safely and efficiently.
"You can get more reliable data in a greater area in less time by using a network," Edwards said. "That network can adapt and change shape based on the sensor readings. You can concentrate on a specific area of interest very efficiently."
The Datamaran is also patented as the first actively self-righting catamaran, Edwards said. Traditional catamarans use balanced weight to keep themselves upright. The Datamaran uses a motor system to turn itself over if it's ever flipped, meaning it doesn't need the balanced weight—enabling it to move faster, while also making it lighter and less expensive than traditional catamarans.
Getting Ready
While Edwards couldn't go into much detail about the Datamaran's pilot programs, he did say they're working on a project that involves communication to under water defense assets, as well as a project that involves the energy sector.
These pilot programs are important to making sure the Datamaran is ready for its commercial release, and that it's easy to use and offers the features customers want most.
"We're building up the customer interface with these pilots and we're building up a more standard integration of the different type of instrumentation and communication devices," Edwards said. "Each customer has a different modem or sensor or data set that's important to them. We're using the pilot programs to make sure our system is robust enough to handle all the sensors and communication devices our customers want to put on it."